Collier Family Crest, Coat of Arms and Name History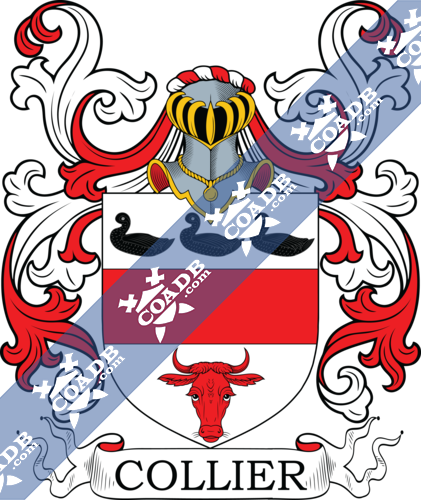 Collier Coat of Arms Gallery
Don't know which Coat of Arms is yours?
We can do a genealogical research. Find out the exact history of your family!
Learn More
Surname Name Meaning, Origin, and Etymology
This last name is an occupational name meaning "the collier", a person who was a charcoal burner (or seller or gatherer of coal) rock abundant and carbon  used for smelting fuel to produce metals (metallurgy) and glass in medieval times and in the Middle Ages. The name derives from the Middle English word cole  or Old English word col, meaning charcoal and the suffix ier, a designator of trades in Old English and Old French, deriving from the Latin arius or ary. The name also may have referred to someone who came from Couillet, a location in Flanders, Belgium. A man named Lord Robert Cuilly or Quilly  in the Battle Abbey Roll, which was a list of the companions of William the Conqueror who accompanied him in the Norman Invasion of England from 1066 AD.  A one Hugo de Cuilly also accompanied William (I think).
A second possible origin theory, of which not much is known, is that it comes from a French word meaning necklace.
Spelling Variations
Common spelling variants or names with similar etymologies include Colyer, Colliar, Collear, Colleer, Collyear, Colier, Collyer, Cullyer Culley, Coliere, Colyear, Coallier, Coullier, Colloeir, and Coollier. It medieval documents, the name is spelled Le Coliere and Carbonarius. Names based on this occupation also include Bloomer and Ashburner.
Popularity & Geographic Distribution
The last name Collier ranks 558th in popularity in terms in the United Status as of the 2000 Census.  The name ranks particularly high in the following six states: Georgia, Ohio, Tennessee, Mississippi, and Missouri. The surname is even more common in England, where it ranks 480th.  It ranks highest in the following counties:  Lancashire, Wiltshire, and Derbyshire. The name is common throughout the English speaking world:  Scotland (991st), Wales (334th), Ireland (978th), Canada (1,404th), New Zealand (455th), Australia (714th), and South Africa (2,293rd).  In Wales, data suggests it's most common in county Monmouthshire. In Scotland, it ranks highest in Kinrossshire. In Ireland, the name is most frequent in Queen's County. The name is common in Furness and along the Duddon
Early Bearers of the Surname
The earliest known bearer of this surname was Ranulf Colier who was documented in writing related to Danelaw (a section of England in which the laws of Denmark and the Danes had sway and influence) in 1150 AD. A one Bernard le Coliere was listed in the Somersetshire Pipe Rolls of 1172 AD.  The Hundred Rolls of 1273 AD, a census of Wales and England, known in Latin as Rotuli Hundredorum lists three bearers of this surname: Henry le Colyer in county Buckinghamshire, Robert le Coliere in county Bedfordshire, and Thomas le Colier in county Huntingdonshire. The Poll Tax of Yorkshire in 1379 AD lists two bearers of this last name: Adam Colier and Benedictus Colier. A one John le Collier is documented in the Calendarium Rotulorum Patentium in Turri Londinensi. Early marriages involving this last name was Zachary Collyer to Alice Hawkyns in London in 1570, AND John Collyer to Aswdrey Parteridg at St. Dunstan in 1561.
Collier in Scotland
George Fraser Black's 1946 book The Surnames of Scotland states the following regarding this surname: "John Colzear was piper in Dunfermline in 1582, and another John Coilzear was retoured heir of John Coilzear de Lochgellie his father in 1606. Major David Coolyear referred to in 1667 is doubtless the Major David Robertson alias Collyar in the parish of Tillicoultrie mentioned in 1671. This major may be the person referred to by Macfarlane: "A Robertson a Branch from the family of Strowan Changed his name from Robertson to Collier having got out of Scotland to Holland for a Slaughter in a Collier Ship from Culross to Holland. Settled there and called himself Collier he came to be a Collonell in the Service of the States".
History, Genealogy, and Ancestry
A one Robert Collyer or Collier was born in Darlaston, Staffordshire, England in 1420 AD. His son was Sir Robert Coli're (or Coie Re) was born in Stone, England in 1453. He married Isabella Doddington and had the following issue with her: James, Margery, George, Joyce, Robert, Thurston, George, and Robert. Thurston Collier was born in Darlaston in 1542. He married Elizabeth Ironmonger and had issue with her: Robert, Anne, Anne, and James. Robert Collyer was born in Staffordshire around 1556 and he had issue: Mary, Charles, John, and Sir Isaac William. His son Charles Collier was born in London in 1580 AD. He had issue: Mary, Sir Isaac William, and John. His son William. William Collier was born in Hertfordshire in 1620. He was a weaver by trade and a Lieutenant Colonel in New Kent County and he had issue with his wife Sarah Culliford: William, John, Charles, and Sarah. He went to the United States. Charles Collier or Colyer was born in 1660 in Middlesex, England. He had issue Charles, John, Thomas, Robert, William, Virginia, Mary (Gaines) and Sara (Tunstall). His son Captain John Colyer of Collier was born in Virginia in 1684. He owned the Porto Bello plantation and Queen Ann granted him lands in King and Queen County "for diverse good causes and considerations". He married several times and had the following issue: John, Elizabeth, Thomas, Francis, Henry Isham, Cornelius, William, Meredith, James, Eppes, and Frances. His son Captain John Collier was born in Virginia in 1707. He married Sisley Hall and Elizabeth Meredith and had the following issue: Alexander, Sally B. (Nix), Moses, Shadrack, John, Thomas, Joseph W., William, Mary (Googe), Charles, and James G. Collier. His son Captain Thomas Collier was born in 1739 in Virginia and he married Mary Frances Dabney. He was a soldier in Braddock's campaign in the American Revolution. He had the following issue: Benjamin, Frances, John, Charles, Elizabeth Ingram, Anne, Dabney, and Martha. His son Benjamin was born in 1760 and he married Sarah Gaines Hutcheson. They had the following children: Benjamin and Elizabeth Bacon. His son Benjamin Columbus Collier Sr. was born in Charlotte, VA in 1774. He married Margaret Polly Lane and Mary Granberry and he had the following issue: Mary (Freeman), Jesse, James Gautney, Joseph, Benjamin, Thomas John, Margarete (Hooks), William Durron, Jefferson, Mary Frances Ann Jordan, Rebecca Ivey Jordan, Henry Mitchell Collier, William Granberry Collier, and Richard Collier. His son James Gautney Collier was born in Georgia in 1812. He had the following issue: Lucy Blanche, Charles Bruce, Margaret Jane, James Dallas, Liza Jane, Sarah Elizabeth, Madison Lane, Eldonia, Sophronia Ann, Johnnie, George Wynne, Emily Josephine, and Eldonia Lucretia Sumrall. Charles Bruce Collier was born in 1837 was born in Blakely, Georgia who married Catherine Anna McNeil and Charlotte A. Mushaway. He had the following issue: William Reid, Anna Harris, Charles McNeill, Perry Newton, Ann, and Elizabeth Willis.
The famous genealogist Bernard Burke's book "The Landed Gentry" discusses two branches of this family: 1) Collyer of Hackford and 2) Collyer of Hill House.
The first begins with a mention of John Monsey Collyer, Esq. of Hackford Hall, Norfolk and Lincoln's Inn who was a Barrister-at-Law who was born in 1840. In 1869, he married Helen Jane, daughter of George Falconar and had five children with her: John Johnston, George Falconer, Roger Messenger Monsey, William Bedingfeld, and Hugh Nathaniel. Burke traces the lineage back to a family of Hainult (a province in Walloon, Belgium). A branch of the family became established in Cripplegate in London, during the era of Queen Elizabeth, and they were refugees from Picardy, a region in northern France. A one Nathaniel Cholider, of London, died in 1669 and had a son named Saniel Cholier or Collyer. In 1686, Daniel became a freeman of that city and he married a woman named Abigail with whom he had several issue: Daniel, James, Daniel, William (of Cripplegate who has a son named Charles), Nathaniel, and Peter, as well as several daughters. His third son, Daniel Collyer, was a merchant of London, and was elected Sheriff of said city in 1749, as well as a Director of the Royal African Society. In 1745, he married Ann, daughter of Thomas Leeds, and had two sons with her: Daniel and Reverend Charles (married Sarah Pratt). His son Reverend Daniel Collyer, of Wroxham Hall and Neeton Lodge, married, in 1774, Catherine, daughter and co-heiress of John Bedingfeld, and had the following issue with her: Daniel, John, and William (Lieutenant-Colonel, married Harriet), George (Captain who died at the attack of St. Sebastian in 1813), and Caterhine. His second son, the Venerable John Bedingfield Collyer of Hackcord Hall was born in 1777. He was Archdeacon of Norwich, as well as Justice of the Peace and Deputy Lieutenant. In 1800, he married Catherine, daughter of William Alexander of London), and had the following issue with her: John, Robert, George, Catherine, Mary, Charlotte Ann (married Joseph Hemmington Harris), Elizabeth, and 1833. He died in 1856. His eldest son John Collyer was born in 1801 and was Justice of the Peace as well as Judge of the County Courts. In 1837, he married Georgina Frances Amy, daughter of Sir William Johnston, Baronet, and had  five children with her: John Monsey (mentioned at the beginning of this paragraph), William Robert (of the Inner Temple), D'Arcy Bedingfeld, Reverend Daniel (Vicar of Castleacre, married Helen Augusta Preston), and Georginia Maria. The Collyer Family Crest or Collier Coat of Arms is blazoned as follows in heraldry: Argent, a chevron, between three unicorns' heads, couped, gules.
The second branch begins with a mention of George Chancellor Collyer, Esquire of Hill House in county Norfolk who was born in 1814 and succeeded his father in 1866. He was a Colonel of the Royal Engineers. His first wife was Mary Forbes, daughter of Alexander Chancellor of Shield Hill, with whom he had a daughter named Mary Catherine Bedingfeld, who married Lieutenant Colonel J.H.M. Shaw-Stewart. His second wife was Rose Elizabeth, daughter of Joseph Dillon of Finchley. This George was the son and heir of Daniel Collyer of Necton Lodge, discussed in the above paragraph.
Early American and New World Settlers
Daniel Collier, age 30, came to Virginia aboard the Paule of London in July 1635.
Ambross Collyer to Boston in March 1678 aboard the Society.
Tobias Collyer, who owned two slaves, lived in Christ Church in the Barbados in 1680.
The book Genealogical Guide to the Early Settlers, mentions 7 people bearing this surname, not already mentioned above.
1) Joseph Collier of Salisbury, who had a daughter named Mary in 1662. He moved to Hartford, Connecticut and died there. He also had children Joseph, Mary (Phelps), Sara, Elizabeth, Abel, John, Abigail, Susanna, and Ann.
3) Thomas Collier of Hingham who came in 1635 and became a freeman in 1646. He died in 1647 and had a wife and daughter both named Susanna, as well as two sons: Moses and Thomas
4) William Collier of Duxbury, Massachusetts who was a merchant from London who arrived in 1633, who "acted as one of the adventurers, and had so generous a spirit, as not to be content with making profit by the enterprise of pilgrims, unless he shared their hardships". He had issue named Sarah (married Love Brewster), Rebecca (married Jon Cole), Mary (married Thomas Prence), and Elizabeth (married Samuel Freeman). He was one of the first purchasers of Dartmouth.
Other early bearers of this last name in Colonial American were Henry Collier (Virginia 1648), William Collier (Maryland 1649), and Sara Collier (Virginia 1704).
Some of the earliest settlers in Canada bearing this name were Christopher, John, and Ralph Collier, who arrived in Nova Scotia around 1749. One of the earliest settlers in Canada with this name was John Collier, a blacksmith, who came in the late 1820s or early 1830s to Tasmania (then called Van Diemen's Land). Some of the earliest bearers in New Zealand were George, James, and Robert, who settled in Wellington in 1840. The next year, George and Elizabeth Collier came aboard the Lady Nugent.
Early Americans Bearing the Collier Family Crest
Charles Bolton's American Armory, published in 1927, contains one entry for the surname Collier: Arg on a chev az bet 3 demi- unicorns courant [gu] as many acorn slips [or] Crest: a demi-negro ppr with pearls in ears arg holding in the dexter hand an acorn branch fructed [or]. Greeting card of Jena Cuthbert Collier, Barnesville, Ga.
Mottoes
We have identified five Collier/Collyer family mottoes: 1) Persevere, 2) Nemo sine cruce beatus, meaning "No one is happy but by the cross", 3) St. Sebastian, 4) Auxilium meum a Domini, meaning "My help is from the Lord", and 5) Avance, meaning "Advance".
Grantees
We have 11 coats of arms for the Collier surname depicted here. The first 3 blazons are from The Armorial General by the famous genealogist/heraldist Johannes Baptisa Rietstap. The remainder are from Bernard Burke's book The General Armory of England, Ireland, and Scotland, which was published in 1848. The bottom of this page contains the blazons, and in many instances contains some historical, geographical, and genealogical about where coat of arms was found and who bore it. People with this last name that bore a Collier Coat of Arms include:
1) Francis Collier if Darlaston, Stafford, descendant from Robert, who came out of France into England, confirmed October 10th 1629 by Segar
2) Richard Collyer, of Puddletrent-hyhe, Dorset, son John and grandson of Henry, confirmed October 20th 1586 by W. Dethick.
3) Robert Collyer, of Darlaston, Stafford, gift 1559 (by Harvey).
Notables
There are hundreds of notable people with the Collier surname. This page will mention a handful. Famous people with this last name include: 1) Arthur Collier (1680-1732) who was an English Anglican priest and a philosopher from Wiltshire, 2) Barron Gift Collier (1873-1939) who was an American advertising entrepreneur from Memphis, Tennessee who became a large lawn owner and developer in Florida, 3) Constance Collier (1878-1955) who was an English stage actress from Berkshire, 4) Elisha Haydon Collier (1788-1856) who invented the flintlock revolver in 1814,  5) Sir George Ralph Collier (1774-1824) who was an officer in the British Royal Navy who served in the Napoleonic Wars and the War of 1812 and became a Baronet, 6) Evert Collier (1632-1708) who was a Dutch Golden Age painter from Breda, Noord-Brabant, 7) Henry Watkins Collier (1801-1855) who was the 14th Governor of Alabama, 8) John Maler Collier (1850-1934) who was an English artist who married a daughter of Thomas Henry Huxley, 9) Mary Collier (168—1762) who was an English poet from Hampshire, 10) Robert Porrett Collier (1817-1886) who was an English lawyer, judge, and politician from Plymouth who became the 1st Baron Monkswell, and 11) Philip Collier (1873-1948) who was an Australian politician who became the Premier of Western Australia in 1924.
Blazons & Genealogy Notes
1) Flandre – D'argent à la fasce de gueules acc en chef de trois merlettes de sable et en pointe d'un rencontre de boeuf du second English: Argent a fess gules accompanied by in chief three merlettes sable and in base the head of an ox cabossed of the second.
2) Baron Monkswell – Essex – (Baron M., 1 juillet 1885) – D'argent au chevron d'azur ch de trois branches de chêne feuillées et englantées d'or en pals et acc en chef de deux licornes naissantes saillantes de gueules et en pointe d'une tête et col d'éléphant du même Cimier un homme issant de carnation tenant de sa main dextre levée une branche de chêne de sinople englantée d'or et appuyant sa senestre sur un écusson d'azur ch de deux clés d'or passées en sautoir Tenants deux druides habillés d'argent couronnés de lauriers de sinople chacun appuyant sa main extérieure sur un écusson d'azur ch d'une balance en équilibre d'or Devise PERSEVERE English: Argent a chevron azure charged with three branches of oak leaved and acorned or palewise and accompanied by in chief two unicorns naissant salient [leaping forward] gules, and in base a head and shoulders of an elephant of the same Crest: a man issuant carnation holding in his raised dexter hand a branch of oak vert acorned or and resting his sinister hand over an escucheon azure, charged with two keys or placed saltirewise Supporters: two druids dressed argent crowned with laurel vert, each resting his exterior hand over an escucheon azure charged with a set of balance scales or Motto: PERSEVERE.
3) Angleterre – (Baronet, 20 sept. 1814. M. ét. au mois de mars 1824) – D'or à la croix pattée au pied fiché de gueules au canton d'azur ch d'un château au naturel le mur battu en brèche Casque timbré d'une couronne murale d'or le cercle ch du mot SAINT-SEBASTIAN Cimier une croix pattée au pied fiché d'or entre un vol de sable semé de mouchetures d'hermine d'or English: Or a cross pattee fichee gules, a canton azure charged with a castle proper, the wall breached Crest a crown or the circlet charged with the words SAINT SEBASTIAN there from a cross pattee fitchee or between a pair of wings sable semee of ermine tails or.
4) (or Colliar). Sa. a cross pattee throughout fitchee or. Crest—A cross pattee fitchee or, betw. two wings of the last.
5) (or Collyer). Sa. a cross pattee fitchee or, a canton ar.
6) (bart., extinct 1824). Or, a cross pattee fitchee gu. on a canton az. a castle ppr. with a breach in the middle thereof. Crest—On a mural crown or, with the words St. Sebastian on the circle, a cross pattee fitchee or, betw. two wings displ. pean.
7) (Blockley, co. Worcester. Vice-Admiral Sir Edward Collier, K.C.B.). Sa. a cross pattee fitchee or. Crest—A cross pattee fitchee betw. two wings or. Motto—Nemo sine cruce beatus.
8) (alias Dimock). (Puddle, co. Dorset). Ar. a chev. betw. three bats displ. sa. Crest—A wivern with wings endorsed ar.
9) (co. Stafford, granted 10 October, 1629). Sa. a cross pattee fitchee or.
10) (Ireland, Sir William Collier, Knt.). Per pale indented ar. and az. a bull pass, counterchanged a border gu. bezantee. 11) (Ireland). Per pale indented gu. and ar. a bull salient sa. a border of the last plattee.
12) (Darlston, co. Stafford). Ar. on a chev. az. betw. three demi unicorns courant gu. as many acorn slips or. Crest—A demi negro ppr. with pearls in the ears ar. holding in the dexter hand an acorn branch fructed or.