Coney Family Crest, Coat of Arms and Name History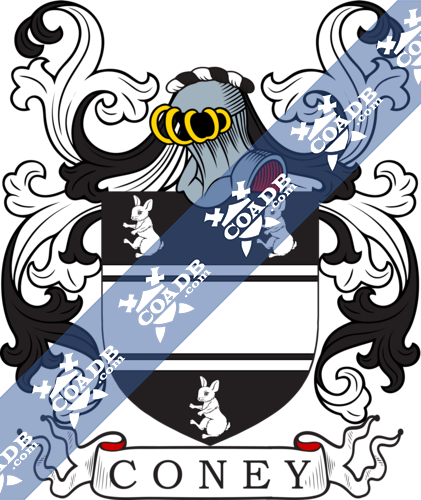 Coney Coat of Arms Gallery
Don't know which Coat of Arms is yours?
We can do a genealogical research. Find out the exact history of your family!
Learn More
Coney Origin:
England
Origin of Coney:
The Coney surname is a remarkable name deriving from Old English. It is also a nickname from the Middle English word "cony", the meaning of this word is "a rabbit", from the word "conies", picked from the Ancient French word "conis", the plural shape of "conil", associated from the Latin word "cuniculus". The surname holds two current explanations. According to the first interpretation, this word can also be used as a nickname for some thought to have some similarity to a rabbit, as in Richard le Cony, listed in the Sussex Subsidy Rolls of 1296. Many European surnames slowly took hold by the repeated use of nicknames. The second possible meaning of the surname Coney or Cony is that it derives from a metonymic professional name for a merchant of rabbits and rabbit-skins. The Thomas Cony recorded in the schedule of the Freemen of the City of York in 1323 was a "pelter". During the documentation of the name in Parish registers exist the naming of John, son of John Coney, in February 1566, at St. Clement's, Hastings, Sussex, and the wedding of John Coney and Margaret Hall at Earls Colne, Essex, in June 1596. The coat of arms rewarded to a family of the name represents a silver fesse cotised among three silver conies on a black shield.
Variations:
More common variations of this surname are: Cooney, Conney, Cowney, Coaney, Couney, Coyney, Conhey, Conwey, Cohney, Coneiy.
England:
The surname Coney firstly organized in Lincolnshire, but the regional name consisted of Coney Arm, Newfoundland and Coney's palace, an Iron Age hill fort in Dorset, England.
The very first recording spelling of the family was shown to be that of Griffin Cony, which was dated 1272, in the "Book of Fees of Herefordshire". It was during the time of King Henry III, known as "The Frenchman," 1216 – 1272. The origin of surnames during this period became a necessity with the introduction of personal taxation. It came to be known as Poll Tax in England. Surnames all over the country began to develop, with unique and shocking spelling varieties of the original one.
Ireland:
People with the surname Coney had moved to Ireland during the 17th century.
United States of America:
Individuals with the surname Coney settled in the United States in three different centuries respectively in 17th, 18th, and 19th. Some of the people with the name Coney who settled in the United States in the 17th century included Edward Coney, who landed in Maryland in 1655. Era Coney, who arrived in Virginia in 1657. John Coney, who landed in Boston, Massachusetts in 1662. Richard Coney settled in New England in 1665 and Francis Coney, who landed in Maryland in 1667.
Some of the people with the name Coney who settled in the United States in the 18th century included Peter Coney, who landed in Virginia in 1702.
Some of the people with the name Coney who settled in the United States in the 19th century included Michael Coney at the age of 29, arrived in New York in 1812. S Coney and A Coney both arrived in San Francisco, California in the same year in 1850. N Coney and N Coney Jr., both arrived in San Francisco, California in the same year in 1851.
Here is the population distribution of the last name Coney: United States 4,693; England 968; Northern Ireland 227; Australia 245; Cyprus 26; Canada 178; South Africa 310; France 49; Scotland 46; New Zealand 64.
Notable People:
Dean Henry Coney (born September 1963) is an ancient professional football player, who played for Fulham, QPR, and Norwich City
Hykiem Coney was an anti-gang advocate with Help End Violence Now Coalition (HEVN), lived in Nassau County, New York.
Jeremy Vernon Coney, MBE (born June 1952) is an ancient New Zealand cricket player.
Malachy Coney is an author of funny books and artist from Belfast, Northern Ireland.
Michael Greatrex Coney (September 28, 1932 – November 4, 2005) was a British author, famous for his novel Hello Summer Goodbye. He spent the end of his life living in Canada.
Sandra Coney was a feminist and women's health advocate.
Theodore Edward Coneys was a famous serial killer.
Blazons & Genealogy Notes
1) Notes: (Marton, and of Bassingthorpe, co. Lincoln). Blazon: Sable on a fesse cotised or, between three conies argent as many escallops of the field. Crest—A demi coney sable holding a pansy flower purpure stalked and leaved vert.
2) Notes: (Gillingham, co. Norfolk). Blazon: Sable a fesse cotised between three conies argent.