Copeland Family Crest, Coat of Arms and Name History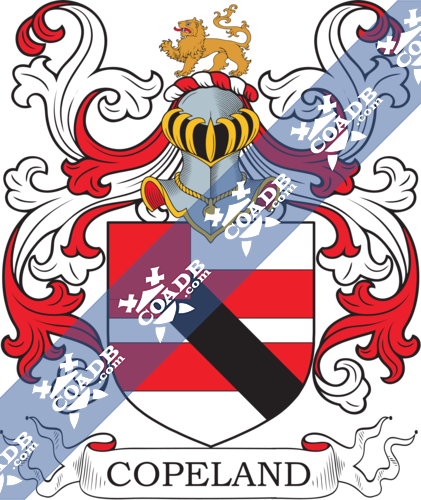 Copeland Coat of Arms Gallery
Don't know which Coat of Arms is yours?
We can do a genealogical research. Find out the exact history of your family!
Learn More
Copeland Origin:
England
Origins of Name:
The surname of Copeland can be traced to Northumberland and Cumberland, and is a locational surname for these places. The first of these possible origins is that it may have been derived from a location, somewhere with the name of Copeland. Because the surname of Copeland is locational, this means that it was often taken by the Lord or owner of the land from which the name derives. Others who may have take a locational surname are people who have migrated out of the area to seek out work. The easiest way to identify someone who was a stranger at that time was by the name of their birthplace. This locational name was Coupland, which comes from the Old Norse word "kaupland" which can be translated to mean "bought land." This is importantly named because land was rarely bought or sold during the Middle Ages, rather it was handed down from one generation to the next.
Variations:
More common variations are: Coupleand, Coopeland, Copeland, Coppleand, Copeeland, Copelanda, Copelannd, Copelannd, Caopeland, Copelland
History:
England:
The first recorded spelling of the surname of Copeland was found in the country of England, and in the year of 1204. One by the name of Samson de Copland was mentioned in the document referred to as the Pleas before the King and His Justice. This document was ordered, decreed, and written under the reign of one King John, who was known as and commonly referred to throughout history as the "Lackland." King John ruled from the year 1199 to the year 1216. Other mentions of the surname of Copeland in England include William de Copeland, who was mentioned in the Assize Court Rolls of Northumberland in the year 1256, and Thomas Coupleland in the the Feet Fines of Essex in the year 1376. Within church records, the surname of Copeland is found in the marriage of Edward Copeland to Katheren Dodge in 1557 at Christ Church, Greyfriars, Newgate. Those who bear this surname live all around the country of England. However, those areas with the higher concentration of those who beear the surname, compared to other parts of the country, are the counties of Northumberland, Durham, Yorkshire, and Lancashire.
Scotland:
Those who bear the surname of Copeland can be found in small quantities throughtout the Scottish countryside. The areas with the higher concentration of people who are known by the surname of Copeland are the counties of Lanarkshire and Midlothian.
United States of America:
During the European Migration, it was common for these disgruntled European citizens to migrate to the United States in search of something better for them and their families. The United States promised the freedom of religion, the freedom from unfair taxation, and the capability to find work and own land. Many citizens came to America, which was referred to as The Colonies and The New World. Among these citizens were people who carried the surname of Copeland. The first recorded person to enter the United States of America and bore the surname was one Christopher Copeland, who arrived in the state of Virginia in the year 1631. Those who bear the surname of Copeland in the US can be found in the states of Texas, Ohio, Virginia, South Carolina, Missouri, Ohio, Alabama and Tennessee.
Here is the population distribution of the last name Copeland:
United States 64,030, England 5,781, Canada 3,420, Australia 1,807, South Africa 1,187, Scotland 820, Northern Ireland 775, Jamaica 589, Ireland 470, New Zealand 402
Notable People:
Aaron Copeland (1900-1990) who was a classical composer from America, and was also a composition teacher, and writer who was awarded the Presidential Medal of Freedom in 1964
Brian Copeland (born in 1974) who was an actor from America, a comedian, radio talk show host, playwright, and author
Ray Copeland (1926-1843) who was a jazz trumpet player from America, and a teacher, and the father of the drummer who was named Keith Copeland
Jim Copeland (1945-2010) who was a former NFL offensive lineman from America who played in the 1960's era
James Copeland (1823-1857) who was an outlaw, and was a co-leader of the 60 member Wages and Copeland Clan, who was executed by hanging
George Copeland (1882-1971) who was a classical pianist from America
Joan Copeland (born in 1922) who was an actress from America, and was the younger sister of the playwright Arthur Miller
Royal Samuel Copeland (1868-1938) who was an academic from America, and was a homeopathic physician and politician, and was a United States Senator from New York from the year 1923-1938
Blazons & Genealogy Notes
1) (London and Bootle, co. Cumberland). Ar. two bars gu. debruised by a bend sa. over all a canton of the second. Crest—A lion pass. ppr.
2) (granted to William Taylor Copeland, Esq., Lord Mayor of London, 1836). Motto—Benigno numine. Or, two bars gu. in chief three trefoils slipped vert, on a bend over all az. as many boars' heads erased ar. Crest—A nag's head erased ar. charged on the neck with a trefoil vert betw. two holly branches fructed ppr.
3) (confirmed 1744 to Benjamin Copeland, of Belnagan, co. Meath). Or, on a cross sa. betw. four trefoils slipped vert, five mullets ar. Crest—Out of a ducal coronet a swan's head and neck ppr.
4) Ar. a cross sa. Crest—A castle triple-towered ppr. ensigned with a flag gu. charged with a cross ar.
5) (Boston, co. Lincoln). Ar. two bars and a canton gu. over all a bend sa.
6) Ar. two bars and a canton gu. (another, az.).
7) Gu. on a fesse or, three trefoils vert.
8) Or, on a cross sa. betw. four trefoils slipped vert five mullets ar.
9) Gu. on a fesse ar. (another, or) three hawthorn leaves vert.
10) Ar. on a cross sa. a mullet pierced of the first.
11) (Twickenham, co. Middlesex). Or, on a cross sa. betw. four oak leaves vert five mullets of the field. Crest—A nag's head couped ar. bridled betw. two laurel branches in perspective vert.
12) (London). Or, on a cross sa. betw. four trefoils vert five mullets ar.