Cory Family Crest, Coat of Arms and Name History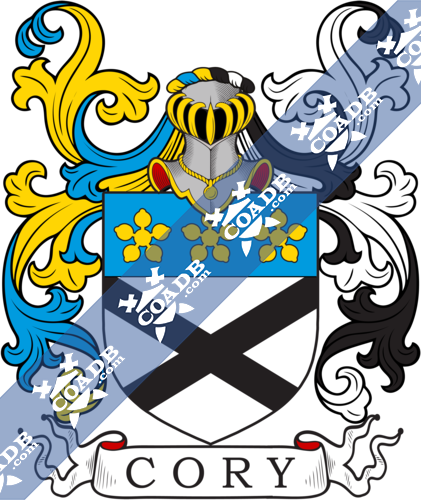 Cory Coat of Arms Gallery
Don't know which Coat of Arms is yours?
We can do a genealogical research. Find out the exact history of your family!
Learn More
Cory Origin:
Scotland
Origins of Cory:
The origin of this unique surname evolved originally from Scotland, and it is a locational name from various regions in Arran, Dumfriess known to be "Corried". However, most of these names of different places had evolved originally from the Gaelic word "coire", which mean "cauldron" and it is used in the alternative impression of a rounded overhanging Dell on a mountain. It developed irrespective of different formations of spellings. Geographical Surnames which were readily detectable or significant were created in the very early age. The developmental names included "Corry", "Cory" and "Corrie", these names registered among the 12th Century and 13th Century. Radulph de Cory verified a charter by Henry de Grahame in circa 1200 (Mortan). One Walter de Corry or de Corri, cousin and an heritor of Helewisa de Levynton, carried out a service or charge to Edward 1 in 1274 for his part of her lands. In 1526, Thomas Corry of Keldwood, a believer of the Earl of Cassilis, was the discharge of murder.
Variations:
More common variations of Cory are: Chory, Corry, Corey, Coury, Coray, Cowry, Coary, Coery, Coory, Coroy
History:
Scotland:
The origins of the surname Cory were in Country Cork, the early Kingdom of Dies Muin (Desmond), located on the South West coast of Ireland in the province of Munster, where people there held a family seat from early times. The very first recording spelling of the people was exposed to be that of Hugh de Corried, charter witness, dated circa 1194-1211, in the "Records of Holm Cultram". It was during the time of King William who was known to be the "The Lion of Scotland", dated 1165 – 1214 and took place in "Pipe Rolls of Yorkshire". The origin of surnames during this period became a necessity with the introduction of personal taxation. It came to be known as Poll Tax in England. Surnames all over the country began to develop, with unique and shocking spelling varieties of the original one.
United States:
People of Cory family arrived in the United States in three different Centuries respectively in 17th, 18th, and 19th. Some of the population of Cory family who settled in the United States in the 17th century included Gile Cory, who landed in Salem, Massachusetts in the year 1659, and Fran Cory, who landed in Virginia in 1665.
Samson Cory, who landed in Philadelphia, Pennsylvania in 1713-1714.Robert Cory, who came to Philadelphia in the year 1774. T Joal, who settled in Mississippi in 1798.
People of Cory who settled in the United States in the 19th Century are A.H.E Cory, who both arrived in San Francisco, California in the year 1850 and John Cory, who came to Texas in 1850-1906.
Australia:
Some of the Kingston people who settled ultimately in Australia in the 19th Century included Henry Cory who arrived in Port Phillip aboard the ship "Madawaska" in 1849.
New-Zealand:
The settlement of Cory family also observed in 19th Century in places in New-Zealand. John Cory settled in Auckland in 1840, and Henry Cory arrived in Nelson aboard the ship "Cresswell" in 1856.
Here is the population distribution of the last name Cory: The United States 7,190; England 1,097; Australia 436; Canada 579; South Africa 840; Germany 303; Romania 146; Brazil 127; France 122; New-Zealand 114.
Notable People:
Annie Sophie Cory (1868–1952), was an English Author.
Asa Howe Cory (1814–1892), was a Civil War captain. He was born in America.
Arthur Cory was an American politician. He played a significant role in the field of politics.
Charles B.Cory was an American ornithologist and golfer. He started his services in 1857, and he retired from his post in 1921.
Donald Webster Cory was the pen name for Edward Sagarin (1913–1986).
Eleanor Cory (1943), was an American musician. He was born in the year 1943.
Fanny Cory was a famous cartoonist of the Little Miss Muffet Entertainer book.
George Cory (1862–1935), was a South African chemist and history writer.
George Norton Cory (1874–1968), was Canadian Lieutenant General.
John Cory (1828–1910), was the British contributor and also ship and coal owner.
Judith A. Cory was an Oscar-approved make-up artist.
Kate Cory (1961) was an American photographer and painter of Hopi.
Peter Cory (1925) was a Canadian judge.
William Johnson Cory (1823–1892), was an English professor and poet.
William Wallace Cory (1865–1943), was a Canadian politician.
Blazons & Genealogy Notes
1) Notes: None. Blazon: Sable on a chevron between three griffins heads erased or, as many estoiles gules. Crest – Out of a ducal coronet a griffins head erased or, between two wings gold, a seme of estoiles sable.
2) Notes: (Cory, co. Devon. Visit. 1620). Blazon: Argent a saltire sable on a chief azure three cinquefoils or.