Cresswell Family Crest, Coat of Arms and Name History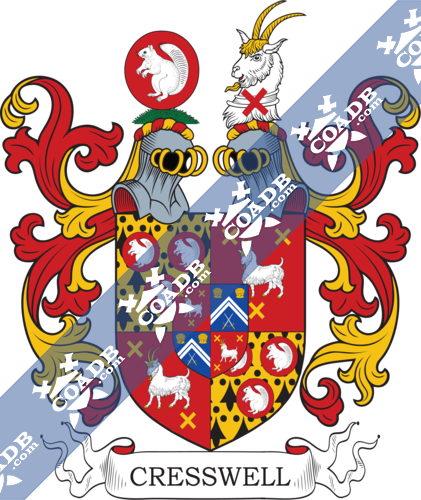 Cresswell Coat of Arms Gallery
Don't know which Coat of Arms is yours?
We can do a genealogical research. Find out the exact history of your family!
Learn More
The surname Cresswell (or Creswell), a local name of "of Cresswell". Parishes in Northumerland and Stafford bear this name. The name derives from the Old English word cærse, meaning watercress, and well, meaning spring/stream.
Early notables include Thomas de Cresswell of Stafford during the reign of Henry III and Edward I (source: Testa de Ville, Henry de Creswell during the reign of Henry I (source: Placita de Quo Warranto), Robert Cresswyle in county Derby recorded in 1273 in the Hundreds Rolls, Ricardus Creswill recording in 1379, Emmot Creswyll recorded in 1379, and John Creswell in York in 1581. Joseph Creswell (1557-1623) was an English Jesuit priest. Sir Cresswell Cresswell (1794-1863) was an English lawyer and politician.
The family motto is Cressa tie careat, which means "Let not Cressa want".
Blazons & Genealogy Notes
(Cresswell, co. Northumberland, exemplified to Addison John Cresswell, Esq., of Cresswell, on his assuming in right of his wife, Elizabeth Mary Reed, cousin of John Baker, Esq., of Hinton, the additional surname and arms of Baker). Quarterly, 1st and 4th, erminois three torteaux, two and one, each charged with a squirrel sejant ar., for Cresswell; 2nd and 3rd, gu. a goat statant armed and crined or, betw. three saltires of the last, for Baker; on a shield of pretence, 1st and 4th, for Baker, as above; 2nd and 3rd, az. two chevronels ar. betw. two garbs in chief or, and in base two swords in saltire ppr. pomcis and hilts gold, for Reed. Crests—1st, Cresswell: A mount vert thereon a torteau charged as in the arms; 2nd, Baker: A goat's head erased ar. armed and crined or, gorged with a collar gemel and charged on the neck with a saltire gu. Motto—Cressa ne careat.