Cullinan Family Crest, Coat of Arms and Name History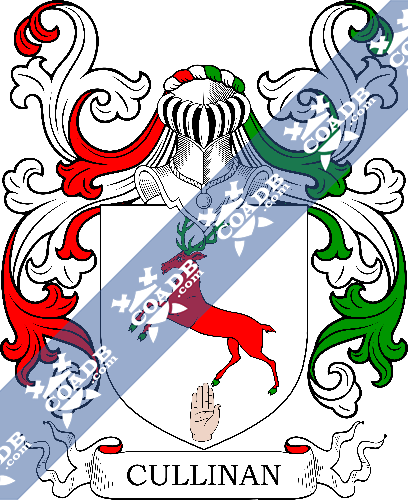 Cullinan Coat of Arms Gallery
Don't know which Coat of Arms is yours?
We can do a genealogical research. Find out the exact history of your family!
Learn More
O'CULLINAN, Quillinane.
Cullinan is the usual anglicized spelling of the name Ó Cuileannáin in Co. Clare and Cullinane in Co. Cork and East Munster.  The prefix O is seldom found with Cullinan or Cullinane nowadays.  One important sept so called originated in Tirconaill (Donegal), but there the name has been changed to Cullen.  Up to the end of the seventeenth century they were still using the form O'Cullinan.  They were closely associated with the O'Donnells and their seat was at Mullinashee. One of their sixteenth century chiefs was remarkable on account of the careers of his sons, of whom one was a bishop and six were abbots.  Dr. John Cullinan (1585-1653), was Bishop of Raphoe and suffered much persecution as such; he was a prominent supporter of Rinnuccini at the Confederation of Kilkenny.  His brother Glaisne O'Cullinan (1558-1584), Cistercian Abbot of Boyle, was martyred.  The O'Cullinanes of Co. Cork are a branch of the Corca Laidhe and their territory was in the barony of Barryroe.  The Civil Survey and the 1659 census indicate that the name was very numerous in Co. Cork in the seventeenth century not only in Barryroe but also in the surrounding baronies: two from Kinalea were among the Irish who sailed for Spain after the battle of Kinsale.  At that time, as to-day, branches of the sept were well established in Co. Clare and in Co. Waterford; in the latter the spelling of the name was then Quillinane, a form still occasionally met with in Munster.  Cormac Mac Cuileannáin, King and Bishop of Cashel, who was slain in battle 908 A.D., is famous as the compiler of the genealogical tract called the "Psalter of Cashel" and as the first Irish language lexicographer.  He cannot, however, properly be called a Cullinane because he lived before the era of surnames: his father's Christian name was Cuileannán.
Source: Irish Families Their Names, Arms and Origins by: Edward MacLysaght
Blazons & Genealogy Notes
1) Argent a stage springing gules attired and unguled vert., in base a dexter hand appaumée couped at the wrist proper.
2) same arms