Cullum Family Crest, Coat of Arms and Name History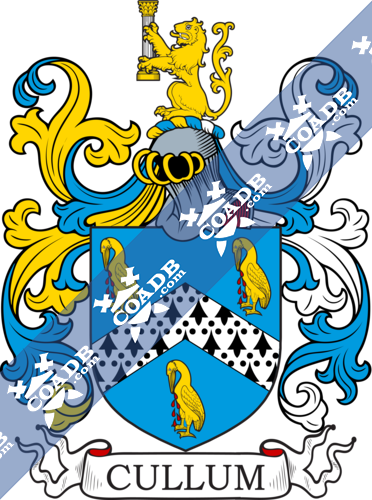 Cullum Coat of Arms Gallery
Don't know which Coat of Arms is yours?
We can do a genealogical research. Find out the exact history of your family!
Learn More
Cullum Origin:
England
Origin of Cullum:
The Cullum surname is a unique surname which is listed with different spelling forms like Cullum and Culham. This name holds many origins. Perhaps these origins or communities are associated with England and are regional from a hamlet known as Culham in Oxfordshire, which means the house which is situated on the corner of the river, or related to Culham in Berkshire, the area with a fire or oven. It is also associated with the Scottish and Irish and a different form of the surname Coleman which also appeared as Calham and Collam. This name may have been considered a collier or charcoal heater or in Celtic countries it may well have appeared from the particular name Colman. It is associated with the word Columban, which means "white dove" and represents a supporter of St Columba, of which the dove of peace was his representation. Colman was the name which was accepted before the 9th century Norse – Vikings attackers of Ireland who replaced the spellings slightly Colman to Kalman and represents the Northern England. One more origin was known as someone who was the slave of somebody known as Cole. It was an old English byname before 7th century used to explain a person of dark coloring, maybe a Welshman.
Variations:
More common variations of this surname are: Culloum, Culluam, Cullium, Culleum, Culum, Cullm, Clum, Callum, Cullam, Collum.
England:
The surname Cullum first originated in Suffolk where they held a family seat from ancient times, before and after the Norman Invasion in 1066.
The very first recorded spelling of the family name was shown to be that of Ranulf de Colham, who appears in the Hundred Rolls of landowners of Shropshire which was dated 1273, while William Cullum, also listed as Culhame and Culme in the register of students of Oxford University in 1570. The origin of surnames during this period became a basic requirement with the introduction of personal taxation. It came to be known as Poll Tax in England. Surnames all over the country began to develop, with unique and shocking spelling varieties of the original one.
United States of America:
Individuals with the surname Cullum settled in the United States in three different centuries respectively in 17th, 18th, and 19th. Some of the people with the name Cullum who settled in the United States in the 17th century included Jane Cullum arrived in Virginia in 1664. Mary Cullum, who landed in Maryland in 1672.
Some of the people with the name Cullum who settled in the United States in the 18th century included Elizabeth Cullum, and her husband settled in Maryland in 1720.
Some of the people with the name Cullum who settled in the United States in the 19th century included Elizabeth Cullum, her two daughters, her son George, and husband, settled in New York State in 1820.
Australia:
Some of the people with the name Cullum who settled in the Australia in the 19th century included Charles Cullum, who was a Canadian prisoner from Fredericton, New Brunswick, who shifted aboard the "Anna Maria" in March 1848, settling Van Diemen's Land, Australia.
New Zealand:
Some of the people with the name Cullum who settled in the New Zealand in the 19th century included S.W Cullum arrived in Auckland, New Zealand aboard the ship "City of Auckland" in 1870.
Here is the population distribution of the last name Cullum: United States 4,932; England 2,183; Wales 45; Ireland 22; Germany 134; Australia 377; Scotland 92; Canada 478; South Africa 584; New Zealand 114.
Notable People:
Albert Cullum is an American professor.
Ben Cullum is a British singer and composer.
George Washington Cullum was an American Civil War commander and administrator of the U.S. Army Academy.
Jamie Cullum (born 1979), was an English pianist and composer.
Jim Cullum Jr. was an American cornetist and leader of a famous band.
John Cullum was a famous American artist and musician.
Kimberly and Kaitlin Cullum were American child artist who are also sisters.
Leo Cullum (1942–2010), was an American illustrator and father of Kimberly and Kaitlin Cullum.
Ridgwell Cullum (1867–1943), was a British author of adventure novels.
Robert B. Cullum was an American businessperson and public administrator from Dallas.
Thomas Gery Cullum (1741–1831), was a medical doctor and biologist (abbrev. Cullum), and collector.
Blazons & Genealogy Notes
Notes: (Hawsted and Hardwick House, co. Suffolk, bart., extinct). Motto—Sustineatur. Blazon: azure. a chevron ermine. between three pelicans or, vulning themselves ppr. Crest—A lion sejant or, holding between The paws a column argent capital and base gold.