Cummings Family Crest, Coat of Arms and Name History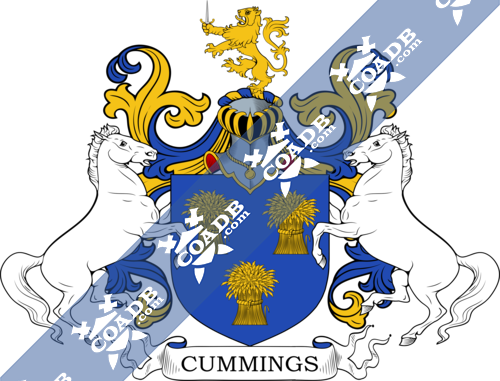 Cummings Coat of Arms Gallery
Don't know which Coat of Arms is yours?
We can do a genealogical research. Find out the exact history of your family!
Learn More
Cummings Surname Name Meaning, Origin, History, & Etymology
There are six origins theories and meanings to the last name Cumming. First, one theory is this is a locational or habitational surname of Norman origin meaning "de Comines", a place near Lille, France, on the French/Belgian border, the family having come to England and the British Isles during the Norman Conquest of 1066 AD, although not all authors agree with this explanation. Similar to this theory, one author, Elson Coles Smith, in his 1956 book, Dictionary of American Family Names, states the location was Comines, in Flanders, Belgium. Second, in Ireland and Scotland, it may have derived from a Celtic personal name derived from the element cam, meaning bent or crooked, in a similar manner to how Cameron and Campbell derive from said element. The name was frequent in the 1100 and 1200s AD in the following three English counties, perhaps as a result of immigration from Breton (a place in northwestern France that was part of Brittany and formerly known as Armorica when it was a territory of the Roman Empire): Yorkshire, Norfolk, and Lincolnshire. Third, it can be an Anglicized form of the Gaelic last name MacCuimin or O'Cuimin, meaning "son of Cuimin" or "descendant of Cuimin", a personal (first) name formed from the diminutive cam, crooked. In the 500s AD, there was an Abbot of Icolmkill named Cummine (located on a small island of the coast of western Scotland called Iona) and another in the 600s AD named Comineas Albus. It may also be an Anglicized version of the Gaelic surname O'Comain, especially in Munster, Ireland. In Ireland, the family first established itself in Connacht where the family served as administrators of the church of St. Cuimin Fada. There is a parish near the Bay of Killala called Kilcumming that derives its name from this family.  Fourth, it may be related to the herb cumin or cumin in some manner. Fifth, it some cases, it is an Americanized version of the French Canadian surnames Vien or Veins, based on the misconception that these French last names are derived from the French word venire, meaning "to come". William Cumine, Lord Chancellor of Scotland during the reign of King David I is said to have been one of the original progenitors of this family, which became prestigious, holding the Earldoms of Atholl and Angus. He was also known as Willelmus Comym and was recorded in the Records of the Kelso Abbey in 1133 AD. William descended from Robert Cumine, the Earl of Northumberland (granted to him by William the Conqueror for accompanying him during the Norman Invasion of England in 1066 AD, he had 700 horses and seized the town of Durham but died there when the people rebelled) who was a fierce opponent of the Saxon invaders. The book Surnames of Scotland, authored by George Fraser Black and published in 1946, states the following in regard to these arms: "The first of the name connected with Scotland is Willelmus Comyn, a churchman, chancellor to David I. He was promoted to the bishopric of Durham by the Empress Matilda, but had many controversies with his clergy. Later he was poisoned by some of their number who mixed poison with the wine of the Sacrament and give it to him to drink. Richard Cumyn, second of the name in Scotland, made a gift of the church of Lyntun-ruderic. (Linton-Roderick) to the Abbey of Kelso for the weal of the souls of Earl Henry (d. 1152) and his own son, John. He also witnessed charters by William the Lion after 1165. By his marriage with Hextilda, granddaughter of Donald Bane, king of Scots, he had a son, William, who became chancellor and great justiciary of Scotland. William married Marjory, daughter and heiress of Fergus, the last Celtic earl of Buchan between 1211—24, and in right of his wife became earl of Buchan". Wikipedia states "John III 'Red' Comyn, Lord of Badenoch and Lord of Lochaber, also known simply as the Red Comyn (died 10 February 1306) was a Scottish nobleman who was an important figure in the Wars of Scottish Independence, and was Guardian of Scotland during the Second Interregnum 1296–1306. He is best known for having been stabbed to death by Robert the Bruce before the altar at the church of the Greyfriars at Dumfries". Sixth, comins.org proffers a theory that the family is an old family that lived in Lombardy, a region of northern Italy, prior to the 300s AD, during the later period of the Roman Empire, and subsequently crossed over the Alps Mountains and settled in Provence, and later Girdone, France, near the border of Belgium, where they founded the town of Commines, which was inhabited by one Phillip of Commines, who is considered the progenitor or original ancestor of this family.
Spelling Variations
Some spelling variants or names with similar etymologies include Cumming, Cummings, Comminngs, Cummiings, Cumings, Commings,  Comyn, Comin, Commin, Commins, Cumin, Comyns, Kimmings, Kimmins, Kimmons, Kaming, Keming, Kaman, Camings, Cummine, Chuimein, and about 20 others.
Clan Cumming
Clan Cumming is a Scottish clan from the central Highlands, also known as Clan Comyn, that played a significant role in the Wars of Scottish Independence versus the English during the thirteenth century AD. They were considered by some to be the most powerful family in the country during that century until they were defeated in a civil war by Robert the Bruce.  Their motto is "Courage" and their Slogan is "An Cuimeanach! An Cuimenach!". There war cry is as follows: "Fhad 's a bhios maide sa choill, cha bhi foill an Cuimeineach", which translates into English as "long as there is wood in the forest, there won't be deceit from Clan Cummin". Their plant badge is common swallow, the pussy willow, or the cumin plant. The clan animal is the lion and their pipe music is Willie Cumming's Rant. It is said this clan is of Norman or Flemish origin, the ancestors having from from Bosc-Benard-Commin near Roeun in Normandy, France or from Comines, near Lille, France. Wikipedia states the following in regard to this clan: "Richard Comyn, the nephew of William Comyn, chancellor to King David, is the one who established this family in Scotland. His son was William Comyn, who married Marjory, Countess of Buchan. William's mother was Hextilda, the granddaughter of king Donald III of Scotland. His son was Walter Comyn, the man who acquired the lordship of Badenoch. The seat of power was Ruthven Castle. Ruthven Castle commanded the northern end of two passes over the Mounth, the Drumochter and Minigaig passes. This lordship passed to his nephew, the first John Comyn. This John was the first to be known as "the Red" Comyn. He was a descendant of William Comyn, Earl of Buchan, by the earl's first wife, Sarah Fiz Hugh. The chiefs also possessed the lordship of Lochaber. Here can be found the remains of Inverlochy Castle, built by the Comyns about 1270–1280". In modern day, the clan is dispersed in areas like South Africa, New Zealand, Canada, United States, Australia, Ireland, England, and Wales, in addition to Scotland of course. The clan is currently seated at Altyre, Moray, Scotland. Through the years, the clan held or was associated with various castles, including: Inverlochy Castle, Lochindorb Castle, Dunphail Castle, Balvenie Castle, Banff Castle, Bedrule Castle, BIair Castle, Cadzow Castle, Castle Grant, Castlke Roy, Comyn'S Castle, Urquhart Castle, Ruthven Barracks, Rair Castle, Old Slains Castle, Mains Catle, Kirkintilloch Castle, Inchtalla Castle, Dalswinton Castle, Delgatie Castle, Dundarg Castle, and Ellon Castle. The clan is also associated with the five following religious sites: Deer Abbey, Glasgow Cathedral, Inchmahome Priory, Altyre Kirk, and Cumbernauld Chapel. The clan tartan is green and red.
Popularity & Geographic Distribution
The last name Cummings ranks 372nd in popularity in the United Status as of the 2000 Census. The spelling variation Cumming ranks 9,138th in the same census. The former name ranks particularly high in the following four states: Maine, Vermont, New Hampshire, and Montana. The surname Cummings frequency/commonness ranks as follows in the British Isles: England (735th), Scotland (633rd), Wales (612th), Ireland (2.996th) and Northern Ireland (496th). In England, it ranks highest in counties Durham, Northumberaland, and Westmorland. In Scotland, the surname ranks highest in Fife. In Wales, it ranks highest in Glamorganshire. In Ireland, it ranks highest in county Leitrim. In Northern Ireland, it ranks highest in county Armagh. The name is also present throughout the remainder English speaking world:  Canada (808th), New Zealand (953rd), Australia (854th), and South Africa (3,775th).
Early Bearers of the Surname
A one Admund le Comyn was documented in county Norfolk in 1320 AD. The Hundred Rolls of 1273 AD, a census of Wales and England, known in Latin as Rotuli Hundredorum lists four bearers of this surname: Florentina Comin (Oxfordshire), Peter Comyn (Wiltshire), Stephen Comyng (Essex), Thomas Comyn (Gloucester), and Alexander Comyn (Oxfordshire). David Comyn was documented in county Northumberland around the time of King Henry III and King Edward I of England according to the Testa de Neville, sive Liber Feoforum. A one William Cumyn in county Wiltshire was recorded in the same documents as living in the same era. A one Simon Comyn was documented in Coldingham in 1483. Some early baptisms or christenings involving this surname include: 1) Sarah, daughter of Christopher Cummins, at St. James, 2) Barbara Keminge at St. Margaret's, Westminster in 1579, and 3) Johes Kemmin, son of George and Annae, at St. Martins in the Field, Westminster, England, Clerkenwell in 1642 AD. Early marriages involving this surname include 1) Robert Comins to Mary Henley on London in 1698, 2) John Comyns and Elizabeth Courthope in 1708, and 3) Mary Coming to Thomas Hendy at St. George's Hanover Square in 1764.
Cummings Family Tree & Cummings Genealogy
Gordon-Cumming
The lineage of ancestry of this branch of the Cumming family tree begins with Sir Alexander Penrose Cumming, 1st Baronet, son of Alexander of Altyre, in Elgin, and Grace Pearce, the niece and heir of John Penrose of Cornwall. John Penrose was the heir and representative of the last Sir William Gordon, Baronet of Gordsontown, and hence Sir Alexander assumed the name and arms of Gordon of Gordonstown and was created a Baronet in May of 1804. In 1773, he married Helen, daughter of Sir Ludovick Grant and Margaret , and had nine daughters and seven sons with her, including the following: 1) Sir William (second Baronet, discussed below), 2) Charles Lennox Cumming-Bruce (Member of Parliament for Roseisle and Kinnaird, married Mary Elizabeth Bruce, had daughter named Mary Elizabeth who married the 8th Earl of Elgin and Kincardine), 3) Margaret (married Major Samuel Madden of Kells Grange), 4) Helen (married Sir Archibald Dunbar, Baronet), and 5) Louisa (married John Hay Forbes, Lord Medwyn). His son and heir was Sir William Gordon Gordon-Cumming, 2nd Baronet, who was born in 1787. He represented the ancient family of Cymming, and through femalke descent, inherited the estates of the house of Gordon of Gordonstown, premier Baronets of Nova Scotia, Canada. Further, he was heir general of the ancient family of Penrose of Penrose, Cornwall, England, who had lived there before the Norman Conquest of 1066 AD. He was a Member of Parliament for Elgin, Banff, and other boroughs. In 1815, William first married Eliza Mria, daughter of John Campbell of Shawfield and Islay and Lady Charlotte Maria, and had numerous issue with her, including the following: 1) Sir Alexander Penrose (3rd Baronet), 2) Roualeyn George (served in the Madras Cavalary and the Cape Mounted Rifles, traveled in Africa), 3) Henry (of Pittyvaich, Dufftown, Scotland, married Elizabeth Newton Stewart, had issue named Henry William Grant who married Evelyn Agnes Linsday and Ludovic Seymour who married Constance Mary Morel), 4) William Gordon (Lieutenant Colonel of the Bombay Staff Corps, Deputy Lieutenant, married Alexa Angelica Harvey Brand and later Lettice Hermione Violet Willoughby), 5) Francis Hastings Toone (Major Bombat Staff Corps, married Emma Campbell, had issue named William, Charles Lennox, and others), 6) Anne Seymour Conway (married Oswin A. Baker Cresswell of Northumberland, England), 7) Adelaide Eliza (married Captain William Gilfrid Cresswell), 8) Alice Henrietta (married John Henry Jenkinson), 9) Eleanora (married Honorable George Grant, son of the 6th Earl of Seafield), and 10) Emilia (married Major Watden Sergison of Cuckfield Park and later Reverend William Seymour Edgell of Herts, had issue). Sir William died in 1854 and was succeeded by his eldest son, Sir Alexander Penrose-Gordon-Cumming, 3rd Baronet, who was a Lieutenant Coloenl of the Elginshire Volunteers and Captain of the 4th Light Dragoons who was born in 1816. In 1845, Sir Alexander married Anne Pitcairn, daughter of Reverend Augustus Campbell of Liverpool, with whom he had four children: William Gordon (4th Baronet), Alastair or Alexander Penrose (married Frances Campbell Eames, had daughter named Margaret Campbell), Walter Frederick Campbell (a Captain of the B.N.I. who served in Central and South Africa), and Eliza Maria (married the 9th Baron Middleton). Sir Alexander died in 1866 and was succeeded by his son, Sri William Gordon Gordon-Cumming, 4th Baronet, who was born in 1848. Sir William was a Major and  Lieutenant Colonel of the Scots Guard who fought in the Zulu War and in Egypt. In 1891, he married Florence Josephine, daughter of W. Garner of New York, and had five children with her: Sir Alexander Penrose, Lieutenant Commander Roualeyn Geoffrey, Michael Willoughby, Elma, and Cecily. He died in 1920 and was succeeded by his eldest son Alexander. Sir Alexander Penrose Gordon-Cumming, 5th Baronet, was educated at Eton and Trinity College in Cambridge, born in 1893. He was a Major of the Cameron Highlanders and served in World War I. He was also a Deputy Lieutenant and Justice of the Peace. In 1924, he married Elizabeth, daughter of J. Topham Richardson of Harps Oaks, and had children with her as follows: William Gordon (6th Baronet), Cecil Josephone, and Philipa. He died in 1939 and was succeeded by his son, Sir William Gordon Gordon-Cumming, 6th Baronet, of Altyre and Gordonstown, county Moray, who was born in 1928. The Cumming Coat of Arms (mistakenly called the Cumming Family Crest) is blazoned in heraldry as follows: Quarterly: 1st and 4th, azure, three garbs, or: 2nd and 3rd, argent, three bends sable, each charged with as many roses of the field, barbed or; over all, upon as escutcheon of presence, the achievement of the arms of Gordon of Gordonstown. Crst for Cymming of Altyre: A lion rampant, or; in the dexter paw a dagger proper. Motto: Courage. Supporters: Two horses, argent. They family seats were at Altyre, Forres, and Gordonstown, Elgin, county Moray.
Other Gordon Pedigree & Family Trees
A one Alexander Cumming was born in Bunchrew, Inverness, Scotland in 1532 and he married Margaret Munro, having a daughter with her named Isobel. His daughter married Andrew Brand and had a daughter with him named Elizabeth.
John Cummings (or Commin or Commyn) was born in Copford, Essex, England around 1565. He married Amy Greene and had a son with her named Isaac. This Isaac Cummings was born in Easthorpe, Essex, England in 1601. He came to Massachusetts in colonial America. He married twice: Anne (surname not known) and Marie Margaret Kinsley, and was the father of the following children: Issack, John, Isaac, Ann (Pease) and Elizabeth (Jewett).  His son Deacon Isaac Cumming was born in Mistley, England in 1632 and went to colonial America with his father where he married Mary Andrews in Topsfield, Massachusetts in 1659. He had several issue: Isaac, John, Thomas, Abigail (Perley), Mary, Rebecca, Stebbings, and others. He was a selectman, constable, and treasurer. His son John was born in Topsfield, Massachusetts in 1666. He married Susannah Towne and had nine issue with her as follows: Joseph, John Jr., Isaac, David, Mary (Hutchinson), Susannah (Whipple), Stebbens, Samuel, Rebeckah, and David. His children had issue who populated America as follows:
1) John Jr. Cummings born in 1690, had issue as follows: John, Hannah, Mercy, Benjamin, Reuben, Sarah, Benjamin, and Joseph.
2) Isaac Cummings born in 1695, had issue as follows: Isaac, Hannah (Rice), Mar, Mehitable (Jepherson), Rebecca, Ebenezer, Sarah, and Noah
3) David Cummings born in 1698, had issue as follows: Samuel
4) Samuel Cummings born in 1707,  had issue as follows: Samuel and Susannah
5) David Cummings born in 1708 in Maine, had issue as follows: Archelaus
6) Joseph Cummings born in 1690, had issue as follows: Joseph*, Thomas, Jacob, Abigail, Daniel, and Moses.
*This Joseph was born in Topsfield, Massachusetts in 1713 and he married Marth Hodgkins, having four issue with her: Hannah, Jabez, Abel, and Amos. His son Amos was born in Douglas, MA in 1768. He married Betsy Fletcher.
A one Matthew Cummings was born in Armagh, Ireland around 1833. He married Annie Cummings in Thames, New Zealand, and had many children with her: Marianne Teresa (Jones), Arthur Lewis, Anna Bell, Miriam Bridelia Soljack, Bertha, Matthew Leonard, Dorothy, Charlotte, Hetty, Kathleen Veronica, and Nancy.
Early American and New World Settlers
The book Genealogical Guide to the Early Settlers, mentions four bearers of this last name:
1) David Cummings of Dorchester, 1664, died in 1690. He likely had a wife named Elizabeth.
2) Isaac Cummings of Ipswich, MA, a freeman in 1642 who may have been at Watertown and Topsfield.
3) Richard Cummings of Isle of Shoals, joined with Thomas Turpin in purchase of all estate of Francis Williams of Portsmouth, in December, 1645, and in short time removed to Massachusetts, freeman 1669, but went back to Maine likely, and died in Scarborough in 1676. He owned a sizeable property.
4) William Cummings of Salem, MA, 1637, likely the support of Wheelrught, disarmed that same year. He may have had a daughter named Ann, who married John Pease
Other early settlers in colonial America bearing this surname include Isaac Cummings (Massachusetts 1630), Samuel Cummings (Maryland 1663), Archibald Cummings (Pennsylvania 1725), Thomas Cummings (Philadelphia 1773), John Cummings (New York 1774), Andrew Cummings (US 1795), George Cumming (New Jersey 1685), Anthony Cumming (Virginia 1704), and William Cumming (Maryland 1717).
In Canada, one of the earliest bearers of this last name was John Cummings who came to Nova Scotia in 1749. A one Elizabeth Cummings came to Halifax in 1778. In Australia, one of the first bearers was Samuel Cummings, a convict from Middlesex, England who came aboard the Ann in 1809, living in New South Wales (then a penal colony). In New Zealand, Eliza Cummings, age 40, a housekeeper by trade, came aboard the Ambrosine in 1860, settling in Lyttelton. In 1865, James and Mary Cummings came to the city of Auckland aboard the Armstrong.
Early Americans Bearing the Cummings Family Crest
Charles Bolton's American Armory (1927) contains three entry for this surname:  Azure a chevron argent between three garbs or. Crest: two swords in saltire proper. Crozier's General Armory (1904) and Matthew's American Armoury and Bluebook (1907) do not contain an entry for this name.
Mottoes
I have identified two Cummings family mottoes:
1) Courage
2) Hinc gerbae nostrae (From our wheat?)
Grantees
We have 9 coats of arms for the Cummings surname depicted here. These 9 blazons are from Bernard Burke's book The General Armory of England, Scotland, Ireland, and Wales, which was published in 1848. The bottom of this page contains the blazons, and in many instances contains some historical, geographical, and genealogical about where coat of arms was found and who bore it.
Notables
There are hundreds of notable people with the Cummings surname. This page will mention a handful. Famous people with this last name include: 1) Alexander Cummings (1810-1867) who was the 3rd Governor of the Colorado Territory from 1865-1867 who was previously and Colonel and Brigadier General in the Union Army during the American Civil War, who was born in Williamsport, Pennsylvania and eventually moved to Ottawa, Ontario, Canada, 2) Amos Jay Cummings (1838-1902) who was a member of the US House of Representatives from New York in the late 1800s who was born in Conklin, NY and had served as a Sergeant Major in the 26th New Jersey Volunteer Regiment during the American Civil War, having received the Medal of Honor, 3) Damon M. Cummings (1910-1942) who was a US Navy Officer (Lieutenant Commander) who received a Navy Cross for his service in World War II, born in Belvidere, Illinois, 4) Edward Estlin "E.E." Cummings (1894-9162) who was an American poet, author, essayist and playwright born in Cambridge, Massachusetts, who authored nearly 3,000 poems and is considered one of the most prominent authors of the 20th century, 5) Frederick W. Cummings (1931) was a theoretical physicist and professor at California, Riverside who was a US Army veteran of the Korean War, 6) Fred Nelson Cummings (1864-1952) who was a member of the US House of Representatives for Colorado from 1933-1941 who was born in Groveton, New Hampshire, 7) Ella M. Bully-Cummings (1958) who was the first female police chief of Detroit from 2002-2008, having been born in Kanagawa Predecture, Japan, 8) Homer Stille Cummings (1870-1956) who was the 55th US Attorney General from 1933-1939 during the Roosevelt Administration who was born in Chicago, Illinois, 9) John Cummings (1969) who is a retired baseball pitcher who played in the MLB from 1993-1997, born in Torrance, California, and 10) William Hayman Cummings (1831-1915) who was an English tenor, organist, and musician at the Waltham Abbey who was born in Sidsbury, Devon.
Blazons & Genealogy Notes
1) or Cumming (Altyre, co. Elgin, recorded 1745). Az. three garbs or. Crest—A lion ramp. or, holding in his dexter paw a dagger ppr. Supporters—Two horses ar. Motto—Courage.
2) or Cumming – Bruce (Major Chas. Lennox Cumming-Bruce, M.P., brother of the 2nd bart. of Altyre, and m. to the heiress of Bruce, of Kinnaird. He is now represented by Lady Thurlow, the only child of his dau. and heir the Countess of Elgin). Quarterly, 1 st and 4th, or, a saltire and chief gu. the latter charged on the sinister side with a mullet of the first surcharged with a crescent of the second, for Bruce; 2nd and 3rd, three garbs or, for Cumming. Crests— On a chapeau a dexter arm in armour from the shoulder resting on the elbow ppr., for Bruce, A lion ramp. or, holding in his dexter paw a dagger ppr., for Cumming. Mottoes—Fuimus, for Bruce; Courage, for Cumming.
3) Hovell -Thurlow-Cumming-Bruce (Baron Thurlow). Quarterly, 1st, Bruce, or, a saltire gu. on a chief of the last, in sinister canton a mullet of the first charged with a crescent of the second, 2nd, Cumming, az. three garbs or; 3rd, Thurlow, ar. on a chev. cottised sa. three portcullises with chains and rings of the first; 4th, Hovell, or, a cross sa. Crests—1st, Bruce: On a cap of maintenance ppr. a dexter arm in armour from the shoulder, resting on the elbow also ppr. the hand holding a sceptre erect or, motto over, "Fuimus." 2nd, Cumming: A lion ramp. or, holding in the dexter forepaw a dagger ppr., motto over, "Courage"; 3rd, Thurlow: A raven ppr. gorged with a chain and pendent a portcullis ar., motto over, "Justitiae soror fides;"; 4th, Hovell. A greyhound couchant or, collared and line reflexed over the back sa., motto over, "Quo fata vocant." Supporters—On either side a greyhound or, collared and line reflexed over the back sa.
4) or Cumming (Logie, co. Elgin). Az. a mullet betw. three garbs or. Crest—A lion ramp. or, holding in his dexter paw a dagger ppr. Motto—Courage.
5) or Cumming (Relugas, co. Elgin, represented by Sir Thos. Dick Lauder, Bart., as heir of line). Az. a fesse ar. betw. three garbs or. Crest—A lion ramp. gu. holding in his dexter paw a dagger ppr. Motto—Courage.
6) or Cumine or Cumming (Auchray, co. Aberdeen, a quo Cumine, of Rattray). Az. a buckle betw. three garbs or. Crest—A sword and dagger saltireways ppr. Motto—Courage.
7) or Cumming (Sir John Cumming, Knt., 1782). Same Arms, within a bordure ar. Crest—A lion ramp. ppr. Motto—Courage.
8) or Cumming (Brunthill and Birnes, co. Aberdeen, as recorded, 1672, Gordon, of Pitlurg, the heir of line). Az. a fleur-de-lis betw. three garbs or. Crest—A hand holding a sickle ppr. Motto—Hinc gerbae nostrae.
9) or Cumming (Culter, co. Aberdeen, bart.). Az. three garbs within a bordure or. Crest—A garb or. Morto—Courage.