Dallas Family Crest, Coat of Arms and Name History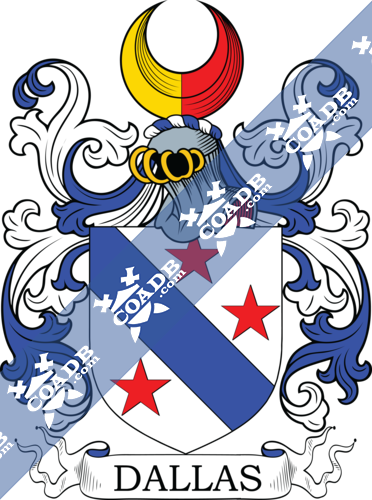 Dallas Coat of Arms Gallery
Don't know which Coat of Arms is yours?
We can do a genealogical research. Find out the exact history of your family!
Learn More
Dallas Origin:
England, Scotland
Origins of Dallas:
This interesting surname is of Anglo-Saxon and Scottish origin, and has two possible origins, the first being a geographical name for someone who resided in a house by the valley, acquired from the Old English pre 7th Century "dael", valley, and "hus" house.  The name could also be from a place name with this origin, such as Dalehouse in the North Riding of Yorkshire. The second source is locational from a place near Forres, thought to derive from the ancient British pre-Roman "dol," pasture, itself acquired from the Gaelic "dail," and the British "gwas," dwelling, and means " living in the pasture."  The surname development since 1262, contain as Roger del Dalhous (1301, Yorkshire), William de Dalhous (1327, Yorkshire), John de Dolas (1429, Scotland) and Henry Dallas (1513, Scotland).  Among the records in London is the christening of James, son of Hugh Dallas, in June 1682 at St. Dunstan's, Stepney.  The christening was noted in Scotland of Andrew, son of Arthur Dallas and Magdalan Allan, in April 1696 at Edinburgh, Midlothian.
Variations:
More common variations are: Dallass, Doallas, Dallaso, Dallias, Dhallas, Dallasa, Dallase, Dalls, Dalas, Dallasih.
England:
The surname Dallas first appeared in Moray, where they held a family seat from very early times, some say well before the Norman Invasion and the arrival of Duke William at Hastings in 1066 AD.
The very first recorded spelling of the family was shown to be that of Archebaldus de Doleys, dated 1262, in the of " Acts of Parliament of Scotland." It was during the reign of King Alexander III of Scotland, dated 1249-1286. Surname all over the country became a necessity with the introduction of personal taxation.  It came to be known as Poll Tax in England.  Surnames all over the country began to develop, with unique and shocking spelling varieties of the original one.
Ireland:
Many of the people with surname Dallas had moved to Ireland during the 17th century.
United States of America:
Individuals with the surname Dallas landed in the United States in two different centuries respectively in the 18th, and 19th.  Some of the people with the name Dallas who arrived in the United States in the 18th century included Alexander Dallas who settled in Jamaica in 1775.
The following century saw much more Dallas surnames arrive.  Some of the people with the surname Dallas who arrived in the United States in the 19th century included Peter Dallas, aged 60, arrived in North Carolina in 1812.  Alexander Dallas, who arrived in New York, NY in 1815.  John Dallas, who arrived in New York, NY in 1817.  Margaret Dallas, aged 17, landed in Mobile, Ala in 1820-1873.  Duncan Dallas, who landed in Allegany (Allegheny) County, Pennsylvania in 1842.
Australia:
Some of the individuals with the surname Dallas who landed in Australia in the 19th century included William Dallas, a blacksmith, arrived in New South Wales, Australia sometime between 1825 and 1832.
New-Zealand:
Some of the population with the surname Dallas who arrived in New Zealand in the 19th century included A. S. Dallas arrived in Auckland, New Zealand aboard the ship "Ulcoats" in 1864.
Here is the population distribution of the last name Dallas:
United States 10,201; Greece 1,745; England 1,656; South Africa 1,278; Brazil 874; Jamaica 821; Australia 776; Canada 590; Scotland 578; France 367.
Notable People:
Alexander Grant Dallas (July 1816 – January 1882) was a Chief Factor in the Hudson's Bay Company and superintendent of the Columbia District and New Caledonia from 1857 to 1861, then superintendent of Fort Garry in what was to become Manitoba from 1862 to 1864.
Darcy Dallas (born October 1972) is an old Canadian professional ice hockey defenseman. He served Northern Michigan University to play four seasons (1993 – 1997) with the Northern Michigan Wildcats where he guided the NCAA college hockey team, scoring 13 goals and 38 assists for 51 points, while earning 236 penalty minutes, in 106 games played.
Alexander J. Dallas (United States Navy officer) (1791-1844), was a U.S. Navy officer; brother of George M. Dallas.
DeVan "Van" Dallas (March 1926 – November 2016) was an American leader in the state of Mississippi.  He served in the Mississippi House of Representatives from 1964 to 1976.
Eneas Sweetland Dallas (1828–1879), was a Scottish writer.
George M. Dallas (1792-1864), was the 11th Vice President of the United States of America.
Hugh Dallas (born 1957), is an old Scottish football (soccer) referee.
Ian Dallas (Abdalqadir as-Sufi) (born 1930), is a Scottish writer and Muslim follower.
John Dallas (rugby player) (1878–1942), was a Scottish rugby union player and referee.
Josh Dallas (born 1978), is an American actor.
Karl Dallas (born 1931), is a British author, musician, and activist.
Matt Dallas (born 1982), is an American actor.
Robert Dallas (1756–1824), was a British judge.
Sandra Dallas was an American writer.
Stuart Dallas (born 1991), is a Northern Ireland soccer player.
Blazons & Genealogy Notes
1) Notes: (Petsal, co. Stafford, bart.). Motto—Lux venit ab alto. Blazon: Ar. a bend az. betw. three mullets gu. Crest—A crescent per pale or and gu.
2) Notes: (St. Martin's, co. Rose, as recorded 1815, for Sir Thomas Dallas, K.C.B.). Motto—Lux venit ab alto. Blazon: Ar. a fess betw. five stars of six points gu. Crest—An increscent ar.