Danbury Family Crest, Coat of Arms and Name History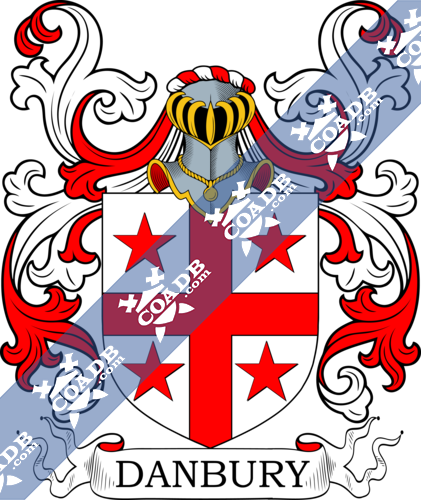 Danbury Coat of Arms Gallery
Don't know which Coat of Arms is yours?
We can do a genealogical research. Find out the exact history of your family!
Learn More
Origins of Danbury:
It is an interesting name of old English origin and is locational from an Old English pre 7th Century specific name "Dene" and "Dyrig", a fort or a town, thus, the burg of Dene's people.  The earliest record of the placename is in the Domesday Book of 1086 and it shows as "Danengeberia".  By 1254, Hunt's "The Valuation or Norwich", recordings this name as "Dainngbery," and in the Hundred Rolls of 1274 as "Danwebiry."  Amongst the sample records is, one Elizabeth Danbury who named at St. Mary of Whitechapel Stepney, London in April 1708.
Variations:
More common variations are: Danburry, Danbuory, Danbur, Denbury, Dunbury, Danbery, Danbaur, Danbary, Danbuer, Danibry.
Blazons & Genealogy Notes
Ar. a cross betw. four mullets gu.