Danson Family Crest, Coat of Arms and Name History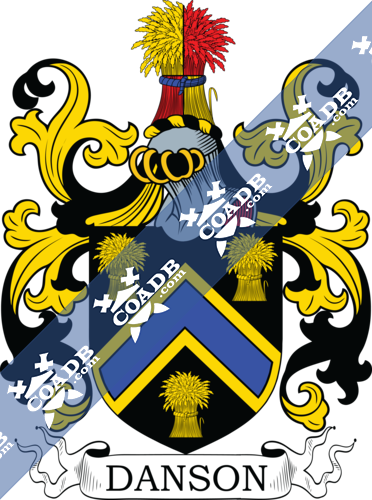 Danson Coat of Arms Gallery
Don't know which Coat of Arms is yours?
We can do a genealogical research. Find out the exact history of your family!
Learn More
Danson Origin:
England, Ireland
Origins of Danson:
This unusual surname was acquired from a byname used for a person matching an administrator, a parish official or even used as a professional name for a dean's servant. The word Dean goes back to the Latin "decanus," formerly "a leader of ten men". Professional surnames originally indicated the real profession of the named ancestor, and after that became inherited. As a surname, Deans is typical of Scotland, and was common in the Hawickshire District, as "Deinis" and "Deins" in the 16th Century. Other new alternatives of the name are Danes, Denson, and Densum. The name had clearly already developed as a surname by then. One Jacob Deanes was the Baillie of Edinburgh in 1682, according to the "Scottish Retours," and James Deins was a Glasgow trader in 1606. In an early entry in Parish Records Agnes, daughter of Thomas and Jeanne Deanes, listed as being named in Edinburgh, in September 1617. The wedding also listed in Edinburgh of Margaret Deans and David Bennet, in January 1655.
Variations:
More common variations are: Dannson, Deanson, Duanson, Danason, Danison, Dianson, Dawnsin, Dhanson, Danasona, Dainson.
England:
The surname Danson was first found in Lancashire where conjecturally they were defeated from the great Norman noble, Ive or Ivo Taillebois, who held large portions of the north of Lancashire, and that part of Westmorland which came under the barony of Kendal. The surnames also descended from this noble are Lancaster, Kendal, and Irby, Bardsea, Broughton, Kirby and Preston. Ivo came to England with William the Conqueror, but there little known of the family except that they were Angevin.
The very first recording spelling of the family was shown to be that John Deaness, "slater," dated about 1588, in the "Burgesses and Guild Brethren Lists," Glasgow, Edinburgh, Scotland. It was during the time of King James VI, dated 1567- 1625. The origin of surnames during this period became a necessity with the introduction of personal taxation. It came to be known as Poll Tax in England.
Ireland:
Many of the people with surname Danson had moved to Ireland during the 17th century.
United States of America:
Some of the people with the name Danson who arrived in the United States in the 18th century included Barbara Danson, who arrived in North Carolina in 1726.
Canada:
Some of the people with the surname Danson who came to Canada in the 19th century included Walter Danson at the age of 26, who was a laborer, arrived in Saint John, New Brunswick in the year 1833 aboard the brig "Silestria" from Belfast, Ireland.
Australia:
Some of the individuals with the surname Danson who landed in Australia in the 19th century included George Danson arrived in Adelaide, Australia aboard the ship "Lysander" in 1839. Elizabeth Danson arrived in Adelaide, Australia aboard the ship "Lysander" in 1839.
Here is the population distribution of the last name Danson: Kenya 2,197; Uganda 1,867; England 963; United States 771; Tanzania 365; Australia 238; Canada 169; Wales 102; France 73; South Africa 73
Notable People:
Alex Danson is a female English field hockey player, who has represented both Great Britain and England.
Barney Danson (1921–2011), was a Canadian political leader.
Ernest Denny Logie Danson was known for his time in the 20th century as the priest of Edinburgh.
Sir Francis Chatillon Danson was a nobleman from Liverpool who was known for calculating insurance of large ships.
Jane Danson (born 1978), is an English actress.
Mike Danson was an English administrator who set up Datamonitor, a global company which investigates the business market.
Paul Danson is a retired English football coach from Leicester.
Ted Danson is an American actor, who is known for the award-winning TV comedy Cheers.
Yvonne Margaret Danson was born in May 1959 in London, United Kingdom. She represented England at the 1994 Commonwealth Games in Victoria, Canada, winning the bronze medal in the women's marathon.
Blazons & Genealogy Notes
Sa. a chev. or, voided az. betw. three garbs of the second. Crest—A garb quarterly or and gu. banded az.