De Los Santos Family Crest, Coat of Arms and Name History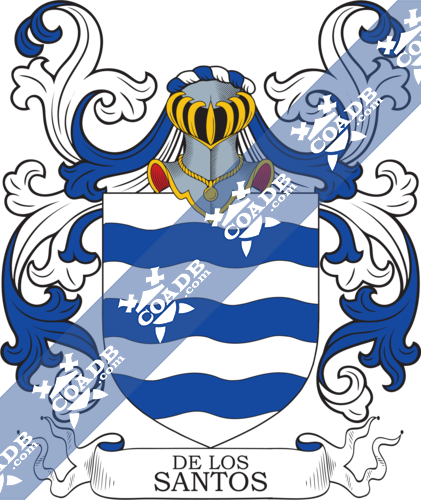 De Los Santos Coat of Arms Gallery
Don't know which Coat of Arms is yours?
We can do a genealogical research. Find out the exact history of your family!
Learn More
This section has not yet been completed. If you are interested in having your genealogy done, we offer an affordable research servicethat traces your lineage so you can learn more about your ancestors, where they came from, and who you are.
Blazons & Genealogy Notes
Source: Blasonari.net:
1) En campo de plata, tres fajas ondeadas, de azur.
2) Otros traen: En campo de gules, un león rampante, de púrpura.
3) Los de Castilla (armas primitivas) traen : En campo de gules, un árbol al natural, acompañado de tres coronas, de oro, una en la copa y otra a cada lado del tronco; bordura cosida de gules, con ocho aspas, de oro.
4) Otros traen: Escudo cuartelado: 1º y 4º, en campo de gules, un castillo, de oro; y 2º y 3º, en campo de azur, tres flores de lis, de oro.
5) Originario de Cádiz, radicado en Venezuela y extendido por España e Hispanoamérica: En campo de sinople, un águila, de oro, coronada de lo mismo y llevando en su garra diestra un cordero, de plata, y en la siniestra una culebra, de sinople.
6) Radicado en Pamplona: En azur, un monte, de sinople, saliendo de un sol radiante, de oro.
7) Radicado en Revilla: En azur, un castillo de cuatro torres, de oro.
8) Radicado en Madrid: En plata, una cruz potenzada, de gules, y cargada en el centro de una panela, de oro.
9) Los de los Santos, radicados en Cuba: En campo de azur. una banda de oro, acompañada de cuatro estrellas, dos en lo alto y dos en lo bajo, todas de plata.
10) Los Santos del Mazo, originarios de Meruelo (Santander) y radicados en Madrid: En plata, la cabeza de un toro, arrancada, de sable y goteando sangre, de gules.