Denny Family Crest, Coat of Arms and Name History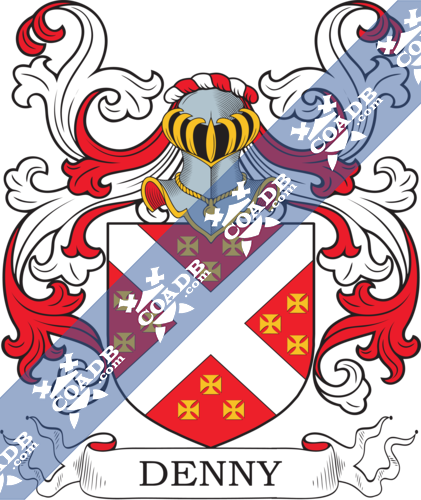 Denny Coat of Arms Gallery
Don't know which Coat of Arms is yours?
We can do a genealogical research. Find out the exact history of your family!
Learn More
DENNY
The name Denny is thought to have derived from one of three sources. The first states the name or any variation of its spelling came to Britain by way of France. French soldiers returning from the Crusades in the Holy Lands are thought to have imported the given names "Dennis" or "Denis" upon their return. The names "Dennis" or "Denis" are Greek and are derived from the Greek god's name Dionysus. The second source of origin states the name or any one of the variation of its spelling is Scottish in origin. The name is said to have derived from the Scottish town called Denny which. In this context the name would be considered topographical as it is used to describe the location where someone lived. The third states the name or any one of the variation of its spelling is said to be Anglo-Saxon in origin, having derived from the town in Cambridgeshire called Denry. The name comes from the medieval English word Dene which translates to "valley". In this context the name would be topographical as it could be used to describe the location where someone lived
Surnames in Britain prior to the Norman conquest were largely unheard of. In the small settlements and villages which existed during earlier times, residents found little need for surnames as everyone in these communities new each other and a given name would usually suffice. However, with the passage of time, population growth and expansions of communities as villages gave way to towns and cities, it became necessary to add a qualifier to a people's names to distinguish them, one from another. Therefore one person may have been identified by their given name plus their occupation while another may have been identified by their given name and one of their parent's names. The introduction of surnames by the Norman aristocracy after the invasion seemed to be the next logical step in this evolution. There was a boundless supply from which surnames could be formed, in addition to the use of patriarchal/matriarchal names or reference to the individuals occupation, there were things such as defining physical traits, a familiar geographical location or a topographical landmark found near the individuals home or birthplace, the name of the village in which the person lived, and so much more. Soon, surnames would come not just to represent an individual but whole families.
There often exists variations in spelling of many surnames, as with many given names which date back to the early centuries. The variation in spelling of both given and surnames during this time period can be attributed to a lack of continuity regarding guidelines for spelling which was compounded by the diversity of languages in use in European countries at this time. The variations in the spelling of the surname Denny include but not limited to; Denny; Dennie; Denie; Denney; Deanney; and Denye among others.
The earliest record of any variation of this surname is that of Johannes Denny which appears in the Yorkshire tax rolls from 1379. These rolls, were a series of census and tax records kept by the English Treasury by order of King Richard II, with the oldest dating back to the 12th century. They hold the distinction of being the oldest consecutive set of records detailing English governance in the United Kingdom. These records span a period of over seven centuries and have proven invaluable to researches over the years.
The first recorded immigrant to America bearing the surname or any variation of the spelling was Mary Denny who arrived in 1635 and settled in Massachusetts. Edward Denny landed and settled in New England in 1637 and John and Jane Denny arrived and settled in Virginia in 1657.
There were also many immigrants to the British Commonwealth countries of Canada, Canada, and Australia bearing the surname Denny. Charles Denny landed in 1834 and settled in St. John, Canada. Elizabeth Denny landed and settled in Adelaide, Australia in 1849 and Julia Denny landed in 1874 and settled in Wellington. New Zealand.
Worldwide, the highest concentration of people with the surname Denny are found in Australia, the United Kingdom, the United States, New Zealand, and Ireland. By state, the largest percentile of those with the surname Denny live in Indiana and North Carolina.
There are many persons of note who bear the surname Denny. One such person is Sir Anthony Denny. He was one of King Henry VIII' s closest most trusted companions and advisers. He was considered part of the Royal Household, was the most prominent member of the King's advisers, and was the person who attended the King in his final days.
Blazons & Genealogy Notes
1) (Earl of Norwich; created 1626, extinct 1660, male representative of the family Denny, bart., of Tralee, descended from the uncle of the first Earl). Gu. a saltire ar. betw. twelve crosses pattee or.
2) (Tralee Castle, co. Kerry, bart., representing Denny, Earl of Norwich). (Gillingham, co. Norfolk, bart., extinct; William Denny, of that place, was so created 1642, d.s.p.m.). (Raveningham and Thurlton Langley, co. Norfolk, and of Great Yarmouth; granted 9 March, 1663). Motto—Et mea messis erit. Same Arms. Crest—A cubit arm vested az. turned up ar. holding five wheat-ears or.
3) (Waltham Abbey, co. Essex). Same Arms. Crest—A cubit arm vested and turned up ar. holding in the hand ppr. four ears of wheat or.
4) (granted to Thomas Anthony Denny, Esq., of Connaught Place, Hyde Park, London, eldest surviving son of Henry Denny, of Waterford, merchant). Motto—Et mea messis erit. Gu. a saltire betw. nine crosses pattee, three in chief and a like number on each side ar. in base a lion pass. guard. or. Crest—Out of a mural crown ppr. a cubit arm vested az. cuff ar. the hand also ppr. holding five wheat-ears or.
5) Ar. a chev. within a bordure engr. sa. quartered by Roscarrock.