Dillingham Family Crest, Coat of Arms and Name History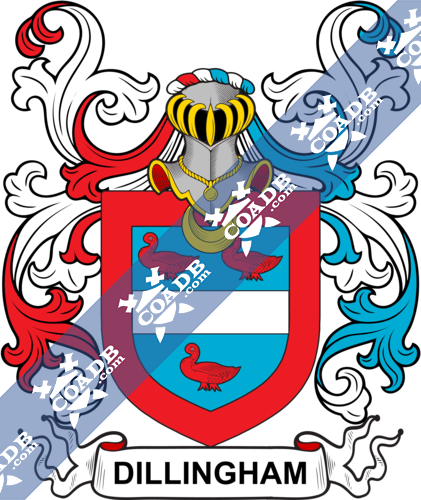 Dillingham Coat of Arms Gallery
Don't know which Coat of Arms is yours?
We can do a genealogical research. Find out the exact history of your family!
Learn More
This interesting surname, with the variant spelling Dillingham, is of Anglo-Saxon origin and is locational from one of the estimated seven to ten thousand villages and hamlets that have now disappeared from the maps in Britain.  The prime cause of these "disappearances" was the enforced "clearing" and dispersal of the former residents to make way for sheep pastures at the height of the wool trade in the 15th Century. More common variations are: Dilingham, Dillngham, Dillingam, Dillinghamw, Wdillingham, Tillingham, Dullingham, Dollingham, Dellingham
The surname Dillingham was first found in Dorset, Norfolk, and in Kent. The Hundredorum Rolls of 1273 list: Gild de Gillingham in Dorset and Robert de Gyllingham in Norfolk. During the reign of Edward I., Hugh de Gillingham found in Kent, and Robert de Gillingham found in Norfolk. The very first recording spelling of the family was shown to be that of Esdra Dyllingham, dated about 1567,  in the "Burwell", Cambridgeshire.  It was during the time of Queen Elizabeth 1, who was known to be the "Good Queen Bess", dated 1558 – 1567.  The origin of surnames during this period became a necessity with the introduction of personal taxation.  It came to be known as Poll Tax in England.  Surnames all over the country began to develop, with unique and shocking spelling varieties of the original one.
Some of the people with the name Dillingham who arrived in the United States in the 17th century included John Dillingham, who arrived in Ipswich, Massachusetts in 1631.Edward Dillingham, who arrived in Lynn, Massachusetts in 1636. Some of the people with the surname Dillingham who arrived in the United States in the 19th century included H H Dillingham, who landed in San Francisco, California in 1851.
Blazons & Genealogy Notes
Notes: (monument of Thomas Dillingham, M.A., Bector of Barnwell, son of William Dillingham, D.D., Master of Emanuel College, Camb., and Vice-Chancellor, ob. 1704) Blazon: A fess between three martlets within a bordure a crescent for difference.