Dimsdale Family Crest, Coat of Arms and Name History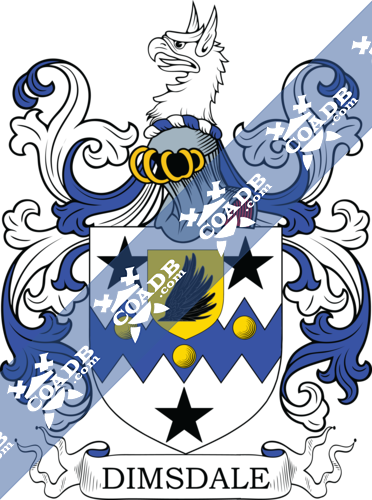 Dimsdale Coat of Arms Gallery
Don't know which Coat of Arms is yours?
We can do a genealogical research. Find out the exact history of your family!
Learn More
Dimsdale Origin:
England
Origins of Dimsdale:
This unique surname is of English geographical origin from a place named as "Dimsdale" in Staffordshire, which was mentioned as "Dulmesdene" in the Domesday Book of 1086 and "Dimesdal" in the Book of Fees in 1242. The placename itself is a combination of the first components "dimple," a Middle English word for a "dip in the ground," and the second component "Dale," the Olde English for the valley, a common component in English placenames. The surname was first listed at the start of the 13th Century. One Thomas Dimsdale was named in December 1627 at St. Nicholas, Deptford, Kent, while William Dimsdale married Ann Dade in September 1689 at Otley, Yorkshire. Thomas Dimsdale (1712-1800) inoculated Empress Catherine, various Russian Princes and the Hawaiian Omai against smallpox and became a councilor of the state in Russia with the hereditary title of Baron in 1768. A Royal symbol given to Joseph Cockfield Dimsdale, Esq of Upton, West Ham, Co. Essex which contained "a silver fesse dancette" between three blue "mullets" and two gold "bezants" (coins).
Variations:
More common variations are: Dimisdale, Dimesdale, Dimsdle, Demsdale, Dimsdaly, Dimstall.
England:
The surname Dimsdale first appeared in Durham at Low Dinsdale or Over Dinsdale, a church, in the union of Darlington, 8. W. division of Stockton ward. "A sulphureous well discovered in 1789, at a depth of seventy-two feet from the surface. It received the name of Dinsdale Spa, and has become a place of resort during the summer season."
The very first recording spelling of the family was shown to be that of John de Dimedale, dated about 1216, in the "Testa de Naville, sive Liber Foedorum temp Henry 111-Edward 1,", Norfolk. It was during the time of King Henry III who was known to be the "The Frenchman," dated 1216 – 1272. The origin of surnames during this period became a necessity with the introduction of personal taxation. It came to be known as Poll Tax in England.
Ireland:
Many of the people with surname Dimsdale had moved to Ireland during the 17th century.
United States of America:
People with the surname Dimsdale who landed in the United States in the 18th century included William Dimsdale who settled in New England in the year 1663. Robert Dimsdale, who landed in Pennsylvania in the year 1682.
Here is the population distribution of the last name Dimsdale: United States 426; England 118; Canada 27; Australia 6; Scotland 1; Isle of Man 1; Russia 1; Wales 1.
Notable People:
Robert Dimsdale (July 1828 –May 1898) was an English banker & Conservative leader who sat in the House of Commons two times between the year 1866 and 1892. He was born in Hatfield, Hertfordshire, the son of Charles John Dimsdale, and his wife, Jemima Pye. He got an education at Eton and Corpus Christi College, Oxford. He was a J.P. and a Deputy Lieutenant for Hertfordshire and a J.P. for Middlesex and Westminster. In the year 1872, he became the sixth Baron Dimsdale of the Russian Empire on the death of his father, Charles John. The barony was given by Catherine the Great, Thomas Dimsdale (1712-1800), who had treated the Empress and her son against smallpox in 1769. He stood unsuccessfully for parliament at Hertford in 1859. He was selected as a Member of Parliament for Hertford in 1866 and held the seat until 1874. He was elected for Hitchin in 1885 and held the seat until 1892.
Sir Joseph Cockfield Dimsdale, 1st Baronet, PC, KCVO (January 1849 – August 1912) was a prominent public figure at the end of the nineteenth and early twentieth centuries.
Oliver Dimsdale was born in October 1972. He is an English actor, known for portraying Louis Trevelyan in the BBC TV series He Knew He Was Right.
Arthur Dimmesdale is a fictional character in the 1850 romance The Scarlet Letter by Nathaniel Hawthorne. A Puritan minister, he has fathered an illegal child, Pearl, with Hester Prynne and searches to hide the truth of his relationship with her.
Blazons & Genealogy Notes
Motto—Magnas Hippocrates; tu nobis major. Ar. on a fesse dancettee az. betw. three mullets sa. as many bezants, over all, on an inescutcheon of pretence or, a sinister wing erect sa. Crest—A griffin's head erased ar.
1) (Camfield Place, co. Herts, as borne by Baron Dimsdale, Baron of the Russian Empire). Same Arms. Crest—Out of a baron's coronet of the Russian empire a griffin's head erm.
2) (granted to Joseph Cockfield Dimsdale, Esq., of Upton, West Ham, co. Essex). Motto—Quod Deus vult fiet. Ar. on a fesse dancettee oz. betw. three mullets sa. two bezants. Crest—A staff fesseways entwined by a serpent ppr. thereon a gryphon's head erased ar.