Drayton Family Crest, Coat of Arms and Name History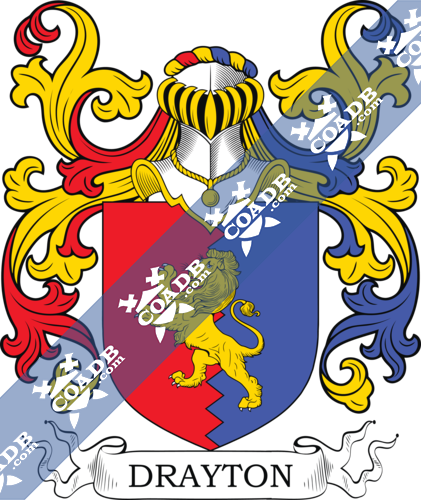 Drayton Coat of Arms Gallery
Don't know which Coat of Arms is yours?
We can do a genealogical research. Find out the exact history of your family!
Learn More
Surname Name Meaning, Origin, and Etymology
This  Anglo-Saxon last name is a locational/habitational one meaning "of Drayon", from about sixteen different parishes and dioceses with this name across England (ex. Crockford, Bath, Wells, Norwich, Oxford, Peterborough, Lichfield, Southwell, London, and Ely). The name derives from the Old English word draeg or droeg, meaning drag, slipway, portage, or sledge (an area where boats/ships were pulled across land or dragged on wet ground) or the word dragan, meaning to draw or drag, and the word tun, meaning settlement, enclosure, or farm. Another source claims it referred to a farm along which heavy goods and products were dragged. One of the earliest locales bearing this name was Dreyton in Devon. The family first became prominent in Norfolk, England before the Norman Invasion of 1066 AD. The family became a prominent political family in South Carolina and owned a 464 acre plantation known as Magnolia Plantation and Gardens.
Spelling Variations
Common spelling variants or names with similar etymologies include Draytone, Draghton, Dreyton, Dradon, Draydon, and Draton.
Popularity & Geographic Distribution
The last name ranks Drayton ranks 4,670th in popularity in terms in the United Status as of the 2000 Census. The name ranks particularly high in the following seven states:  South Carolina, Georgia, New Jersey, and Arizona. The surname is also common in England, where it ranks 4,258th. It ranks highest in the following counties: Lincolnshire, Shropshire, and Somerset. The name is common throughout the English speaking world:  Scotland (38,841st), Wales (9,097th), Ireland (31,207th), Canada (16,224th), New Zealand (3,074th), Australia (2,855th), and South Africa (20,379th).
Early Bearers of the Surname
The Hundred Rolls of 1273 AD, a census of Wales and England, known in Latin as Rotuli Hundredorum lists two bearers of this surname: Matila de Drayton in county Cambridgeshire and Beatrix de Draytone in county Huntingdonshire.The Testa de Neville lists one Simon de Drayton in county Warwick living  during the reign of King Henry III (1216-1272) and King Edward I (1272-1307) of England. The History of Norfolk records one Richard de Drayton was bailiff of Yamouth in 1284 AD. The Poll Tax of Yorkshire in 1379 AD lists three bearers of this last name: Johannes de Drayton, Willelmus de Draghton, and Robertus de Draghton. An early marriage involving this surname was William Drayton to Margaret Topley at St. James Clerkenwell in London in 1576 AD.
History, Genealogy, and Ancestry
The earliest known ancestor from which the Drayton family descends was Alphonsus de Vere, also known as Comte de Guines, who was born between 965 and 1025 AD. He had a son named Alberic. His son Sheriff Alberic "Sanglier" de Vere, Sheriff of Berkshire, was born in 1030 AD in Ver, Manche, Normandy, France. He married Beatrice de Vere and moved to England. He had issue, including a son named Aubrey. His son Aubrey Alberic de Vere II, known by several names and titles, such as 1st Earl of Ocofrd, Sheriff of London and Middle Sex, Lord of Hedingham Castle, and Lord Great Chamberlain of England, was born in 1062 AD in Hedingham, Essex, England. He married Adeliza FitzGilbert de Vere and had issue with her, including a son named Robert. His son Sir Robert de Vere, lord of Twywell, also known as Robert de Vere of Addington and Drayton, was born in 1124 AD. He married Matidal de Furnell and had issue with her, including a son named Henry. Henry de Vere, Lord of Drayton & Adington Manors, was born in 1155 AD and he married Malida de Furnell and had a son with her named Walter. His son Sir Walter de Drayton married Hildeburga de Vere de Bosco and had a son with her named Henry. Sir Henry de Drayton was born in 1198 AD.  He married Isabella Vere and had a son with her named Baldwin. His son Sir Baldwin de Drayton, or Baudoi de Drayton, was born in 1223 AD. He married Idonea de Gimeges and had a son named Sir John de Drayton. Sir John was born in 1254 AD in Drayton. Northamptonshire, England. He married Philippe d'Ardenne and had a son with her named Simon. Sir Simon de Drayton was born in 1283 AD in the same town and he married Margaret de Lindsay. He had two issue with her: John and Katherine Green. His son John (also spelled Johan) was born in 1317 AD and he married a woman named Christiana and had a son with her named Baldwin. His son Baldwin de Drayton was a Knight born in 1330 AD. He married a woman named Alice and had a son with her named John. John was born in 1365 and he married a woman named Margaret. They had a son together named John born in 1391 AD. He married a woman named Margaret and had two issue with her: John Drayton and William Dryden. His son John was born in 1355 in Strixton, England. He married a woman named Ann and had a son with her named William Dryden. William was born in 1425 AD and married a woman named Grace, with whom he had a son named Drayton Dryden, born in 1455.
Roger Drayton was born in 1316 AD in England. He married Catherine de Wolerton and had a daughter with his named Margaret. Margaret was born in 1341 and married John Worlych, with whom she had a daughter named Emma, who married James Moore.
Thomas Drayton Sr. is Atherston, Warwickshire, in England. He married Elizabeth Carpenter and had a son with her named Thomas Jr. prior to his death in the Barbados in 1702. His son Thomas Jr. was born in 1650 and he married Ann Fox. They had four children together: Thomas, Mary (Fuller), Stephen Fox, and John Sr. His son Thomas Drayton III was born in Magnolia Plantation in Charleston, South Carolina in 1700. He married Elizabeth Bull and Mary MacKenzie and had children: William Sr., Mary, Stephen, Henrietta Charlotte, John, and Thomas. His son Lt. Colonel Stephen Drayton was born in St. Andrew's Parish, South Carolina in 1736. His son Judge William Drayton St. was born in the same locale in 1732.
John Drayton was born in Barrington, Sometset in 1656. He married Joan Rush and had three issue with her: Joan (Stower), John, and Henry. Henry was born in the same town in 1681. He married Joan Hixt and had the following children with her: John, Tristram, Joan (Doble), Henry, Alice, and Ann. His son Henry was born in 1716 in the same town and he married Mary Rouswell. They had the following children together: Edward, Betty (Taylor), Mary (Dade), Henry, Samuel, Ann (Bishop), William, John, Alice (Pittard), and William. His son Edward was born in the same town in 1743. He married Joan Rush and had five children with her: Henry, Mary, William, John, and Edward. His son Edward was born in 1780 in Somerset, England and he had numerous issue with her: Joan (Male), Nancy, Ann, Betty, William, Edmund, John, Henry, Mary (Barrett), and Samuel. His son Henry Drayton was born in the same town in 1817 and he married Jane Paul in 1840. He later went to Australia. He had the following children: Samuel Henry, Hester Ellen Broughton, William, George Edward, Mary Ellen, John Thomas, Henry Albert, and Charlotte. His son John Thomas was born in 1859 in Richmond, New South Wales, Australia, and he married Mary Ann Baker in 1882. He passed away in 1926.
John Drayton was born in Drayton, Somerset, England in 1600. He went to Virginia where he married Elizabeth Bishopp. He had one daughter with her named Judith, who married William Peebles.
Early American and New World Settlers
The book Genealogical Guide to the Early Settlers, mentions five people bearing this surname: 1) Henry Drayton of Marshield, "able to bear arms", in 1643, and 2) John Drayton of Maine in 1642. Other early settlers in colonial America include Thomas Drayton (North Carolina 1671). Anne Drayton went to the Barbados in 1654. A one Thomas Drayton and his servants went to the Barbados in 1680. William and Priscilla Drayton went to Adelaide, Australia aboard the Diadem in 1840.
Grantees
We have 12 coats of arms for the Drew or Drewe surname depicted here. These 12 blazons are from Bernard Burke's book The General Armory of England, Ireland, and Scotland, which was published in 1848. The bottom of this page contains the blazons, and in many instances contains some historical, geographical, and genealogical about where coat of arms was found and who bore it.
Notables
Famous people with this last name include: 1) John Drayton (1766-1822) who was the Governor of South Carolina and founder of South Carolina College, 2) Percival Drayton (1812-1865) who was an office in the United States Navy who commanded against Confederate forces (led by his brother Thomas Fenwick Drayton) during the American Civil War, 3) Poppy Gabriella Drayton (1991) who is an English Actress, 4) William Henry Drayton (1742-1779) who was an American farmer and lawyer from Charleston, South Carolina who served as a delegate to the Continental Congress in 1778 and 1779, 5) William Drayton (1732-1790) who was an American lawyer from South Carolina and Chief Justice for the Province of East Florida, and 6) William Drayton (1776-1846), son of the previously mentioned notable, who was an banker, writer, and politician who served in the U.S. House of Representatives.
Blazons & Genealogy Notes
1) (co. Norfolk). Per pale indented gu. and az. a lion ramp. or.
2) (co. Norfolk). Gu. on a chev. ar. (another, or) three roses az.
3) (co. Wilts). Az. a bend betw. six crosses crosslet fitchee or.
4) (in Hasley House, co. Oxford. Visit. 1574. Impaled by Barrentine). Same Arms.
5) Gu. on a chev. ar. three crosses crosslet fitchee of the first. Crest—A dexter hand couped at the wrist ppr. holding a cross crosslet fitchee gu.
6) Per pale indented az. and gu. a lion ramp. or. Crest—An eagle's leg couped, the thigh az. and leg or.
7) Gu. on a bend ar. five trefoils slipped vert.
8) or Draton – Erm. two bars gu. in chief a demi lion ramp. (another, pass.) of the second.
9) Ar. two bars gu. and in chief a demi lion ramp. of the second issuant.
10) (co. Salop). Gu. two bars ar.
11) Ar. a cross engr. gu.
12) (co. Warwick, borne by Michael Drayton the poet). Az. guttee d'eau a Pegasus ppr. Crest—On a sun in splendour ppr. a Mercury's cap vert winged ar.