Dryden Family Crest, Coat of Arms and Name History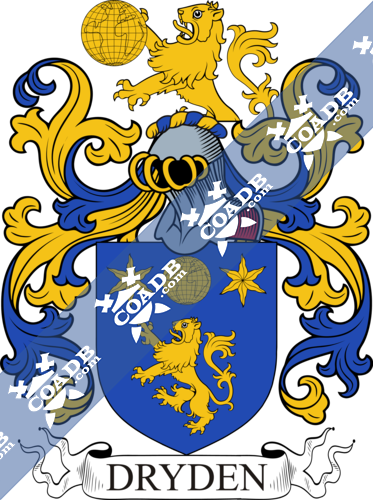 Dryden Coat of Arms Gallery
Don't know which Coat of Arms is yours?
We can do a genealogical research. Find out the exact history of your family!
Learn More
Surname Name Meaning, Origin, and Etymology
This Anglo-Saxon surname derives from the Welsh word drwydwn, meaning a "broken nose". There was a one Jonreth Drwydwn, the father of Llwellyn, who was the eldest son of Owain Groyneed (the first Prince of Wales in 1137 AD), who "was not suffered to enjoy his right on account of that blemish". Another source notes that this is a locational name, referring to someone from a place called Dryden in Lasswade, Midlothian, Scotland. In the 2000 US Census, Dryden ranked 6,037th in popularity. One source claims the name has Pictish roots and the family lived in Dryden, near Roslin where the name was pronounced Drayden. This same source claims it was first found in Forfarshire.
The word derives from the Old English word dryge (dry) and denu (valley) meaning "dry valley".
Early Bearers of the Surname
There are several early people that bore this last name: 1) Philip de Dryden in 1296 AD (recorded in a writ of issue from a sheriff in Forfar), 2) Henricus de Driden who lived in 1329 AD, 3) Thomas de Driden who was recorded in 1455 AD as "supprior claustralis monasterii de Abirbrotho".
Common Spelling Variants:
There are several spelling variations to this surname, including, but not limited to: Driden, Dridane, Drydon, Drayden, Dridun, and Dridan.
History, Genealogy, and Ancestry
The surname is discussed in the famous Genealogist Bernard Burke's book "Peerage and Baronetage". Sir Noel Percy Hugh Dryden was the 10th Baronet of Amborse and the 7th Baronet or Canons Ashby. He was born in 1910 and succeeded his cousin in 1938. He married Rosamund Mary, daughter of Stephen Scrope, and had issue with her including John Stephen Gyles born in 1943. Burke traces his lineage back to Richard Turner, of Sutton Coldfield in county Warwick who lived in the sixteenth century.
The first documented person to bear the name was William Driden, also spelled Dreyden, of Cumberland, England. He had a son named David, who married Isabel, the daughter and heir of William Nicholson of Staffe Hill. He has a son named John Dryden, of Canons Ashby, in Northantshire. He married Elizabeth, the daughter of Sir John Cope. He died in 1584 and was succeeded by his elsdest son, Sir Eramus Dryden, the 1st Baronet of Canons Ashby, who was born in 1553 and created a Baronet in November of 1619. He married Franced, the daughter and co-heir of William Wilkes of Hodnell, and had three issue with her: John (2nd Baronet), Eramus of Tickmarsh, and William of Farndon. He died in 1632 and was succeeded by the eldest son John.  John was a Member of Parliament and High Sheriff in 1634. He married Priscilla, sister of Robert Quarles, but she died without children. He then married Anna, daughter of Henry Parvis of Rockholts, who also died without issue. He lastly married Honor, sister and co-heir of Sir Robert Bevill, in 1632. He had a son with her named Sir Robert Dryden, who was the 3rd Baronet. He died without children and was succeeded by his cousin, Sir John, the 4th Baronet. John married Elizabeth Luck in 1663 and had one son John (who died early?). The line was assumed by his cousin, the 5th Baronet, Sir Erasmus Henry Dryden, who was born in 1669 and was a priest. He died in 1710 and was succeeded by his uncle, Sir Erasmus, the 6th Baronet, who married Elizabeth, daughter of Edward Martyn of Westminster, in 1667. He had two daughters and one son with her. His son was named Edward, who married Elizabeth, the daughter of Edward Allen of Finchley, who left numerous children including John and Bevill (married Mary Dubber). Sir John Dryden was the 7th Baronet. He was a High Sheriff in Northhans in 1727. His had two wives, but did not have any issue, and his estates devolved to his niece: Elizabeth Dryden, born in 1753. In 1781, she married Sir John Turner, the 1st Baronet of Ashby Canons, who assumed the arms and name of Dryden. John died in 1797, leaving the following children: John Edward (2nd Baronet), Henry (3rd Baronet), Leopold Erasmus (1792), Lempster George Gregory, and Charles Beville (1796). Sir John Edward Dryden was born in 1782 an died in 1782, and was succeeded by his brother Henry. Henry was Vicar of Amhrosden in county Oxford and of Leek Wooton in county Warwick. He was was born in 1787 and in 1817 he married Elizabeth, daughter of Reverend Julius Hutchinson of Woodhall Park and other locales. He had three issue with her: Henry Edward Leigh, Alfred Erasmus, and Elizabeth Matilda (who married Baron Frederick William Amelius Pergler von Perglas). He was succeeded by his eldest son, Sir Henry Edward Leigh Dryden, 7th Baronet and 4th Baronet of Canon Ashby. In 1865, he married Frances Tredcroft and had issue with her, a daughter named Alice who married John Maron in 1913. He was succeeded by his brother, Sir Alfred, the 8th Baronet and 5th Baronet. He was born in 1821 and in 1849, he married Frances Isabella, the daughter of Reverend John Christian Curwen, Rector of Harrington. She died in 1901, leaving seven children: Henry John Lawrence (1850), Arthur, Alfred Curwen (1857), Ethel Marion, Clara Elizabeth Emma, Louisa Isabella (married Major Alfred Bassett Pritchard), and Mary Ethel. This family bore the following coat of arms blazoned as follows: Azure a lion rampant, and in chief a sphere between two estoiles or, with a crest: A demi lion sustaining in the dexter gamb a sphere or.
A one William Dryden was born in Walton, England in 1475 AD. He had a son named David, who was born in 1500 in Staffe Hill, Cumberlad. He married Isabel Nicholson in 1522 and had six issue with her: John, Thomas, Anne, Isabel, Frances, and Elizabeth. His son John Dryden, Esq. was born in 1525 in Canons Ashby. He married Elizabeth Cope and had the following issue with her: Anthony, Erasms, Mary (Foxley), Edward, George, John, Elizabeth, Bridget (Marbury), Thomas, Stephen, Emma, and Nicholas.
David Dryden Sr. was born in 1700 in Somerset County, Maryland. He married Jane Thompson and later a woman named Dorothy. He had the following childnre: Thomas, James, Mary (McClure), Eleanor, David Jr., Jane (Shields), Nathaniel, William, and Elizabeth McNabb. He died in 1772 in August, Virginia.
Sir John Drayton, formerly Dryden, was born in 1365 in Botolph Bridge, England. He was the son of Balwin and Alice (de Prayers) Drayton. He married a woman named Margaret and had a son named John prior to his death in 1445. John in turn married Anne Crandord and was the father of William. William Drayton/Dryden wsa born in Strixton. He married a woman named grace and had issue with her.
Early American and New World Settlers
One of the earliest known settlers in the New World bearing this name was Adam Dryden, who came to Savannah, Georgia in 1774 at the age of 28. A one William Dryden came to New York in 1836 and George L. Dryden came to Pennsylvania in 1849.
Notables
Famous people with this last name include: 1) John Dryden (1631-1700) who was an English Poet and playwright called "Glorious John" by Walter Scott, 2) John Dryden (1839-1911) who was a businessman that founded Prudential Insurance and was also a Senator from New Jersey, 3) Nathaniel Dryden (1849-1924) who was an American Architect from Missouri, and 4) Nicole Dryden (b. 1975) who was a gold medal winning Olympic swimmer from Canada.
Blazons & Genealogy Notes
(Canons Ashby, co. Northampton, bart., created 1619, extinct 1670. Of this family was John Dryden the poet). (Ambrosden, co. Oxford, and Canons Ashby, co. Northampton, bart. John Turner, Esq., m. Elizabeth, niece and heiress of the seventh and last bart. of Canons Ashby; he assumed the name of Dryden 1791, and was created a bart. 1795). Az. a lion ramp. and in chief a sphere betw. two estoiles or. Crest—A demi lion or, sustaining in the dexter paw a sphere, as in the arms.