Dufresne Family Crest, Coat of Arms and Name History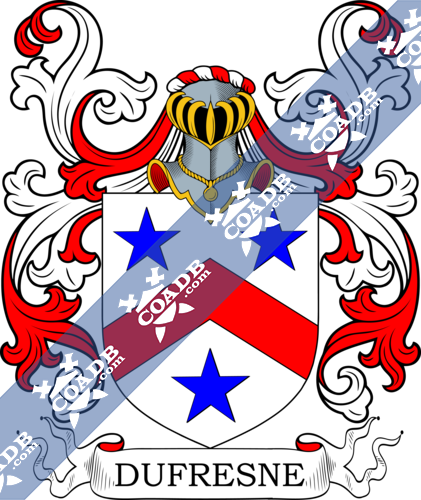 Dufresne Coat of Arms Gallery
Don't know which Coat of Arms is yours?
We can do a genealogical research. Find out the exact history of your family!
Learn More
The Dufresne surname comes from the name of the hamlet of Fresne, which was in the territory of Bourgogne.  During the late Middle Ages in France, as hereditary surnames started to be adopted names that acquired from localities became increasingly widespread.  Sometimes these names could become proprietorship of the village or estate.  Spelling variations of this family name include: Fresne, du Fresne, Frayne, du Frayne, Fresnes, Fraynes, Dufresne, Dufresnes, Dufrayne, Dufraynes, Frene, Frenes, Frane, Franes, du Frene, du Frenes, du Frane, du Franes, Dufrene, Dufrenes, Dufrane, Dufranes, Fraines, Fraine, Freyne, Freynes, Frenne, Frennes, Fresnne, Fresnnes, Fresnais, Fraigne and much more.
The surname Dufresne first found in Burgundy (French: Bourgogne), an administrative and historical region of east-central France, where this family has held a family seat since old times.  The name acquired from the Old French word for "ash" as in Ash tree from the Latin: fraxinus. Some of the people with the surname Dufresne who arrived in the United States in the 19th century included Jacques DuFresne, who landed in Montreal in 1661.
Blazons & Genealogy Notes
1) France – (Baron de l'Empire) D'argent au chevron de gueules acc de trois étoiles d'azur piramide de trois pierres entassées de gueules (1 et 2) l'écu bordé d'or Bourlet d'or et d'azur Cimier les meubles de l'écu entre deux proboscides coupées alternativement d'azur et d'or Lambrequin à dextre de gueules et d'or à senestre d'azur et d'or. English: Argent a chevron Gules between three mullets Azure. [The rest is a error of interpolation from a different family]
2) Mâconnais – Famille dont tous les membres portent le prénom de Quinault, confondu parfois avec leur patronymique. Ses membres sont qualifiés d'écuyers au XVIIIe siècle; Arch. des colt. d'Ex-Libris D'argent à un frêne arraché de sinople au chef de gueules chargé de trois étoiles d'argent Couronne de comte Supports deux lions. English: Argent an ash tree eradicated Vert on a chief Gules three mullets Argent. The shield ensigned with the coronet of a French count. Supporters: lions.
3) Bavière – (An., 8 juillet 1765) D'or à un frêne de sinople terrassé du même Casque couronné Cimier le frêne entre deux proboscides coupées alternativement d'or et de sinople. English: Or an ash tree issuant from a terrasse Vert. Crest: from a crest coronet an ash tree Vert between two probosces per fess alternating Or and Vert.
4) Berne D'or à un frêne de sinople posé sur un tertre du même Cimier un frêne de sinople. English: Or an ash tree issuant from a mount Vert. Crest: an ash tree Vert.