Dunn Family Crest, Coat of Arms and Name History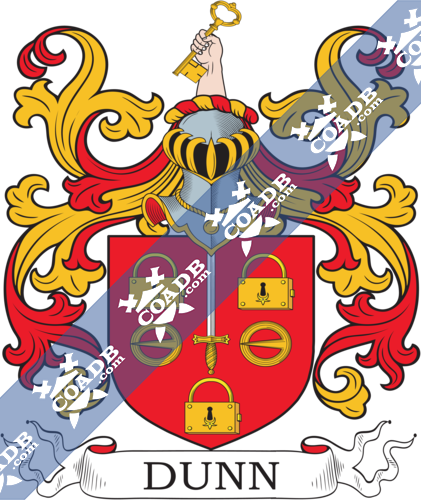 Dunn Coat of Arms Gallery
Don't know which Coat of Arms is yours?
We can do a genealogical research. Find out the exact history of your family!
Learn More
Dunn Origin:
England, Scotland, Ireland
Origins of Dunn:
The surname of Dunn has many possible origins, rooted in the Irish, English, and Scottish cultures. The first possible origin of the surname of Dunn can be found within the English culture, and derives from the Old English, Pre 7th Century word "dunn" which can be translated to mean "dull," "dark colored," or "brown." This surname was used as a nickname for a man who had a dark complexion, or someone who had dark hair. It is a common element of surnames throughout Europe that many of them originally derived from nicknames, as it was a very common practice in medieval times. In the beginning, nicknames were applied to people who had distinguishing characteristics, such as moral or mental peculiarities, a similar appearance to a bird or animal, a similar disposition to a bird or animal, occupation of an individual, their habits, or their manner of dress. The second possible origin of the surname of Dunn can be found within the country of Ireland. The surname is usually spelled as Dunne, and is also used as a nickname, deriving from the surname "O'Duinn" or "O' Dunn." The "O'" prefix at the beginning of this surname is the patronymic form of the surname, meaning that the original bearer of this surname was the son of the one with the dark complexion, or the dark hair. In the country of Scotland, the surname of Dunn may have been used as a locational surname. This means that it was often taken by the Lord or owner of the land from which the name derives. Others who may have take a locational surname are people who have migrated out of the area to seek out work. The easiest way to identify someone who was a stranger at that time was by the name of their birthplace. In this case, the surname of Dunn may have been used to describe one who hailed from Dun, in the county of Angus, which means "fort."
Variations:
More common variations are: Dunne, Dun, Dunne, Dunny, Dinn, Dunna, Duann, Dunno, Dunni, Dounn, Dunnu, Daunn
History:
Ireland:
The first recorded spelling of the surname of Dunn was found in the country of Ireland. One person by the name of Gillananaomh O' Duinn was mentioned in the document named the "Ancient Irish Records" in the year of 1102. This document was ordered, decreed, and written under the reign of the Irish High Kings in Opposition, who ruled from the year 1103 to the year 1169.
Scotland:
Those who carry the surname of Dunn within the country of Scotland can be found in high concentrations in the areas of Lanarkshire, Aberdeenshire, and Midlothian.
England:
In the country of England, there is a sizeable population of people who are known by the surname of Dunn. Those who bear the surname of Dunn within the country of England can be found in large populations in the areas of Warwickshire and Staffordshire counties.
United States of America:
Within the United States of America, there are many people who bear the surname of Dunn. The states with the highest number of those who are called Dunn are in Pennsylvania, Michigan, North Carolina, Texas, Tennessee, Missouri, Illinois, and California.
Here is the population distribution of the last name Dunn: United States 162,907; England 28,646; Australia 18,427; Canada 14,343; South Africa 10,776; Scotland 4,364; New Zealand 3,323; Jamaica 1,838; Liberia 1,836; Wales 1,264
Notable People:
Katherine Karen Dunn (1945-2016) who was a best-selling novelist from America whose most notable work would be her book written in the year 1989, Geek Love
Carola Dunn (born in 1946) who is a writer in an America but was born in Britain and who is best known for her Cornish Mystery series as well as her Daisy Dalrymple series
Bob Dunn(1908-1989) who was a Cartoonist from America and who is known best for his comic strip Just the Type which ran from the year 1946 to the year 1963
Adam Troy Dunn (born in 1979) who is a first baseman from America, designated hitter, and outfielder for Major League Baseball
Brigadier-General Beverly Charles Dunn (1888-1970) who was an American who for the North Atlantic Division was and American Division Engineer from the year 1946 to the year 1948
Private First Class Parker F. Dunn, who was a soldier from America who was awarded the Metal of Honor for acts of bravery
Donald "Duck" Dunn, who is a songwriter, producer, and bass guitarist from America
Blazons & Genealogy Notes
1) (Tannochside, co. Lanark, 1771). Motto—Mecum habito. Gu. a sword in pale ppr. hilted and pommelled or, betw. three square padlocks, two and one, and two buckles in fess of the third. Crest—A dexter hand ppr. holding a key in bend sinister or.
2) (granted by Camden, Clarenceux, 1607, to Sir Daniel Dunn, Knt., D.C.L., Master of Requests). Quarterly, 1st and 4th, az. a wolf ramp. ar. charged on the shoulder with an erm. spot sa., for Dunn; 2nd, ar. a lion ramp. gu. debruised by a bendlet sa., for Branche; 3rd, gu. a fess vair, in chief a unicorn pass. betw. two mullets or, a border engr. of the last, for Wilkinson. Crest—Five snakes erect banded by another or.
3) (Bircher, near Leominster). Quarterly, 1st and 4th, az. a wolf saliant or; 2nd and 3rd, sa. three round buckles, tongues downwards or. Crest—Six snakes erect, contrary posed, three and three, encircled with a ribbon.
4) Az. on a chev. or, betw. three boars' heads ar. a lozenge gu. betw. two keys sa. Crest—Two swords in saltire ppr. entwined with a ribbon az. thereto a key pendent sa.