Dyer Family Crest, Coat of Arms and Name History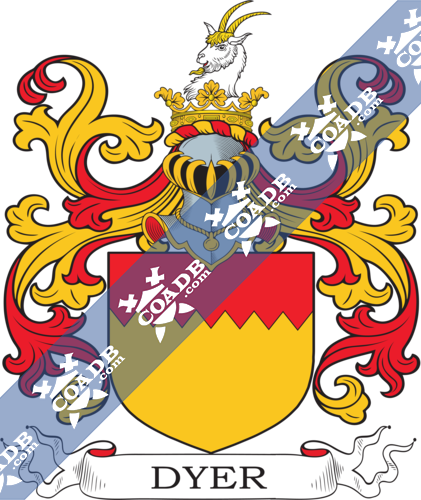 Dyer Coat of Arms Gallery
Don't know which Coat of Arms is yours?
We can do a genealogical research. Find out the exact history of your family!
Learn More
Dyer Origin:
England, Ireland
Origins of Name:
The surname of Dyer comes from the medieval ages in England, and comes from an occupational name for someone who works as a dyer of cloth. The surname of Dyer derives from the pre 7th Century Old English word, "dyer" which came from "deagere" or "deag" both of which translate to mean dye, or one who dyes. A dyer was an occupation of someone who changed the color of an object, perhaps a piece of clothing, someone's hair, or even someone's skin, by the application of a dye. A dye is a staining or coloring substance, which can be natural or man-made.
Variations:
More common variations are:
Daayer, Duyer, Duyyer, Dwyer, DayerDeyer, Dywer, Doyyer, Doyer, Dyerr, Hdyer, Diyer, Dyera, Dyeerr
History:
England:
The first recorded spelling of the surname of Dyer appeared in the book entitled the Middle English Surnames of Somerset which was dated with the year 1260. The person who was recorded with this surname was one named Henry le Deghar, and who was recorded under the reign of King Henry III, who was commonly referred to throughout history as "The Frenchman" and ruled from the year 1216 to the year 1272. Other recordings of this surname included Robert le Deyare, who was registered in the 1275 Subsidy Rolls of Worcestershire, Alexander Dyghere, who was recorded in the 1296 Subsidy Rolls of Sussex, and Henry le Dyer who was noted in he 1327 Subsidy Rolls of Derbyshire. Through Church records and documents, it is known that Bryan Dyer and Wenefrid Ketton were married on June 3, in the year 1583 in Enfield London, while Thomas Dyer married Margaret Gibson in the year 1593 in London. In England, those who bear the surname of Dyer are often found in the counties of Somerset, Devon, Cornwell, Hampshire, Surrey, Essex, Yorkshire, Lancashire, and the city of London.
Scotland:
Those who carry the surname of Dyer in Scotland are found throughout the country. The counties with the highest concentration of people who bear this surname are all around the central region, especially in Lanarkshire.
United States of America:
During the 17th Century, people from Europe began to migrate to the Untitled States of America in search of a better life that afforded them more freedoms. The United States of America, which was at that time referred to as the New World and the Colonies, promised these freedoms, such as freedom from religious persecution, the promise of no taxation, and the promise of better conditions. The first person who was recorded to bear the surname of Dyer was Mary Dyer, who was an English-born American Quaker, who arrived in the United States in the 17th Century, and was eventually arrested and hanged for the crime of being a Quaker in Massachusetts. It is possible that others who bore this surname tried to make the journey to the New World, but because of the living conditions on the transport ships, was not able to complete the journey to the United States of America. Those who bear this surname of Dyer are often found in the areas of Illinois, Michigan, Missouri, Pennsylvania, Massachusetts, Maine, New York, the state of New Jersey, Texas, Washington, and California,.
Dyer Today:
United States 57, 143
England 15,563
Australia 5,273
South Africa 3, 945
Canada 3,640
Jamaica 2,052
Wales 1,580
New Zealand 1,534
Kenya 1,177
Scotland 1,076
Notable People:
Wayne Walter Dyer (1940-2015) who was an American self-help author and motivational public speaker that was best known for his book Your Erroneous Zones which was published in the year 1976, and sold over 35 million copies worldwide
James Michael Mark Dyer (1930-2014) who was an American Bishop of the Episcopal Diocese of Bethlehem from the year 1982 to the year 1995
Mr. Robert Dyer, who was an American 2nd Class Passenger who sailed aboard the RMS Lusitania and survived the sinking of the vessel
Captain Jesse Farley Dyer (1877-1955) who was an American Medal of Honor recipient
Eliphalet Dyer (1721-1807) who was an American jurist
Mike Dyer (born in 1966) who was an American Major League Baseball player
John Hugh "Buddy" Dyer (born in 1958) who was a Florida State Senator and the Mayor of Orlando
Mr. John Dyer (died in 1915) who was an English Trimmer from England who worked aboard the RMS Lusitania and died in the sinking
Mr. William Dyer (died in 1912) who was an English Saloon Steward from Southampton, Hampshire who worked aboard the RMS Titanic and died as it
Blazons & Genealogy Notes
1) (Tottenham, co. Middlesex, bart.). Motto—Terrere nolo, timere nescio. (Alpington, co. Devon, formerly of Wincanston and Roundhill, co. Somerset). (Marylebone Park, co. Middlesex). Or, a chief indented gu. Crest—Out of a ducal coronet or, a goat's head ar. armed of the first.
2) (co. Hereford). Per chev. crenellee gu. and or, three mullets counterchanged.
3) (Aldebury, co. Hertford, and Stoughton, co. Huntingdon; granted by Dethick, Garter, 1575). Sa. three goats pass. ar. attired or. Crest—A goat's head erased ar. holding in the mouth a pansy ppr. stalked and leaved vert.
4) (William Matthew Thiselton Dyer, Esq., of Great Russell Street). Sa. a fesse engr. or, betw. three goats pass. ar. Crest—A Saracen's head in profile ppr. on the head a cap or, verged round the temples chequy ar. and az.
5) Per chev. ar. and or, on a chev. vert. betw. two mullets in chief gu. and a portcullis in base sa. three pigeons ppr. Crest—Out of a crown vallery or, a goat's head sa. armed and gorged with a collar gemel gold.
6) (William Andrew Dyer, Esq., of London, representative of the Russells, of Fordham Abbey, co. Cambridge, and descended from Oliver Cromwell). Motto—Che sara sara. Quarterly, 1st and 4th, ar. a saltire az. betw. four lions ramp. gu., for Dyer; 2nd and 3rd, ar. a lion ramp. gu. on a chief sa. three roses of the first, for Russell. Crest—A demi lion ramp. gu. langued and armed az.
7) (Malberow, co. Devon. Visit. 1620). Or, a chief indented gu. a mullet for diff. Crest—Out of a ducal coronet or, a goat's head sa. armed of the first, on the neck a mullet for diff.