Eddy Family Crest, Coat of Arms and Name History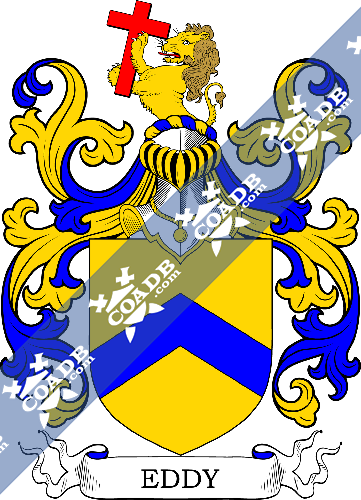 Eddy Coat of Arms Gallery
Don't know which Coat of Arms is yours?
We can do a genealogical research. Find out the exact history of your family!
Learn More
The name Eddy is patronymic, meaning that it comes from the first name of the father or mother. Generally, this name means "son of Ede" (Edward). However, it may also be a locative name that describes the place the original bearer lived or owned land in the Cornish parts of the country. It is derived from "Ede-dy" which means "Ede's house". Surnames of this kind are most common in Cornwall's mid and west regions. In England, records of this surname date back to the thirteenth century. For example, the Hundred Rolls of that year mention a William Ede of Suffolk and a William Ede of Norfolk. In addition, a record of Abigail Eddy's birth is found in Cranbrook, the daughter of William Eddye and Mary Fosten.
More information will be added to this section soon.  If you would like to find out more about your lineage we offer affordable research services.   We trace your lineage so you can learn more about your ancestors, where they came from, and who you are.
Blazons & Genealogy Notes
1) Or, a chevron azure. Crest: A demi lion ppr., supporting a long cross gules.