Egleston Family Crest, Coat of Arms and Name History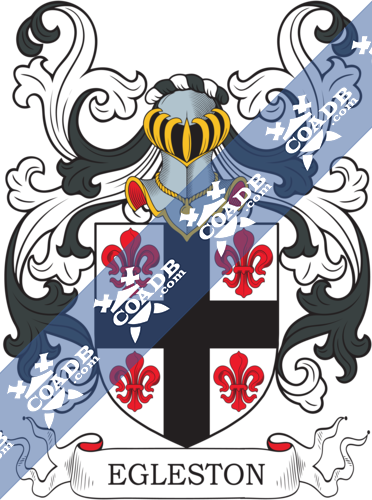 Egleston Coat of Arms Gallery
Don't know which Coat of Arms is yours?
We can do a genealogical research. Find out the exact history of your family!
Learn More
Origins of Egleston:
This surname acquired from a geographical locality. (1) 'of Egglestone,' a chapelry in the church of Middleton-in-Teesdale, County Durham; (a) 'of Eggleston Abbey,' in the church of Rokeby, union of Teesdale, North Riding of Yorkshire Perhaps in some examples a lazified form of Eccleston, which see, compare Slagg for Slack, &c.  Although the name, Egleston, found in many references, from time to time, the surname shown with the spellings Eagleton, Eaglestone, Eglestone, Egglestone and much more.
Variations:
More common variations are: Eggleston, Eagleston, Eglestone, Eglleston, Eglston, Egglestone, Eaglestone, Eaglestown, Eaggleston, Egglesston.
England:
The surname Egleston first appeared in Durham. Egglestone Abbey is an old Premonstratensian Abbey on the southern Yorkshire bank of the River Tees, now in ruins.
United States of America:
Individuals with the surname Egleston landed in the United States in the 17th century.  Some of the people with the name Egleston who arrived in the United States in the 17th century included Richard Egleston, who landed in Virginia in the year 1637.
Blazons & Genealogy Notes
1) (co. Lancaster). Ar. a cross sa. betw. four fleurs- de-lis gu.
2) (co. Lancaster). Ar. three piles wavy sa.
3) Ar. a cross sa. in the first quarter a fleur-de-lis of the second (another, the eagle gu.). Crest—A talbot's head erased sa. collared ar.
4) Per pale gu. and vert an eagle displ. ar. armed or.