Elmer Family Crest, Coat of Arms and Name History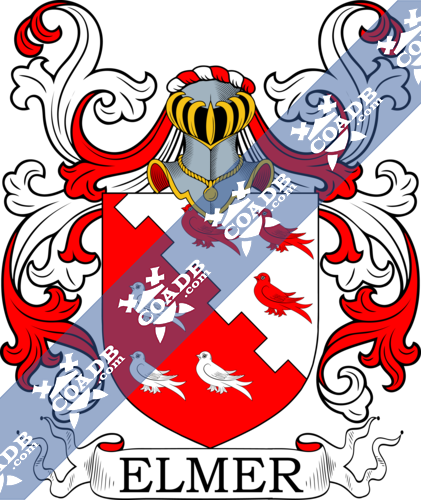 Elmer Coat of Arms Gallery
Don't know which Coat of Arms is yours?
We can do a genealogical research. Find out the exact history of your family!
Learn More
There are two possible origins of this interesting name of old origin, the first being that it acquires from an Old English pre 7th Century personal name "Aethelmaer" meaning, noble, famous, and is one of the variants given names noted in the Domesday Book of 1086. More common variations are: Elimer, Ellmer, Elemer, Eylmer, Elamer, Elmera, Yelmer, Elamer, Elmery, Elmeer, Elmeri.
The surname Elmer first appeared in Essex, where they were residents in chief and Lords of the estate of Aylmer.  They gave these lands to William the Champion for their support at the Battle of Hastings in 1066 AD. The very first recording spelling of the family was shown to be that of Henry Ailmer, dated 1208,  in the "Curia Rolls of Berkshire". It was during the reign of King John, who was known as "Lackland", dated 1199-1216.  Surname all over the country became a necessity with the introduction of personal taxation.  It came to be known as Poll Tax in England.  Surnames all over the country began to develop with unique and shocking spelling varieties of the original one.
Some of the people with the name Elmer who arrived in the United States in the 17th century included Edward Elmer, who landed in Cambridge, Massachusetts in 1632. Some of the people with the surname Elmer who arrived in the United States in the 19th century included Charles Elmer, and his wife Hannah landed in America in 1836.  Charles Elmer, aged 22, who arrived in America in 1836.  Jacob Elmer, who arrived in Mississippi in 1844. Some of the individuals with the surname Elmer who landed in Australia in the 19th century included Thomas Elmer, English convict from Bedford, who moved aboard the "Agincourt" in July 1844, settling in Van Diemen's Land, Australia.
Blazons & Genealogy Notes
1) (Risby, co. Lincoln). Ar. a cross sa. betw. four Cornish choughs ppr. Crest—On a chapeau az. turned up erm. two wings expanded, out of a ducal coronet.
2) Per bend embattled ar. and gu, six martlets counterchanged.