Elwin Family Crest, Coat of Arms and Name History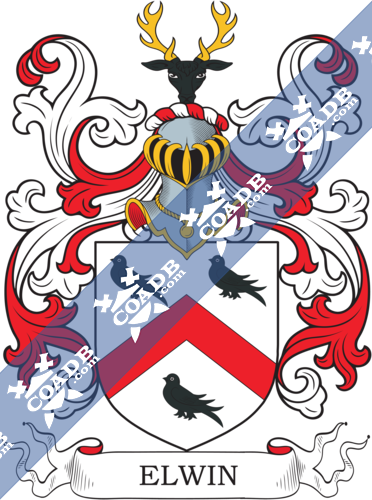 Elwin Coat of Arms Gallery
Don't know which Coat of Arms is yours?
We can do a genealogical research. Find out the exact history of your family!
Learn More
Elwin Origin:
England
Origins of Elwin:
This long-established surname is of Anglo-Saxon origin, and acquires from the Middle English specific names "Al(f)win" and "Elwin", showing a coalescence of different Olde English pre 7th Century given names like "Aelfwine, Aethelwine" and "Ealdwine", all sharing a common second component "wine", which means friend. The initial components are respectively "aelf," elf, "aethel," which means noble, and "eald," old. The specific names Alduin, Elduinus, Aeluuinus, Aeluuin, Alfuuinus and Eluuin all show in the Domesday Book of 1086, and more examples from Records of St. Benet of Holme, Norfolk, contain as Elwine Ecses (1101), and Aelwine presbiter (1127). The surname first shows on record at the end of the 12th Century. More early examples contain as John Allewin (Yorkshire, 1219), Thomas Alwine (Cambridgeshire, 1260) and Gregory Elwyne (Norfolk, 1274). In the new era, the surname has six spelling alternatives as Alwin, Alwen, Alwyn, Allwyn, Elwin and Elwyn. In January 1577, Marmaduke, son of Thomas Elwin, named at Roos, Yorkshire. A notable ancestor of the name was Whitwell Elwin (1816 – 1900), prose-writer, and B.A. Caius College, Cambridge, 1839, whose works contains five volumes (1871 – 1872) of the edition of Pope completed by Mr. W.J. Courthope.
Variations:
More common variations are: Elwine, Elwina Elwain, Elwein, Ellwin Eliwin, Yelwin, Elewin, Ehlwin, Elin.
England:
The surname Elwin first appeared in Norfolk where they held a family seat from very ancient times. Some say well before the Norman Invasion and the arrival of Duke William at Hastings in 1066 AD.
The very first recording spelling of the family was shown to be that of Osegod Aldwini, dated about 1195, in the "Pipe Rolls of Berkshire." It was during the time of King Richard I who was known to be the "Richard the Lionheart," dated 1189 – 1199. The origin of surnames during this period became a necessity with the introduction of personal taxation. It came to be known as Poll Tax in England.
Ireland:
Many of the people with surname Elwin had moved to Ireland during the 17th century.
United States of America:
Individuals with the surname Elwin landed in the United States in two different centuries respectively in the 18th, and 19th. Some of the people with the name Elwin who arrived in the United States in the 18th century included Ann Elwin settled in Maryland in 1741.
The following century saw more Elwin surnames arrive. Some of the people with the surname Elwin who arrived in the United States in the 19th century included Hugh Elwin, who landed in New York, NY in 1811.
Australia:
Some of the individuals with the surname Elwin who landed in Australia in the 19th century included William Elwin, a cement-maker, arrived in Van Diemen's Land (now Tasmania) sometime between 1825 and 1832.
New-Zealand:
Some of the population with the surname Elwin who arrived in New Zealand in the 19th century included William Jeken Elwin arrived in Wellington, New Zealand aboard the ship "Wild Duck" in 1860.
Here is the population distribution of the last name Elwin: Honduras 666; United States 333; England 328; Australia 253; Sweden 160; New Zealand 107; Indonesia 106; Wales 68; Trinidad and Tobago 52; France 49
Notable People:
Verrier Elwin (August 1902–February 1964) was an English-born Indian self-trained anthropologist, ethnologist, and tribal activist, who started his work in India as a Christian missionary.
Blazons & Genealogy Notes
1) (Thorpe, co. Norfolk). Ar. a chev. gu. betw. three martlets sa. Crest—A stag's head erased ppr. horns or.
2) (Tottington, co. Norfolk, Sheriff of the county, 1719). Same Arms, chev. engr.