English Family Crest, Coat of Arms and Name History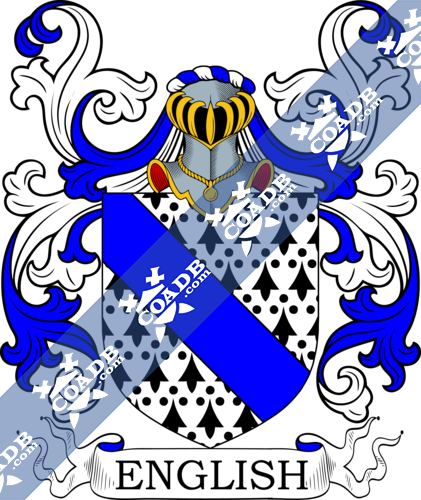 English Coat of Arms Gallery
Don't know which Coat of Arms is yours?
We can do a genealogical research. Find out the exact history of your family!
Learn More
English Origin:
England
Origins of Name:
The surname of English is derived from the Old English pre 7th Century word "Englisc" which literally translates to mean English. This surname was originally given to differentiate an Angle from a Saxon. The term Anglo-Saxon derives from the Angles and the Saxons, who were both West German people who invaded England in the 5th Century and the 6th Century, both A.D. The Scottish form of this surname is "Inglis" which denotes an Englishman as opposed to someone who boarders Scotland, while the form "English" actually referred to an Englishman living in the the area of Strathclyde. On the border of Wales, in the Welsh counties, the term "English" was given to and Englishman who lived in a community that was mostly Welsh citizens, as opposed to English citizens, thus denoting this particular person from the rest of the community. In the Middle Ages, it was said that this term was used to describe an Anglo-Saxon individual who resided in areas that were predominately populated by other cultures. A
Variations:
More common variations are:
Ennglish, Aenglish, Englishoe, Inglish, Englishe, Oenglish, Engliesh, Einglish, Englissh
History:
England:
The surname of English was first recorded in the Pipe Rolls of Herefordshire in the year 1171. One Gilbertus Anglicus was named and recorded in this document, which was created and decreed under the rule of King Henry II, who was known as and commonly referred to as "The Builder of Churches" throughout history and ruled from the year 1154 to the year 1189. Other mentions of this surname of English can be found throughout history to denote culture. In the year 1560, Friswide English married Thomas Sheppard at St. Mary Magdalene in Bermondsey, London, while William English, who was the son of Alexander English was christened on September 7, in the year 1567 at the same church. Those who bear the surname of English covers all of the country of England, and carries over into the country of Wales. Those who bear this surname of English are found in higher concentrations in the counties of Essex, Norfolk, Suffolk, Lancashire, Yorkshire, Northumberland, Durham, and the City of London.
Scotland:
The surname of English is largely found in the counties of Ayrshire, Lanarkshire, Midlothian, Renfrewshire, and Stirlingshire.
United States of America:
During the 17th Century, there was a large migration from European countries to the United States of America, which at that time was referred to as The Colonies, or the New World. These settlers were seeking out a better life for them and their families, and America promised freedom from religious persecution, a life without an overarching ruler, and better living conditions. This migration was referred to as The Great Migration, and is also referred to as The European Migration. The first person who was recorded to bear the surname of English was one Thomas English, who arrived in Plymouth, Massachusetts aboard the Mayflower in the year 1620. Thomas English was not only among the first people to bear this surname in America, he was also one of the first settlers to land in this new world. Those who bear the surname of English that live in the United States of America can be found in New York, Pennsylvania, Virginia, Michigan, Connecticut, Massachusetts, Georgia, Ohio, Illinois, Texas, Alabama, and the state of New Jersey.
English Today:
United States 52,678
England 11,228
Canada 5,459
Australia 5,227
Vietnam 4,968
Iraq 3,418
Pakistan 2,766
Ireland 2,746
South Africa 2,667
Papua New Guinea 2,491
Notable People:
Joe English (born in 1949) who was an American musician, and former drummer for the famous band Wings, who had Paul McCartney as lead vocals.
CariDee English (born in 1985) who was an American fashion model
Brigadier-General Paul Xavier English (1888-1964) who was an American Assistant Chief of Staff in the 7th Service Command from the year 1944 to the year 1946
James Edward English (1812-1890) who was an American statesman, and was the Governor of Connecticut and a United States Senator
William Hayden English (1822-1896) who was an America Democratic politician, and a Representative from the state of Indiana from the year 1853 to the year 1861
Thomas Dunn English (1819-1902) who was an American physician
Mr. Michael English, who was an English fireman from Bootle, Lancashire, England, who worked aboard the RMS Lusitania and survived the sinking of the vessel
John Cogal "Jack" English (1886-1953) who was an English footballer and manager from Hebburn, County Durham
Jonathan James "Jon" English (1949-2016) who was an English-born, Australian singer, songwriter, musician, and actor that won the Mo Award four times.
Blazons & Genealogy Notes
1) (Richard English, temp. Richard II.; his dau. and heir, Margaret, m. William Oldbeffe. Visit. Leicester, 1619). (co. Lincoln). Erm. a bend az.
2) (cos. Kent, Lancaster, Stafford, and Essex). Sa. three lions pass. in pale ar.
3) Sa. three covered cups ar. Crest—A hand holding a covered cup ar.
4) Erm. three lions pass. in pale gu.
5) Erm. three lions pass. sa. two and one.
6) Ar. on a chev. gu. betw. three lions pass. sa. bezantee as many mascles of the first (another, lozenges).
7) (Ovington Manor and Bocking, co. Essex). Sa. three lions pass. in pale ar. Crest—A lion sejant on a mount vert laying his dexter paw on an antique shield sa.
8) Az. a lion ramp. ar. in chief three mullets or.
9) (Stockley English and Bradninch, co. Devon). Sa. three lioncels ramp. ar.
10) Ar. on a chev. gu. betw. three lions ramp. sa. as many lozenges of the field (another, bezants). Crest—A branch of a rose tree, flowers gu. leaves and stalk ppr.
11) (Mable English m. William Annesley, Esq., of Ruddington, co. Notts, temp. Henry VII.). Erm. on a chief or, a demi lion issuant vert.
12) (granted to William English, Esq., of Farmley, co. Dublin, whose ancestors were originally from Scotland). Motto—Nisi Dominus foustra. Per pale az. and gu. a lion ramp. or, and in chief three estoiles of six points ar. Crest—A demi lion ramp. sa. holding betw. his paws an estoile of six points or.