Eriksen Family Crest, Coat of Arms and Name History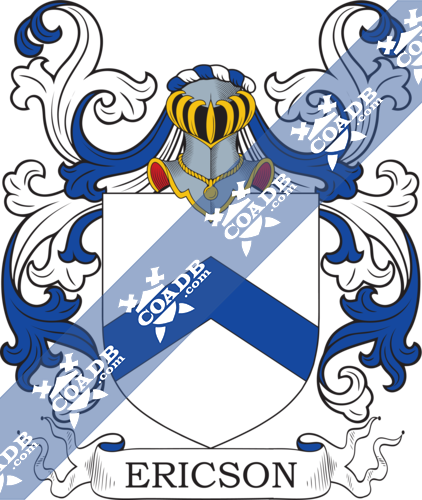 Eriksen Coat of Arms Gallery
Don't know which Coat of Arms is yours?
We can do a genealogical research. Find out the exact history of your family!
Learn More
This section has not yet been completed. If you are interested in having your genealogy done, we offer an affordable research servicethat traces your lineage so you can learn more about your ancestors, where they came from, and who you are.
Blazons & Genealogy Notes
1) Suède – (Barons, 1860) – D'argent au chevron d'azur. English: Argent a chevron azure.
2) Danemark – (M. ét.) – De gueules au chevron côtoyé en chef de deux demi-fleurs-de-lis et acc en pointe d'une fleur-de-lis entière le tout d'or Cimier deux têtes et cols de cygne affrontées d'argent supportant de leurs becs une fleur-de-lis d'or. English: Gules a chevron having alongside in chief two demi fleur de lys and accompanied by in base an entire fleur de lys all or Crest: two heads and shoulders of a swan affrontant [face to face] argent supporting in their beaks a fleur de lys or.
3) Danemark – (M. ét.) – Parti au 1 d'argent à une demi-fleur-de-lis d'azur mouv du parti au 2 d'argent au sautoir d'azur. English: Per pale 1st argent with a demi fleur de lys azure coming from the partition [pale] 2nd argent a saltire azure.
4) Danemark – (M. ét.) – D'argent à une rose de six feuilles de gueules accostée de deux demi-vols adossés de sable et surmontée d'un demi-vol pareil posé en fasce le dossier en bas. English: Argent with a rose of six leaves gules having to the sides two single wings addorsed [back to back] sable and surmounted by a single wing similar placed fesswise the back downwards.
5) Danemark – (M. ét.) – De gueules à un cheval passant d'argent houssé de sable tenant une bannière de gueules à la croix d'argent posée en bande sur son épaule dextre Cimier quatre canons de cuivre passés en sautoir et sommés de deux bannières pareilles à celle de l'écu passées en sautoir. English: Gules with a horse passant argent covered sable holding an banner gules with a cross argent placed bendwise over its shoulder dexter Crest: four cannons of copper placed saltirewise and surmounted by two banners similar to that of the shield placed saltirewise.
6) Danemark – (An., 24 avril 1616; M. ét.) – D'argent à cinq coeurs de gueules 2 1 et 2. English: Argent with five hearts gules 2 1 and 2.
7) Danemark – (M. ét.) – D'argent à une double rose de six feuilles extérieures de gueules Cimier une femme issante habillée de gueules supportant de ses mains la rose au-dessus de sa tête. English: Argent with a double rose of six outside leaves gules Crest: a woman issuant dressed gules supporting in her hand the roses above her head.
8) Danemark – (M. ét.) – D'argent au lion de gueules couronné d'or. English: Argent a lion gules crowned or.
9) Suède, Brunswick, Silésie – Coupé au 1 parti d'argent et de sable à l'aigle éployée de l'un en l'autre (Zitzwitz) au 2 parti d'argent à une étoile d'or posée au canton dextre du chef et de pourpre à la barre d'argent ch de deux étoiles d'or au palmier d'or brochant sur le parti du 2 (Erichsen). English: Per fess 1st per pale argent and sable with an eagle displayed counterchanged 2nd per pale argent with an etoile or placed on a canton dexter from the chief and with purpure with the bend sinister argent charged with two etoiles or a palm tree or covering over the per pale of the 2nd.
10) Erichsen dit Zitzwitz – Prusse – D'or à deux pattes d'aigle de sable passées en sautoir Cimier deux proboscides. English: Or two claws of an eagle sable placed saltirewise Crest: two proboscides.
11) Prusse – De gueules à la fasce bretessée et contre-bretessée d'argent Cimier un chapeau de gueules retroussé d'argent sommé de deux trompes d'argent virolées et pavillonnées de gueules posées en chevron renversé (Arm V G). English: Gules a fess embattled and counter embattled [on both sides offset] argent Crest: a hat gules turned up argent surmounted by two horns [in crest] argent bands [encircling the horn] and decorated gules placed in chevron reversed.