Esmond Family Crest, Coat of Arms and Name History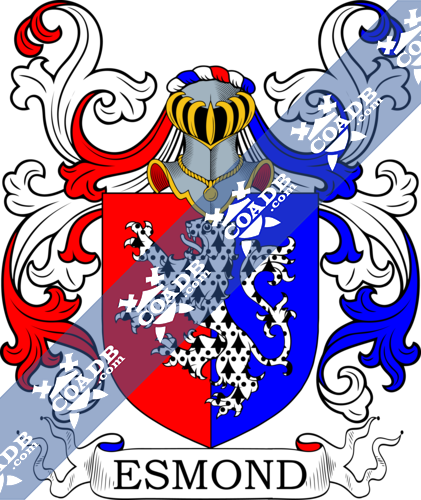 Esmond Coat of Arms Gallery
Don't know which Coat of Arms is yours?
We can do a genealogical research. Find out the exact history of your family!
Learn More
Esmond Origin:
England
Origins of Esmond:
This interesting name acquires from the Olde English pre 7th Century particular name Eastmund, a combination of the component "East" which means "grace", and "mund", which means security. The name was first noted as Estmunt in the Domesday Book of 1086 for Suffolk. One, Ricardus Filius (son of) Estmund shows in the 1195 "Pipe Rolls of Essex". The surname emerges in the early half of the 13th Century. A John Eastmunde noted in 1277, "Assize Court Rolls of Somerset" and an Alan Esmund in the 1285 "Fine Court Rolls of Essex". In the "modern" era the name has five spelling variations as Eastman, Eastment, Astman, Esmond and Esmonde. In May 1686, Alexander Eastman, a new-born baby was named in St. Katherines by the Tower, London.
Variations:
More common variations are: Esmonde, Eysmond, Ejsmond, Eismond, Essmond, Oesmond, Eysmondt, Easemond, Osmond, Ismond.
England:
The surname Esmond first appeared in Suffolk, England, where they held a family seat from very ancient times.
The very first recorded spelling of the family was shown to be that of Stephen Estmund, dated about 1227, in the "Assize Court Rolls of Buckinghamshire". It was during the time of King Henry III who was known to be the "The Frenchman", dated 1216 – 1272. The origin of surnames during this period became a necessity with the introduction of personal taxation. It came to be known as Poll Tax in England.
Ireland:
Many of the people with surname Esmond had moved to Ireland during the 17th century.
United States of America:
Individuals with the surname Esmond landed in the United States in 17th century. Some of the people with the name Esmond who arrived in the United States in the 17th century included Edward Esmond at the age of 24, landed in Virginia in 1684.
Here is the population distribution of the last name Esmond: United States 857; England 145; Australia 97; Canada 50; Sweden 22; Ukraine 12; Russia 8; Guyana 3; Nigeria 2; Indonesia 2.
Notable People:
Annie Esmond (September 1873 –January 1945) was a British film actress. She was born in Surrey, England. She made her stage appearance in pantomime in Sheffield in 1891 and after that performed on the American as well as British stage for many years before going into silent films and later talking movies.
Carl Esmond (June 1902 – December 2004) was an Austrian film and stage actor, born in Vienna, Austria. His birth name was Willy Eichberger which he later anglicised to Charles Esmond and finally to Carl Esmond. He was highly active in the Viennese genre of shallow romantic comedies. So, popular in the Austria of the interwar period. Like many of his fellow actors, Esmond fled Germany to England following the German takeover in 1938. He continued to appear on stage as well as in British and American films. He appeared in over 50 films and many television programs. He passed away in Brentwood, Los Angeles in 2004 at the age of 102.
Henry Vernon Esmond (November 1869 –April 1922) was a British actor and playwright. He was born Harry Esmond Jack in Ireland, the son of Richard George Jack, a doctor and surgeon. He started his career as an actor in London in 1889 where he had many successes in comedies. He started writing plays, usually comedies, while in his early twenties. These plays were very popular and were also highly fashionable with their themes of light-hearted romance appealing to the audience of the day. He toured with some these plays and co-starred in them with his wife, Eva Moore.
James William Esmond (April 1822 –December 1890) was an Irish-Australian gold prospector and worker and was one of the first people to discover gold in Australia.
Jill Esmond (January 1908 –July 1990) was an English stage and screen actress. She was the first wife of Laurence Olivier. She was born Jill Esmond Moore in London, the daughter of stage actors Henry V. Esmond and Eva Moore. While her parents toured with theatre companies, Esmond spent her childhood in boarding schools until she decided at the age of 14 to become an actress. She made her stage appearance playing Wendy to Gladys Cooper's Peter Pan, but her success was short-lived. When her father died suddenly in 1922, Esmond returned to school and at the time considered abandoning her ambition to act.
Blazons & Genealogy Notes
1) (co. Cornwall). Per pale gu. and az. a lion ramp. erm.
2) (Newelme Church, co. Oxford, on a brass on the floor of the north aisle; Robert Esmond, Esq., d. 16 Sept. 1474. Visit. 1574.) Ar. a pale surmounted by a saltire, both untinctured.
3) (Ireland, Johnstown, co. Wexford; Robert Esmonde, Esq., of that place. Visit. Wexford, 1618. Descended from Sir Geoffrey de Estmont, Knt., of Huntingdon, who accompanied Strongbow to Ireland, and settled at Johnstown, where his descendants remained until dispossessed by Oliver Cromwell). Erm. on a chief gu. three mullets ar.
4) (Lord Esmonde, Baron of Limerick, co. Wexford, created 1622, represented by the present Sir John Esmonde, tenth bart., M.P.). Motto—Malo moriquam foedari. Erm. on. a chief gu. three mullets pierced ar. Crest—Out of a mural crown or, a man's head in profile, wearing a helmet all ppr. Supporters—Two small griffins gu. beaked, fore-legged, rayed, collared, and chained or.
5) (Ballytrammon and Ballynastra,co.Wexford, bart). Motto—Malo mori quam foedari. Erm. on a chief gu. three mullets ar. Crest—Out of a mural coronet gu. a man's head in profile wearing a helmet all ppr.