Everingham Family Crest, Coat of Arms and Name History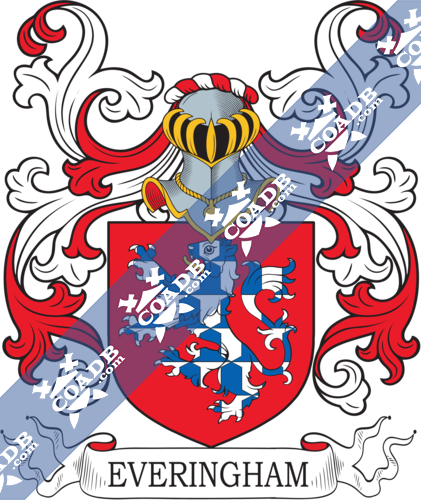 Everingham Coat of Arms Gallery
Don't know which Coat of Arms is yours?
We can do a genealogical research. Find out the exact history of your family!
Learn More
Everingham Origin:
England
Origins of Everingham:
It is an old English surname. It is geographical and acquires from the hamlet of Everingham in the East Riding of the division of Yorkshire. This hamlet was first listed as early as the year 972 a.d. in the famous Anglo-Saxon Records. The name means "The place of the Eofor people," a local clan of some importance. Locational surnames were originally given either to the king of the palace and his ancestors or to old villagers, who for whatever reason, departed from their original homes and moved to any other place. One of the easiest ways to recognize a stranger was to call him or occasionally her, by the name of their old mother town. Spelling being at best problematical, and local languages very thick, often lead to the advancement of 'sounds like' spellings. In this example, the first documentation is far from Everingham, Adam de Everingham noted in the Hundred Rolls of the city of Nottingham in the year 1273, although another Adam Everingham listed in the hamlet of Laxton, also East Yorkshire in 1334, when his daughter Margaret, named there. The name was always well noted in its native division, and examples of these records acquired from early remaining parish records contain those of Baldrini Everingham, whose daughter Maria, named at Darrington in September 1599, and later John and Martha Everingham, who married at Hallgate Zion Independent parish, Cottingham, in September 1757.
Variations:
More common variations are: Evringham, Everinngham, Everngham, Everinghim, Everngam, Efferingham, Everngame, Effringham.
England:
The surname Everingham first appeared in Yorkshire at Everingham, a church, in the union of Pocklington, Holme-Beacon district of the wapentake of Harthill. This old Saxon hamlet was originally recorded as Yferingaham c. 972 and exactly meant "home of the family or supporters of a man called Eofor," from the Old English particular name + "-inga" and "ham." By the time of the Domesday Book in 1086, the church was known as Evringham. There is an old record of a Thomas de Everingham (b. circa 1150) of Everingham, Yorkshire. A few years later the Hundredorum Rolls of 1273 listed Adam de Everingham in Nottinghamshire.
Ireland:
Many of the people with surname Everingham had moved to Ireland during the 17th century.
Canada:
Some of the people with the surname Everingham who came to Canada in the 19th century included George G Everingham, Hiram Everingham, James Everingham, and John Everingham, who were all noted in the 1871 census of Ontario, Canada.
Australia:
Some of the individuals with the surname Everingham who landed in Australia in the 18th century included Matthew James Everingham was a prisoner moved to Australia aboard the "Scarborough" in 1788.
Here is the population distribution of the last name Everingham: Australia 1,387; United States 830; England 387; Canada 199; South Africa 146; New Zealand 40; Thailand 2; Philippines 2; Scotland 2; Sweden 2.
Notable People:
Ananda Everingham was born in May in the year 1982 in Thailand. He is a Thai film actor. Working primarily in Thai films, he is well-known for his lead role in the 2004 horror film, Shutter.
Douglas Nixon "Doug" Everingham was born in June 1923. He is an old Australian leader and minister. He graduated with a Bachelor of Medicine and Surgery from the University of Sydney in 1946 and joined public and private hospitals and as a family doctor.
John Everingham was born in 1949 in Australia. He is an Australian writer living in Thailand. He was in high school in 1966 when the desire to travel overcame the desire to study. He dropped out of school and departed from home at 16 years old, and left Australia on the traditional journey to London, but by motorcycle. He started his job in photojournalism in the mid-1960s, as a youth trekking through Indochina and learning languages. He originally worked as a translator for TV crews covering the Vietnam War.
Matthew James Everingham (1769–1817), was a prisoner.
Paul Anthony Edward Everingham AO was born in February 1943. He was the governor of the Northern Territory from 1977 to 1984, serving as the second and last Majority Leader.
Blazons & Genealogy Notes
1) (Baron Everingham, summoned to Parliament 1309, in abeyance 1371). Gu. a lion ramp. vair.
2) (Barton upon Humber, co. Lincoln, and co. York). Gu. a lion saliant vair. Crest—A demi lion ramp. ar. holding a rose branch, flower or, stalked and leaved vert.
3) (co. Lincoln). Quarterly, ar. and sa. a bend gu.
4) (co. Suffolk). Ar. a fesse cotised az.
5) (co. York). (Laxton and Snenton, co. Notts, and Ashwell, co. Rutland. Visit. Rutland, 1618). Gu. a lion ramp. vair crowned or. Crest—A demi lion ramp. ar. holding a rose branch, flower or, stalked and leaved vert.
6) Ar. a fesse sa. a label gu.