Fernandez Family Crest, Coat of Arms and Name History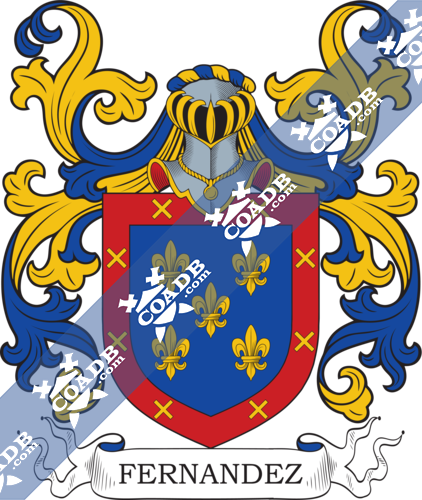 Fernandez Coat of Arms Gallery
Don't know which Coat of Arms is yours?
We can do a genealogical research. Find out the exact history of your family!
Learn More
Fernandez Surname Name Meaning, Origin, History, & Etymology
This is a Spanish patronymic (son of, descendant of) surname deriving from the personal (first) name Fernando. Fernando is the Spanish variant of the Germanic or Visigoth tribal masculine given name Ferdinand, meaning "brave traveler" or "adventurous bold journey". Ferdinand consists of the Proto-Germanic words frith (protection) or faro (journey) and nanth (courage) or nand (ready, prepared). The Visigoths were a tribe of Germanic people (the western branch of the Goths) of who conquered Spain in the 500s AD. The name first established itself in Castile. Spelling variants or names with similar etymologies include: Fernandez, Fernandiz, Ferrandez, Fernandezz, Fernandes (Portuguese), Fhernandez, and Feranadez.
Although Spanish, the surname is also somewhat common in southern Italy, particularly in the areas of Palermo and Naples, as the Spanish crown ruled there starting in 1494 until the early part of the eighteenth century. It is also found as Fernandes in Portugal. Further, tt is interesting to note the name has had a presence in America from the very beginning on European exploration: Fernandez was a surname of some of the officers and sailors on the First Voyage of Christopher Columbus.
One of the earliest documented bearers of this surname is Ero Fernandez, son of Feran Nunez de Castrosiero, who was born around 868 AD. Another early bearer was Gonzalo Fernandez, son of Feran Castrojeriz, who was born around 880 AD.
Berenguela Fernandez was a European artistocrat born in Hijar, Teruel, Aragon, Spain in 1219 AD. She married King James I of Aragon who succeeded his father to the throne in 1213 AD. They had a son together named Pedro Fernandez who was born in Aragon, Spain around 1241 AD. This son married Marquessa de Navarra and had a son with her named Pedro Fernandez de Hijar who was born in around 1263 AD, known as "El Senalero".
Popularity & Geographic Distribution
The last name Fernandez ranks 512th in popularity in the United Status as of the 2000 Census. The name ranks particularly high in the following five states: Rhode Island, New Mexico, Hawaii, Colorado, and Massachusetts. In all five aforementioned states, the name ranks in the top 200.
In Spain, the name ranks 189th. In Portugal, it ranks 108th. The surname Fernandez frequency/commonness ranks as follows in the Latin and South America: Mexico (108th), Honduras (159th), Panama (414th), Colombia (166th), Venezuela (66th), Argentina (178th), Nicaragua (400th), Ecuador (113th), Cuba (240th), Peru (83rd), Chile (139th), Bolivia (97th), Uruguay (147th), Dominican Republic (263rd) and El Salvador (189th).
Fernandez Family Tree & Fernandez Genealogy
Some bearers of this surname during the time of the Middle Ages to the early modern period include:
1) Catalina Fernandez, wife of Pedro de Sandoval, was born in Reinos de Castilla, Espana in 1436 AD and had a son named Guiomar de Sandoval
2) Pedro Fernandez was born around 1530 AD and had a son named Gaspar
3) Juan Fernandez was born around 1560 AD, married Lucia de Torres, and had a daughter named Ana de Santiago
5) Maria Fernandez was born in Lorca, Spain around 1590 AD, married Pablo Carreno, and had a daughter named Beatriz Carreno
6) Nicolas Fernandez was born in Malaga, Espana (Spain) around 1600, the son of Diego Hernandez and Andrea Rodriguez, married Maria Rodriguez, and had issue named Juana, Jose, Juan, and Maria
7) Antonio Fernandez was born in Braga, Portugal around 1610, married Ana Lopez, and had a son named Joan
8) Gertrudis Fernandez, daughter of Alejandro Fernandez and Teresa Carlos de Godoy, was born in Jerez, Zacatecas, Mexico in 1704, married Francisco de Acuna, and had sons named Felipe and Juan Salvador
9) Manuel Fernandez was born in Mexico in 1712, married Maria Teresa Lozano, and had a son named Manuel Ricardo Fernandez
10) Francisa Fernandez was born in Lorca, Spain around 1730, married Joseph Xavier Rubio Torreglose, and had the following issue: Maria Huertas, Batholome Antonio, and Francisco Rubio Torreglosa.
Some marriages involving the Fernandez last name include:
1) Pedro Fernandez married Lucia Hernandez in San Nicholas de Bari, Valladoid, Spain in July 1589
2) Juan Fernandez married Maria de Castro in San Nicholas de Bari, Valladoid, Spain in July 1590
3) Juan San Fernandez married Catalina Martinez in Nuestra Senora de la Asuncion, Albacete, Spain in August 1582
5) Ana Fernandez married Antonio in San Nicholas de Bari, Valladoid, Spain in April 1638
6) Jacinta Fernandez married Francisca del Noval in Spain in February 1708
7) Sebastian Fernandez married Monica in Santa Isabel, Armadillo de los infant, San Luis Potosi, Mexico in February 1622
8) Pedro Fernandez married Maria del Espiritu, daughter of Domingo Sanchez, in Santa Cruz Mixtepec, Oaxaca in February 1685
9) Ygnacio Fernandez married Gertrudis Pasquala, Miguel Antonio, in Puebla, Mexico in May 1748
10) Henry Fernandez married Carrie A. King, daughter of John King and Maude Smith, in Montgomery County, Ohio in 1907
11) Leander P. Fernandez married Catherine Wells Waterbury, daughter of Holland Wells and Rachael Rockafellow, in Kalamazoo, Michigan in December 1901
12) Gonzalo C. Fernandez married Amila L. Smith, daughter of A.W. Smith and Ella Stewart, in Tompkins, New York in September 1909
Estanislao Fernandez was born in Juana Diaz, Puerto Rico around 1840. He married Candida Rivera and had five children with her as follows: Jose Ramon, Manuel, Antonio, Juan Dios Fernandez, and Patricio Fernandez. His son, Jose Ramon Fernandez, was born in Juana Diaz, Puerto Rico in around 1860. He married Oliva Fernandez Soto, daughter of Jose Fernandez and Carmen Soto, and was the father of the following issue: Pedro, Jose Ramon, Rosa, and Emilia. Jose Ramon was born in the same town in 1885. In 1905, he married Maria Manuel Negron, and had numerous children with her, including, but not limited to, the following: Clotilde, Rafael Ralph, Mercedes, Juan Ramon, Juan Fernandez, Josefina, Jose, Aurea Estel, Jose, Jorge Luis, Reinaldo, and Libertad.
Early American and New World Settlers
Two of the earliest known settlers of the New World bearing this name who emigrated were Jorge Fernandez who came to Peru in 1560 and Juan Fernandez who came to Cartagena, Colombia in 1562
Several thousand members of the Fernandez family came to the United States through Ellis Island, during the nineteenth century, including:
1) Edwardo Fernandez came from Peru in 1870 aboard the Alaska
2) Oscar Fernandez came from Italy aboard the City of Merida
3) Francisco Fernandez came from Cuba in 1871 aboard the Wyoming
5) Jose Fernandez came from Cuba in 1885 aboard the Saratoga
6) Delphina Fernandez came from Brazil in 1887 aboard the Laura
7) Rufina Fernandez came from Spain in 1843 aboard the Eugenia
8) Pedro Fernandez came from Spain in 1865 aboard the Vera Cruz
9) Ernesto Fernandez came from Mexico in 1890 aboard the La Bourgogne
10) Frank Fernandez came from Dominica in 1885 aboard the Niagara
11) Ramon Fernandez came from Mexico in 1890 aboard the La Bourgogne
12) Joze A. Fernandez came from Brazil in 1841 aboard the Odessa
When heraldry first developed in Europe during the Middle Ages, arms belonged to individuals and not families or surnames. Most of the time, the arms were passed down to the eldest son of the family. As this process occurred generation after generation, people began referring to the coat of arms as "family crest", since certain designs became associated with certain surnames. Sharing the same surname is not necessarily indicative of descent from the original armigers.
Notables
There are hundreds of notable people with the Fernandez surname. This page will mention a handful. Famous people with this last name include:
1) Sefania Fernandez (1990) is a model born in Merida, Venezuela who won the Miss Universe title in 2009
2) Douglas Fernandez (1959) was a former decathlete from Venezuela who won a silver medal at the 1983 Pan American Games and also represented his country at the 1984 Summer Olympics in Los Angeles, California, where he finished 18th.
3) Alexander Fernandez (1969) was a former Cuban American professional baseball pitcher born in Miami Beach, Florida who
5) Cristina Fernández de Kirchner (1953) who was the 10th President of Argentina from 2007-2015, born in Tolosa, La Plata, Buenos Aires
6) Augusto Matias Fernandez (1986) is an Argentine soccer (football) player from Pergamino whose career spanned from 2006-2018 and beyond, playing for teams such as River Plate, Celta, and Beijing Renhe
7) Juan Primitivo Próspero Fernández Oreamuno (1834-1885) who was the President of Costa Rica from 1882-1885, who fought against William Walker, an American lawyer, journalist, and physician who led several private military expeditions into Latin America in order to establish English-speaking slave colonies
8) Leonel Antonio Fernández Reyna (1953) who served as the President of the Dominican Republic from 2004-2012, born in Santo Domingo
9) Jose Fernandez (1992-2016) was a Cuban-born professional baseball player who played for the Miama Marlins between 2013-2016, named as National League rookie of the year in 2013
10) Victoria Eugenia Fernández de Córdoba (1956-2013) was the 18th Duchess of Medinaceli, born in Madrid, Spain, daughter of Don Luis Jesús Fernández de Córdoba y Salabert
Fernandez America Civil War Veterans
There were around 82 soldiers with the last name Fernandez who served in the American Civil War:
1) Louis Fernandez of the 2nd Regiment New Hampshire Infantry (Union)
2) Diego Fernandez of the 2nd Regiment Texas Cavalry (Union)
3) Emanuel Fernandez of the 10th Regiment Louisiana Infantry (Confederacy)
5) Auerto Fernandez of the 30th Regiment Louisiana Infantry (Confederacy)
6) Lorenzo I. Fernandez of the 8th Regiment New Jersey Infantry (Union)
7) Manuel Fernandez of Brook's Battalion (Confederate)
8) William Fernandez of the 14th Regiment Connecticut Infantry (Union)
9) Antonio Fernandez of the 25th Regiment New York Cavalry (Union)
10) Jose Ignacio Fernandez of Mink's Independent Company New Mexico Territory (Union)
11) John Fernendz of the 2nd Regiment Florida Infantry (Confederacy)
12) Jeff Fernandez of the 4th Regiment New Hampshire Infantry (Union)
Blazons & Genealogy Notes
1) Castille – D'azur à cinq fleurs-de-lis d'or 2 1 et 2 à la bordure de gueules ch de huit flanchis d'or. Source: Rietstap's
2) Espagne – (Anob. d'Antonio Fernande. 31 août 1532).Diplôme original de la Bibliothèque d'Arles – D'azur à un château ou tour crénelée donjonnée de deux tours le tout d'or ouvert et ajouré de sable et soutenu d'une terrasse de sinople au chef d'or chargé d'une aigle de sable couronnée d'or Casque avec lambrequins Cimier la tour entre un vol à dextre de sable et à senestre d'azur. Source: Rietstap's
3) Castille – D'argent à un pin de sinople sur une terrasse isolée du même accostée de deux lances de tournoi au naturel posées en chevron et appuyées contre le feuillage le tout acc en pointe d'une hure de sanglier de sable arrachée et ensanglantée. Source: Rietstap's
4) Castille – D'argent au lion de gueules à la bordure du même ch dans la moitié supérieure de cinq tours d'or 3 en chef et 2 sur les flancs et dans la moitié inférieure de cinq chaudières de sable 2 sur les flancs et 3 en pointe. Source: Rietstap's
5) Fernandez Bautista – Andalousie – D'azur au lion d'argent à la bordure du même ch de huit roses à quatre feuilles de gueules. Source: Rietstap's
6) Fernandez de Castillo – Espagne, Belgique – D'or à une tour de gueules coulissée du même posée sur un fascé-ondé de quatre pièces d'azur et d'argent Cimier un dragon issant d'or armé et lampassé de gueules entre un vol d'azur. Source: Rietstap's
7) Fernandez de Córdova – Marquis de Canillejas – Asturies – Parti au 1 d'argent à un arbre de sinople et deux loups passants de sable l'un devant et l'autre derrière le fût à la bordure de sable ch de huit coquilles d'argent (Córdova de Lizaur) au 2 tiercé en fasce a de sinople à un casque d'argent grillé et liseré d'or taré de profil b d'or à trois fasces de gueules c d'azur à une tour d'or. Source: Rietstap's
8) Fernandez de Córdova – Castille – Coupé au 1 d'or à trois fasces ondées de gueules au 2 d'argent à un roi issant posé de front couronné à l'antique d'or revêtu d'un manteau de pourpre au rabat d'hermine tenant de sa main dextre une épée d'argent ledit roi ayant au cou une chaîne attachée dans le canton senestre du chef L'écu entouré d'une bordure d'argent ch de soixante-quatre drapeaux de sable d'azur de gueules et d'argent lesdits drapeaux enroulés autour de leur hampe. Source: Rietstap's
9) Fernandez de Folgueras – Asturies – Parti au 1 d'or à un arbre de sinople accosté de deux lances de tournoi au naturel posées en chevron renversé appuyées contre le feuillage et une hure de sanglier de sable brochant sur le pied du fût de l'arbre le tout soutenu d'une terrasse de sinople au 2 losangé d'azur et d'argent. Source: Rietstap's
10) Fernandez de La Puente – P. de Santander – Parti au 1 d'argent à l'aigle de sable et à la bordure de gueules ch de cinq fleurs-de-lis d'or 2 dans les cantons du chef 2 en flancs et 1 en pointe et de huit flanchis d'argent posés 2 en chef entre les deux fleurs-de-lis 2 en flancs au-dessus des fleurs-de-lis des flancs et ensuite 4 autres au-dessous de ces fleurs-de-lis au 2 de gueules à un pont de trois arches d'argent mouv d'une eau du même ledit pont portant un chevalier la lance haute monté sur un cheval de sable se dirigeant vers une tour d'or ouverte et ajourée d'azur posée sur le pont à dextre le tout acc d'une tête de Sarrasin contournée au naturel ensanglantée flottante sur l'eau. Source: Rietstap's
11) Fernandez de La Reguera – Castille – Écartelé au 1 d'azur à une tour de trois étages d'argent au 2 de sinople au lion d'or au 3 d'or au lion de gueules au 4 d'argent à trois fasces ondées d'azur. Source: Rietstap's
12) Fernandez de Piedrola – Andalousie – De gueules à la bande de sinople acc de cinq tours sommées chacune de trois tourelles d'argent 3 en chef posées 2 et 1 et les 2 autres au-dessous de la bande rangées en bande le tout acc de quatre groupes de trois besants d'argent le premier groupe les besants disposés 1 et 2 posé entre les trois tours en chef un deuxième groupe disposé 2 et 1 posé à senestre au-dessous de la troisième tour du chef le troisième groupe de besants surmontant la première tour au-dessous de la bande et le quatrième groupe posé à dextre de la seconde tour au-dessous de la bande ces deux derniers groupes de besants mal-ordonnés L'écu entouré d'une bordure de gueules ch de huit flanchis d'argent. Source: Rietstap's
13) Fernandez de Treviño – Aragon – Écartelé aux 1 et 4 d'azur à trois écussons de gueules ch chacun d'une étoile (8) d'argent aux 2 et 3 de gueules à deux tours accostées d'or ouvertes et ajourées du champ L'écu entouré d'une bordure d'argent ch d'une chaîne de sable Cimier un lion issant au naturel tenant de sa patte dextre une épée la senestre appuyée sur un écusson de gueules ch d'une étoile (8) d'argent. Source: Rietstap's
14) Fernandez del Campo – Castille – Parti au 1 d'argent à une tour sommée d'une tourelle de gueules ouverte et ajourée du champ au 2 d'or à trois fasces de vair L'écu entouré d'une bordure d'or ch de huit mouchetures d'hermine de sable celles en chef et celles en pointe couchées. Source: Rietstap's
15) Fernandez ou Ferrandiz – Mayorque – (Bover) – Parti au 1 d'or au chef d'azur chargé de trois fusées accolées du champ au 2 de gueules à quatre fasces d'or. Source: Rietstap's
16) Fernandez-Iglesias – Castille – Parti au 1 tiercé en pairle renversé ployé à dextre d'or à la croix latine de gueules à senestre d'argent au lion d'or et en pointe d'azur à un agneau couché d'argent acc en bas d'un petit pain d'or au 2 de gueules à une église d'argent ayant son clocher à senestre et un guerrier armé sur le seuil de la porte le 2 entouré d'une bordure d'azur ch de la devise GODOS A PELEAR DE TODOS VENCEREMOS. Source: Rietstap's