Furlong Family Crest, Coat of Arms and Name History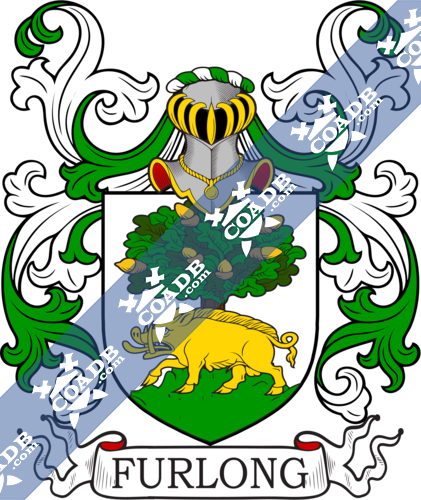 Furlong Coat of Arms Gallery
Don't know which Coat of Arms is yours?
We can do a genealogical research. Find out the exact history of your family!
Learn More
This section has not yet been completed. If you are interested in having your genealogy done, we offer an affordable research servicethat traces your lineage so you can learn more about your ancestors, where they came from, and who you are.
Blazons & Genealogy Notes
1) (Great Fulford, co. Devon, written Folefort in Domesday Book; this family is one of the most ancient in the west of England). Quarterly, 1st, for Fulford, gu. a chev. ar.; 2nd, for Fitzurse, ar. a bend betw. three bears' heads erased sa.; 3rd, for Moreton, ar. a chev. betw. three moorcocks sa.; 4th, for Bilston, or, on a bend gu. three crosses formee ar.; 5th, for Bozom, gu. three birdbolts ar.; 6th, for St. George, ar. a lion ramp. gu. a chief az.; 7th, for Cantilupe, az. three leopards' faces jessant-de-lis or; 8th, for St. Albyn, erm. on a cross gu. five bezants; 9th, for Challons, gu. two bars and an orle of martlets ar. Crest—A bear's head erased sa. muzzled or. Motto—Bear up. (The arms, as above given, are cut in stone of an ancient date, and are over a fine gateway of the old mansion).
2) (co. Devon, and Pollard, co. Dorset; granted 1623). Sa. a chev. betw. three bears' heads erased ar. muzzled gu. Crest—A bear's head erased ar. muzzled sa.
3) Ar. a chev. betw. three fishes' heads erased sa.