Gage Family Crest, Coat of Arms and Name History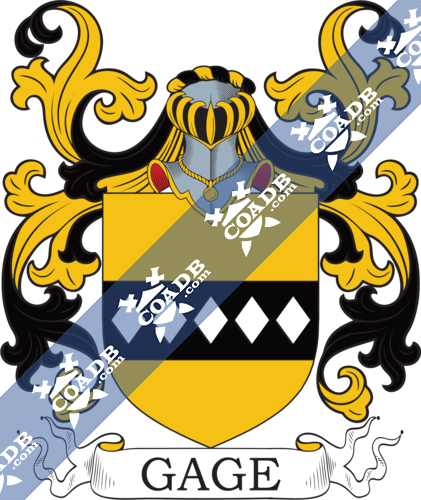 Gage Coat of Arms Gallery
Don't know which Coat of Arms is yours?
We can do a genealogical research. Find out the exact history of your family!
Learn More
Surname Name Meaning, Origin, and Etymology
This surname derives from the Middle and Old English word gage or gauge, which likely has Germanic origins, meaning measure, and was likely an occupational name for a person who was an assayer, and official responsible for checking weights and measures. It also may come from the Old French word gage, meaning pledge or surety, and may have been an occupational name for a usurer or moneylender.
Spelling Variations
Common spelling variations of this last name include: Gages, Gaider, Guage, and other. Foreign equivalents include Gagge (Swedish) and Gegers (Flemish).
Early Bearers of the Surname
The Battel Abbey Roll (a list of the companions of William the Conqueror) records a De Gaugy or Gage as having come into England during the time of William's Conquest, a man who settled in the Dean forest, and his descendants later became ennobled. Heralds traces the lineage and genealogy of this family, now flourishing in the rank of peerage, from this ancient book. A one Alice Gage was recorded in the Court Rolls of the Borough of Colchester in 1310 AD in Essex. One source claims the name was first found in Gaugy, Normandy where Ralph de Gaugy in 1180 AD. Variations on the name were Gaugi, Gacuhi, and Gaacy. Several years later, Ralph de Gauci possessed a fied in Northumberland by marriage in 1165 AD.
History, Genealogy, and Ancestry
Bernard Burke's book "Peerage and Knights" discusses this family name in significant detail. It begins with mentioning The Viscount Gage, Sir Henry Rainald Gage, of Castle Island from county Kerry. He was born in 1895 and succeeded his father as the 6th Viscount in 1912.  He was Baron Gage of High Meadow, county Gloucester and a Baronet, as well as D.L in county Sussex and J.P. and C.C. in East Sussex. He served in World War I and married Honorable Alexandra Imogen Clare Grenfell, the younger daughter of the Baron of Desborough, and had three children with her: George John St. Clere (1932), Henry Nicholas (1934), and Camilla Jane (1937).
Burke traces the lineage of this family back to Robert, son of Reginald or Ralf de Guagi, who wa a strong adherent of King John of England in his war with the barons. He obtained Thornton and Langester through his marriage with Beatrice, daughter and heir of Robert Lovel. He had two sons with her: Ralph and William. Ralph died in 1243 leaving a son of the same name, who was then succeeded by Adam de Gaugi who dided in 1287 and the estates passed to the De Cliffords. The younger son William de Gauge, was made Constable of Caermarthen Castle, by King Henry III in 1234 AD, and received many land grants in South Wales and county Gloucester from said monarch. From him, the Gages derive, and they continued to live in Cirencester until the death of John Gage (only son of John de Gauge), who married Joan Sudgrove. He was succeeded by his son Sir John Gage, Knight of Burstowe, who acquired that seat, in addition to Penhurst in Kent, and lands in Sussex and Buckingham, with his wife Eleanor St. Clere. He died in 1686 and left two sons. The first was John, who is the ancestor of the Gages of Rushton in county Northampton. The elder was William Gage, who formed a seat, where his heirs still reside, at West irle, on the manor of Heighton St. Clere. He married Agnes, sister of John Bolney. He was succeeded by his son, Sir John Gage, K.G. of Firle, Sussex, a distinguished soldier and statesman. He married Philippa, daughter of Sir Richard Guldeford, and had issue: Sir Edward, John (of Bentley),  Robert (of Haling), and William. He was succeeded by Sir Edward Gage. He married Elizabeth, daughter of John Parker, and had nine children with her: Agnes, Philippa, Margery, Lucy, Mary, Margaret, John, Thomas, and Edward. Edward died in 1568 and he was succeeded by John Gage. John was a Member of Parliament for Lewes in 1557. He died in 1595 and his estates went to his nephew: Sir John Gage, The 1st Baronet, who was created a baronet in 1622. He married Penelope, widow of Sir George Trenchard, and had issue with her: Thomas, John, Edward, Henry, Frances, Elizabeth, Anne, and Penelope.  His successor was Sir Thomas Gage, the 2nd Baronet, who married Mary Chamberlain and had four children with her: Thomas, John, Henry, Joseph, Francis, Mary, and Catherine. The son Thomas was the 3rd Baronet, who died in 1660 when he was succeeded by his brother, Sir John Gage, 4th Baronet, who was Sheriff of Sussex in 1687-8. He married Mary, sole heir of Robert Middlemore, and had issue with her: mary and Bridget. He later married Mary Stanley, and had issue with her: Sir John (5th Baronet), Sir Thomas (6th Baronet), Sir William (7th Baronet), and Mary. Sir John (5th) was born in 1692 and was succeeded by his brother Thomas (6th) when he died in 1600, and Thomas was succeeded by his brother William in 1713 when he died while traveling. Sir William (7th) was born in 1695 AD.  He was elected to Parliament as a representative of the town of Seaford in Sussex. He was installed a Knight of Bath in 1725 and died in 1744. His sisters, Lady Shelley and Viscountess Fauconberg, became his co-heirs, while the Baronetcy reverted his cousin: Thomas Gage, the 1st Viscount Gage. Thomas was a Member of Parliament from 1717 to 1721 for Tewkesbury. He married Benedicta Maria Theresa and had issue with her: William Hall (2nd Viscount) and Thomas (a General in the Army, Governor, and C. in C. in H.M. Forces in North America). The discussion of the pedigree goes on for another page.
Bernard Burke's other book "The Landed Gentry" discusses two branches of this family: Gage of Ballinacree and Gage of Rathlin Island. Burke traces the lineage of the first to the Gages of Bellarena in county Londonderry, who descend from the Gages of Firle, and were represented by Marianne, Lady Heygate, the only daughter and heiress of the late Conolly Gage. A descendant of the male line, however, is Marcus McCausland Gage, who was the eldest son of Marcus Gage and Rachel Jane. Mr. Gage of Ballinacree, had a brother, Conolly James, who was born in 1829 and died in 1863, and two sisters Sarah (married George Claudius Beresford Stirling) and Julia (married Captain James Roy Norton).  The second family, Gage of Rathlin Island, begins with a mention of Robert Gage, Esq. of Rathlin Island in county Antrim, J.P., M.A., born in Dublin, Ireland in 1813. Burke states this family claims to descend from Gage of Firle. The first member who settled in Ireland was Reverend Robert Gage, Chaplain to Queen Anne, and to Lionel, Duke of Doreset, Lord-Lieutenant of Ireland. He was succeeded by his son, Reverend John Gage, Prebendary of Aghaoey, who married Susan Johnston in 1733. He died in 1763 and was succeeded by his son, Robert Gage, Esq, born in 1739. In 1776, Robert married Barbara, the daughter of John Richardson, and left issue with her: John, Frederick, Robert, Susan, and Mary Anne. The third son, Reverend Robert Gage, was born in 1790 and married Catherine, the eldest daughter of Ezekiel Davis Boyd, and had issue with her: Robert, Ezekiel, Catherine, Barbara, Rosetta, Amelia, Susan, Elizabeth, Adelaide, and Dorothea.
Early American and New World Settlers
The book "Genealogical Guide to the Early Settlers" discusses three people bearing this last name: 1) John Gage of Boston, who likely came with Governor Winthrop, who went to Ispwich in 1633 and had children Benjamin, Daniel, Jonathan, Samuel, and Thomas. When his wife Ann died in 1658, he got married to Sarah, widow of Robert Keyes, and removed 1664 to Rowley, 2) Josiah Gage, recorded as a freeman in Haverhill who had a son named Samuel with his wife, Faith, the daughter of William Stickney, and 3) Thomas Gage of Beverley, who with his wife Sarah, had issue: Thomas (1678), William (1680), and four daughters. He later married Elizabeth, widow of Humphrey Hobson, and had a daughter named Elizabeth born in 1698. Joseph Gage was recorded as a prisoner (for his roll in the failed Monmouth Rebellion of 1685) who was sent to Barbabos in the late 17th century. Other early settlers include: John Gage (Maryland 1747) and
James Gage (Philadelphia 1833).
Benjamin Gage was born in 1643 in Bradford, Massachusetts, who was the son of John Gage. He married Prudence leaver in 1671 and had two issue with her: John and Thomas. John was born in 1672 and he married Sarah Haseltine in 1694. They left numerous children: Sarah, Elizabeth, Benjamin, Jonathan, Ebenezer, Thomas, John, William, and Prudence.
Mottoes
The family mottoes include: 1) Courage sans peur, meaning "Courage without fear", 2) Bon temps viendra, meaning "The good time will come", and 3)
Notables
Famous people with this last name include: 1) Thomas Gage (1718-1787) who was a British General during the American Revolution, 2) Frances Dana Baker Gage (1808-1884) who was a leading Amercian reformer, abolitionist, and feminist, 3) and John Gage (1942) who is the creator of Sun Microsystems.
Blazons & Genealogy Notes
1) (Viscount Gage). Quarterly, 1st and 4th, gyronny of four az. and ar. a saltire gu., for Gage; 2nd and 3rd, az. the sun in splendour or, for St. Clere. Crest—A ram pass. ar. armed and unguled or. Supporters—Two greyhounds tenne each gorged with a coronet composed of fleurs-de-lis or. Motto—Courage sans peur.
2) (Hengrave, co. Suffolk; Edward Gage, third, but second surviving son of Sir John Gage, first bart. of Firle, ancestor of the Viscounts Gage, was created a bart. 1662). Same Arms and Crest as Viscount Gage, without the quartering of St. Clere.
3) (Rokewode-Gage, bart., dormant since 1867; Sir Thomas Gage, eighth bart. of Hengrave, and Sir Edward Gage, ninth bart. of Hengrave, both assumed the additional name and arms of Rokewode, but both d. s. p.). Quarterly, 1st and 4th, gyronny of four az. and ar. a saltire gu., for Gage; 2nd and 3rd, ar. six chessrooks, three, two, and one sa.. for Rokewode. Crests—A ram pass. ar. armed or, for Gage; A chessrook sa. winged ar., for Rokewode. Mottoes—Over crests, 1st: Bon temps viendra; 2nd: Tout est Dieu.
4) (Rands, co. Northampton, and co. Kent). Same Arms and Crest as Gage, bart. of Hengrave.
5) (co. Devon). Or, on a fesse sa. five lozenges ar. (another, betw. three escallops sa.)
6) (Hormead, co. Hertford). Per pale oz. and gu. a saltire ar. Crest—A stag pass. ppr.
7) (cos. Kent and Surrey). Quarterly, az. and ar. over all a saltire gu.
8) Per saltire ar. and gu. a cross or.
9) Gyronny of four ar. and az.