Gerber Family Crest, Coat of Arms and Name History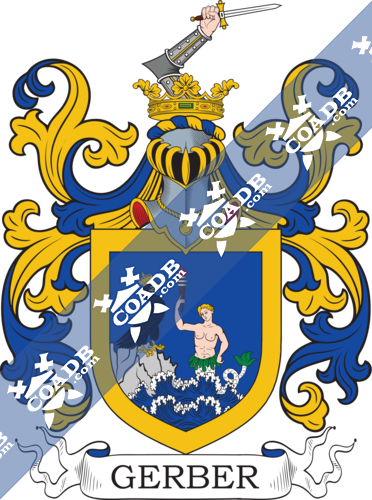 Gerber Coat of Arms Gallery
Don't know which Coat of Arms is yours?
We can do a genealogical research. Find out the exact history of your family!
Learn More
The popular surname German and Swiss name Gerber developed as an occupational name for a tanner, derived from the Middle High German gerwer or Old High German garawo, meaning "leather preparer".  Others state it derived from the word garawen, meaning "to prepare". Spelling variants include Gerb, Garber, Gerbl, Gerver (Dutch), and Garbar (Beloruss).
One early bearer of the name was Ulrich Gerber, who was born in Steffisburg, Bern, Switzerland in 1433 AD. He married Barabara Bieri and had a son with her named Valentine. One famous bearer of this last name was Ernst Ludwig Gerber (1746-1819), a German composer and author whose father, Heinrich Nikolaus Gerber, was a pupil of J.S. Bach.
Some early immigrants who arrived in colonial American bearing this name include Jacob Gerber (New York 1709), Peter Gerber (Pennsylvania 1710), Claus Gerber (1731), and Hans Jacob Gerber (Philadelphia 1733). In the United States, one of the most famous bearers of this name was Frank Daniel Gerber (1873-1952), born in Allegan County, Michigan, who founded Fremont Canning Company in 1901, which later began selling baby-food. He was joined in the business by his son Daniel (1898-1974) who helped grow the company in the world's largest baby-food manufacturer. In the United States, the surname ranks in the top 1,000 most popular surnames in the following four states: Indiana, Ohio, Minnesota, and Wisconsin.
Franz Anton Gerber was born in Epfig, Alsace, Germany around 1740. In 1758, he came to South Africa aboard the Kronenburg as a soldier and became a Free Burgher several years later. He worked as a wagonmaker in Stellenbosch. He married Catharina van Dijk and had ten issue with her.
Blazons & Genealogy Notes
1) Silésie – (Nob du St.-Empire, 1790) – Sous un ciel d'azur une sirène de carnation nageante sur une mer au naturel et tenant un flambeau allumé du même devant les yeux d'une aigle essorante et contournée de sable becquée membrée et sommée d'une couronne royale d'or posée sur un rocher au naturel s'élevant de la mer et mouv du flanc dextre de l'écu L'écu bordé d'or Casque couronné Cimier un bras armé au naturel tenant une épée du même Lambrequin d'or et d'azur
2) Saxe – (An., 18 juin 1878) – D'argent à une tête et col de cerf de gueules Cimier trois plumes d'autruche une de gueules entre deux d'argent
3) Soleure – D'azur à tertre de trois coupeaux de sinople surmonté de deux étoiles d'or acc en chef d'une fleur-de-lis du même Cimier une fleur-de-lis d'or entre un vol d'azur Lambrequin d'or et d'azur
4) Soleure – Coupé au 1 d'azur à une étoile d'or accostée de deux fleurs-de-lis du même au 2 de gueules à un tertre de trois coupeaux de sinople surmonté d'un fer de tonnelier d'argent en fasce à deux manches d'or dextre et senestre Cimier une étoile d'or Lambrequin à dextre d'or et de gueules à senestre d'or et d'azur
5) Saint-Gall – Tranché d'argent sur sable à un chamois rampant au naturel brochant sur le tranché Cimier le chamois issant
6) Berne – Taillé d'argent sur sable à un chamois rampant de l'un en l'autre Cimier un chamois issant de sable
7) Berne – De sable à la fasce d'argent ch d'un lion léopardé de gueules Cimier un lion issant de gueules
8) Lübeck – D'or à un jeune homme issant de la pointe posé de face habillé de sinople au rabat d'argent tenant de ses mains levées au-dessus de sa tête une pomme de gueules la queue en haut Cimier le jeune homme issant Lambrequin d'or et de sinople
9) Berne – Tiercé en fasce au 1 d'or à l'aigle de gueules au 2 d'argent au lion léopardé de gueules au 3 d'azur à une fleur-de-lis d'or Cimier un lion issant de gueules