Glanville Family Crest, Coat of Arms and Name History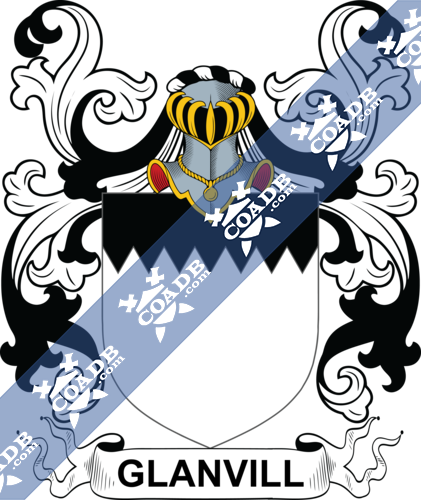 Glanville Coat of Arms Gallery
Don't know which Coat of Arms is yours?
We can do a genealogical research. Find out the exact history of your family!
Learn More
Glanville Origin:
England, France
Origins of Glanville:
Listed in many forms such as de Glanville, Glanville, Glanvill, and Glanfield, this popular surname is of pre 10th century French origins. It was brought into England in 1066 by supporters of Duke William of Normandy, known to history, but not his partners, as The Conqueror, it is geographical from a place called Glanville in Calvados, Normandy. The origin is from the word glan which means an acorn or probably a brush of young oaks, and ville, which means a large home or hamlet. The surname first shows in the popular Domesday Book of 1086, when Robert de Granuill as spelled, who had been given lands in the district of Suffolk, so listed. Other early documentation from the old period contain as William de Glanvile in the Pipe Rolls of the division of Norfolk in 1127, and Ranulf de Glanville who passed away in 1190. He had had a long and distinguished job, being firstly the reeve of Yorkshire from 1163 to 1170, and next until his death in 1190, the Chief Justice of England. He passed away at Acre in the Holy Land while on a Campaign with King Richard 1st of England, otherwise known as "Lionheart." Another popular name ancestor of the next period was Sir John Glanville (1542 – 1600), who it maintained, was the first lawyer to be selected as a judge of the common pleas in 1598.
Variations:
More common variations are: Glaanville, Glannville, Glanvill, Glanvile, Glenville, Cleaville, Glannvill, Glanvil, Calanville, Glnneville
England:
The surname Glanville first appeared in Suffolk and Norfolk. Bromeholme in the church of Bacton in Norfolk that was an old family seat placed shortly after the Norman Invasion. "An earlier for Cluniac priests, dedicated to St. Andrew, appeared in 1113, by William de Glanvill, and for some time lived as a cell to the abbey at Palace Acre." Again, in Suffolk, but this time in Leiston, Ranulph de Glanville gave the priory there in praise of the Virgin Mary in 1182.
Ireland:
Many of the people with surname Glanville had moved to Ireland during the 17th century.
Australia:
Some of the individuals with the surname Glanville who landed in Australia in the 19th century included John Glanville arrived in Holdfast Bay, Australia aboard the ship "John Renwick" in 1837. James Glanville at the age of 39, arrived in South Australia in 1852 aboard the ship "Chatham." Richard Glanville arrived in South Australia in 1854 aboard the ship "William Prowse." John Glanville at the age of 25, arrived in South Australia in 1856 aboard the ship "Australia." Johnson Glanville arrived in South Australia in 1857 aboard the ship "Omega."
New-Zealand:
Some of the population with the surname Glanville who arrived in New Zealand in the 19th century included E. Glanville arrived in Auckland, New Zealand aboard the ship "Ulcoats" in 1864.
Here is the population distribution of the last name Glanville: England 2,484; United States 1,689; Australia 1,079; South Africa 950; Canada 476; Wales 181; Jamaica 161; New Zealand 149; Scotland 138; Ireland 93.
Notable People:
Ann Glanville (1796–1880), was a Cornish rower.
Brandi Glanville (born 1972), was an American television personality and old fashion model.
Brian Glanville (born 1931), was an English football author and novel writer.
Christine Glanville (1924–1999), was an English puppeteer.
Doug Glanville (born 1970), was an American baseball player.
Eleanor Glanville (c.1654–1709), was an English entomologist.
Ernest Glanville (1855–1925), was a South African writer.
Francis Glanville (1827–1910), was a British Army officer.
Glanville Williams (1911–1997), was a Welsh legal researcher.
Harold Glanville (1854–1930), was an English businessperson and leader.
Sir John Glanville (1586–1661), was an English leader.
Joseph Glanvill (1636–1680), was an English author.
Lucy Glanville (born 1994), is an Australian biathlete.
Marc Glanville (born 1966), is an Australian rugby league football player.
Mark Glanville was an English classical musician and author.
Peggy Glanville-Hicks (1912–1990), was an Australian writer.
Phil de Glanville (born 1968), is an English rugby union player.
Rainald Ralph de Glanville (born 1030), was a Norman lord.
Ranulph Glanville (born 1946), was an English scholar.
Stephen Glanville (1900–1956), was an English Egyptologist.
Sir William Glanville (1900–1976), was a British civil engineer.
Blazons & Genealogy Notes
1) (Launceston, co. Cornwall). Az. three saltires or. Crest—A buck pass. ppr.
2) Same Arms. Crest—Out of a maunch or, a dexter hand clenched ppr.
3) (co. Suffolk, and Broomhall, co. York). Ar. a chief indented az.
4) Az. on a chief or, a lion pass. gu.
5) Per pale az. and gu. three saltires ar.
6) (Halwell and Killworthy, co. Devon; reputed to have derived from the famed Ranuplh de, Glanville:, Baron de Bromholme, co. Suffolk, temp. William the Conqueror, ancestor of the Earls of Chester and Siiffollr). Az. three saltires or. Crest—On a mount vert, a stag trippant ppr.
7) (Tavistock, co. Devon; John Glanville, Justice of the Common Pleas. third son of John Glanville, of that place, d. 27 July, 1600. Visit. 1620). (Broadhinton, co. Wilts; descended from Sir John Glanville, M.P. for Totnes, Speaker of the House of Commons, 1640, second son of the Judge; his grandson John Glanville, Esq., sold Broadhinton, and d. s. p.. Same Arm and Crest, with due diff.) (Catchfrench, co. Cornwall, and Cleveanery, co. Wilts; derived from John Glanville, eldest son and heir of Julius Glanville, Esq., Barrister-at-law, youngest son of Sir John Glanville, of Broadhinton, the Speaker.) Same Arms, a mullet for diff. first—On a mount vert a buck statant ppr.
8) (Visit. Oxon, 1574). Ar, a chief indented sa.
9) Az. three saltires or.
10) Ar. a chief indented az.