Glover Family Crest, Coat of Arms and Name History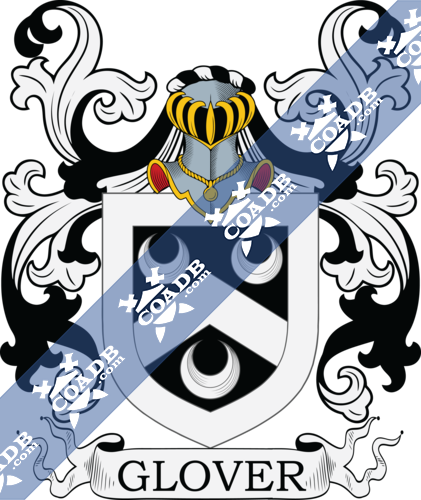 Glover Coat of Arms Gallery
Don't know which Coat of Arms is yours?
We can do a genealogical research. Find out the exact history of your family!
Learn More
Glover Surname Name Meaning, Origin, History, & Etymology
This popular last name is an English occupational name for a person who earned a living making or selling gloves, deriving from the Middle English word glovere, which in turn derives from the Old English glof, both meaning glove. This was a very important occupation in Europe during the Middle Ages. In some instances, glovers were very skilled engineers who built steel gauntlets for suits of armors for knights and soldiers. It is said the family first established itself in Perthshire, Scotland.  One branch of the family lived in Baxterley in Warwickshire, England.
One source claims the last name Glover is an English translation of the French name Gantier, and may have been a family of Norman extraction. However, others assert this is surely a name of Saxon origin that was once spelled Golofre.
Spelling Variations
One of the earliest spellings of this name was le Gaunter, Gauter, or Ganter. Some spelling variants or names with similar etymologies include : Gloever, Gloveer, and Glovere. In Latin, this surname is rendered cirothecarius. Many early settlers to New England spelled with name was the letter U instead of the letter V.
Popularity & Geographic Distribution
The last name Glover ranks 468th in popularity in the United Status as of the 2000 Census. The name ranks particularly high in the following four states, all of which are southern states: South Carolina, Georgia, Alabama, and Arkansas.
The surname Glover frequency/commonness ranks as follows in the British Isles: England (362nd), Scotland (826th), Wales (455th), Ireland (1,603rd) and Northern Ireland (534th). In England, it ranks highest in counties Leicestershire, Staffordshire, and Huntingdonshire. In Scotland, the surname ranks highest in Kirkudbrightshire, Dumfriesshire, and Sutherland. In Wales, it ranks highest in Glamorganshire. In Ireland, it ranks highest in county Roscommon. In Northern Ireland, it ranks highest in county Down. The name is also present throughout the remainder English speaking world:  Canada (994th), New Zealand (509th), Australia (502nd), and South Africa (1,765th).
Early Bearers of the Surname
The earliest known bearer of this name was William le Glovere who was documented to have lived in 1250 AD. In Scotland, Simon le Glover was a burgess of Perth who swore fealty in 1291 AD to King Edward I. Other early bearers in Scotland include John Gluvar in 1494, Nicholas Glofar of Irvine in 1446, John Gluffer in Linlithgow in 1610, and James Glover in Poucroft in 1668. The Hundred Rolls of 1273 AD, a census of Wales and England, known in Latin as Rotuli Hundredorum lists one bearer of this surname: Richard le Glovere of Befordshire in 1273 AD. The Poll Tax of 1379 AD lists three bearers: Elias Glover, Thomas Glover, and Hugo Glover. Some early marriages involving this surname include Anne Glover to Daniell Connell at Saint Giles in 1566 and was Elizabeth Glover to William Baker at St. Michael, Cornhill in 1680. An early baptism involving this surname includes Alyce Glover at St. Stephen's Church in 1547.
Glover Family Tree & Glover Genealogy
Here is one genealogical lineage of the family from father to son:
Robert Glover (born in Gnosall, Staffordshire, married Agnes Foulthures)
Robert Glover (born in Gnosall in 1276)
John Glover (born in Gnosall in 1308)
John Glover (born in Hereford, England in 1334)
John Glover (born in Ledbury, England in 1360)
John Glover (born in Ledbury in Herefordshire in 1386)
James Glover (born in Wittersham, Kent in 14113, married Agnes Southwyn)
John Glover (born in 1439)
Thomas Glover (born in England in 1460, married Agnes Tylden)
Thomas Glover (born in Wilmington, England in 1489, married Thomasine Hand)
Thomas Glover (born in Coventry, Warwickshire in 1517)
William Glover (born in Ashford, Kent in 1545, married Anne Wilcox and Anne Goverard)
Henry Glover (born in Prescot, Lancashire in 1603, went to colonial America, married Helena Wakeman)
Henry Glover (born in Dedham, Massachusetts in 1642, died in 1714)
Charles Glover was born in Boston, England around 1613. He migrated to New England during the Great Migration. In 1639, he married Elizabeth Goslinge and had the following children with her: Margaret (Hurt), John, Elizabeth, Mary, and Samuel. His son Samuel was born in Salem, Massachusetts in 1644. He married Sarah Moore and had the following issue with her: Grover, Hester, Charles, Samuel, and William. His son William was born in Southold, New York in 1682. He married Deborah Lambert and had the following children with her: Uriah, Deborah, Sarah, and William. His son William was born in the same town in 1720. He married Mary Fanning and had the following children with her: Anne, Mary, Nathan, Phebe, and James. His son Nathan was born in Plainfield, Windham, Connecticut in 1758. He married Desire Crary and had three children with her: Mary, Abigail, and Benjamin. His son Benjamin Glover was born in the same town in 1791. He married Margaret Anne Taggart and had the following issue with her: Amanda, Franklin, Henry, Samuel, Jane, Lovina, and Helen. His son Samuel was born in Byron, New York in 1824. He married Nancy Joan Crooker and had the following children with her: Helen, John, Lovina, James Edward, and Willis Taggart. His son James Edward Glover was born in Wisconsin in 1851. He married Lizzie B. Wall and later Anna Margaret Keane and had the following children: Le Roy James, Gracia Wall, Irene T., James Edward, and Helen Keane. His son James was born in Waukesha in 1890. He married Hazel Mary Ward and had issue with her, including a son names James. This son, James Edward Glover III, was born in Amarillo Texas in 1921. He married Mildred Katharine Bowdon and had issue with her.
John Glover was the first of the this family to settle in Ireland, which occurred during the early 1600s. He was a Captain who commanded many troops under one of the Percivals, and he was known for his gallantry at the defense of Bath at Arms. He married Miss Mills and had issue with her including a son named Edward (1668).
Early American and New World Settlers
The book Genealogical Guide to the Early Settlers, mentions one bearer of this last name:
1) Charles Glover of Salem was a shipwright by trade who arrived in Boston, Massachusetts aboard the Lion. He was a freeman in 1641. He married a woman named Elizabeth and was a selectman in 1644-45. He had a son named Samuel who was born in 1644.
2) Habakkuk Glover of Boston, the son of John of Dorchester, was born in England. He married Hannah Eliot in 1653. He had daughters name Hannah and Rebecca in 1654 and 1655, respectively.
3) Henry Glover of New Haven, who came in 1647 or earlier, likely aboard the Elizabeth. He married and had issue named Mary (1641), Mercy (1643), Hannah (1646), John (1648), Abigail (1651), and Sarah (1655). He was the lieutenant of Southold in 1662. In the same year, he was a freeman in Connecticut.
4) John Glover of Dorchester came in 1630 aboard the Mary and John. He was from Lancashire, England. He had a wife named Ann and sons named Nathaniel, Habakkuk, John, and maybe Pelatiah. He was a captain, a representative, and a selectman. He lived in Boston, MA.
5) Ralph Glover is said to have come in the fleet with George Winthrop and later in Watertown, where he passed away prior to 1633.
6) Stephen Glover of Gloucester married, in 1663, Ruth, daughter of William Stephens, and was a select men during the second half of the seventeenth century.
Other early settlers in the 1600s in America include: Richard Glover, age 24, who came to Virginia aboard the Assurance in 1635,  Henry Glover who was documented as living in Virginia in 1623, and John Jarvice, also known as Glover, who was also recorded in Virginia in 1623. Other settlers in colonial America bearing this surname include Lidya, Mary, Anne, Sara, and Elizabeth Glover who came to Virginia between 1701 and 1706.
In Canada, one of the first settlers bearing this last name was Josiah Glover, who came to Nova Scotia in 1750. In Australia, several English convicts bearing this surname arrived in the early nineteenth century, including Thomas Glover of Leicester who came aboard the Ann in 1809, Barnard Glover of York who came aboard the Agamemnon in 1820, Thomas Glover of Staffordshire who came aboard the Asia in 1822, and Samuel Glover of Lincoln who came aboard the Albion in 1826. All of these men settled in New South Wales. In New Zealand, early settlers include James Glover, a farmer aged 34, who came to the city of Wellington aboard the Aurora in 1840, perhaps along with his wife Maria. In 1857, John Glover arrived in the same city in 1857 aboard the Ann Wilson.
Early Americans Bearing the Glover Family Crest
Crozier's General Armory (1904) contains one entry for this surname: John Glover of Massachusetts, who came in 1630, from Rainhill, Lancashire, England. Shield: Sable, a chevron ermine between three crescents argent. Crest: A dragon's head couped sable. Matthew's American Armoury and Bluebook (1907) does not contain any entry for this last name. Charles Bolton's American Armory (1927) contains one entry for this surname: Sable on a chevron between three crescents. Crest: A spread eagle proper. Motto: Surgite lumen adest. This is the seal ring of Dawson Coleman Glover of New York, son of Henry Sheafff Glover if NY and Fairfield Connecticut. His family came to colonial America from England around 1861.
Mottoes
I have identified one Glover family motto: Nec timeo, nec sperno, which is Latin for "I neither fear nor despise".
Grantees
We have 17 coats of arms for the Glover surname depicted here. These 17 blazons are from Bernard Burke's book The General Armory of England, Ireland, and Scotland, which was published in 1848. The bottom of this page contains the blazons, and in many instances contains some historical, geographical, and genealogical about where coat of arms was found and who bore it. People with this last name that bore an Glover Coat of Arms (or mistakenly called the Glover Family Crest)
1) of Norfolk, granted by Camden in 1611-1612
2) Robert Glover of Somerset, crest granted 4 March 1577 by Cooke and Flower
3) Thomas Glover of Esquire of the body to K. Jas.), son of Thomas, of Coventry, in 11 April 1604, by Camden
4) Sir William Glover, Sheriff of London, granted by Camden in 1602
Notables
There are hundreds of notable people with the Glover surname. This page will mention a handful. Famous people with this last name include: 1) Danny Lebern Glover (1946) who is an American actor born in San Francisco, California known for various roles including Lethal Weapon, The Color Purple, and Angels in the Outfield, 2) Charles Richmond John Glover (1870-1936) who was the Mayor of Adelaide, Australia from 1917-1919, 3) David Delano Glover (1868-1952) who was a U.S. Representative from the state of Arkansas from 1929-1935, 4) General Sir James Malcolm Glover (1929-2000) was the former Commander in Chief of the United Kingdom Land Forces who was educated at Wellington College, 5) James Nettle Glover (1836-1921) who was a banker and politician who is considered the founding father of the city of Spokane, Washington, where he served as the 2nd Mayor from 1883-1885, 6) John Glover (1767-1849) who was an English-Australian artist born in Houghton Hill, Leicestershite, who is known as "the father of Australian landscape painting", 7) John Glover (1732-1797) who was an American merchant and fisherman who served as a brigadier general in Washington's Continental Army during the American Revolution, 8) Stephen Gilchrist Glover (1974) who is an American actor known as Steve-O, a performance stunt artist known for his prominent role in MTV's TV show (and movies) Jackass, 9) Allan Richard Glover (1950) who was an English football (soccer) player born in Staines, England who played for several teams, including West Bromwich Albion, from 1968 to 1969, 10) Brian Glover (1934-1977) who was an English writer, wrestler, and actor born in Sheffield who had many roles in the 1970s and 1980s, and 11) Sir John Hawley Glover (1829-1885) who was the colonial governor of Newfoundland in Canada.
Blazons & Genealogy Notes
1) (Norwoods in Cudhams, co. Kent, and Tatsfield, co. Surrey). Sa. a fesse embattled erm. betw. three crescents ar. Crest—Out of a mural crown a demi lion ramp. holding betw. the paws a crescent.
2) (co. Norfolk, 1611; granted by Camden, Clarenceux). (Romney, co. Kent, and London). (Somerset Herald, temp. Queen Elizabeth). (Thomas Glover, Esquire of the Body to James I., son of Thomas Glover, of Coventry; confirmed by Camden, 17 Aug. 1606). Sa. a chev. erminites betw. three crescents ar. Crest—An eagle diapl. ar. charged on the breast with three spots of erminites. Another Crest—A dragon pass. az.
3) (confirmed to Alexander Glover, of the Exchequer, by Camden, Clarenceux). Same Arms, with a fleur-de-lis or for diff. Crest—A fleur-de-lis gu. betw. two wings sa.
4) (London, 1604, Ashford, co. Kent, and Coventry, co. Warwick; granted by Camden, Clarenceux, 4 March, 1577). Sa. a chev. erm. betw. three crescents ar. Crest—A crossbow az. betw. two wings or.
5) (London; granted 1602, by Camden, Clarenceux, to Sir William Glover, Sheriff of London, 1603). Same Arms, a bordure or. Crest—On a chapeau ppr. two wings gu.
6) (Ambassador to the Turks, 1606). Sa. a chev. betw. three crescents ar. a bordure of the last.
7) (co.Norfolk; granted 1611). Sa. a fesse embattled erm. betw. three crescents ar.
8) (co. Oxon). Ar. four hounds gu. a bordure sa. charged with eight crescents or.
9) Sa. a bend ar. betw. three herons' heads erased of the second.