Gott Family Crest, Coat of Arms and Name History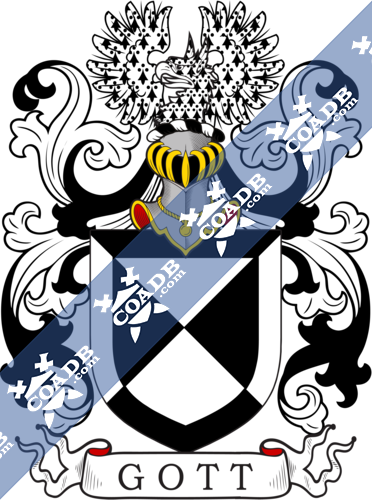 Gott Coat of Arms Gallery
Don't know which Coat of Arms is yours?
We can do a genealogical research. Find out the exact history of your family!
Learn More
Gott Origin:
England, France, German
Origins of Gott:
According to early recordings, this name has many forms, ranging from English to French to German. Gott is a surname of many different origins. It may evolve from one of the many pre 7th century particular names such as Godbald, Gottfrid, Gottlieb, or Gotscelin. All of which include the word Gott or God which mean God, and an addition or enhancing suffix such as "lieb" which means love, or it may be location from living by a "gott," which mean a watercourse or river. The addition "-er" or "ier" when it occurs, mention either one who works by such a place or it can be locational, and mention someone "of that place". During the early examples of the inheritance of surname are those of Haldane Gotte, in the Assize Court records for the city of Lincoln in 1202, Counrad Gotti of Villingen, Germany, in 1329, and Berthold Gottelin of Konstanz in 1345. In England the surname looks to have been specifically famous in the early days, in both Lincolnshire and Yorkshire, though this is unclear why it was so famous.
Variations:
More common variations are: Gotto, Goutt, Gotty, Gotti, Gotte, Gotta, Gottu, Goett, Goott, Goatt.
Germany:
The origins of the surname Gott found is in Bavaria where the name closely recognized in early ancient times with the feudal society which would become outstanding all over European history. After that, the name would combine as a noble family with great effect, having many various branches, and became visible for its interest in social, business and political settlements. Like many other surnames, the name Gott becomes a specific name. Gott was a short form of many particular German names which start with that word, which mean "good" or "God."
England:
The very first recorded spelling of the family was shown to be that of Godui Gott, dated about 1095, in the register of the abbey of Bury St Edmunds, Suffolk. It was during the time of King William II of England dated 1087 – 1100. The origin of surnames during this period became a necessity with the introduction of personal taxation. It came to be known as Poll Tax in England. Surnames all over the country began to develop, with unique and shocking spelling varieties of the original one.
Ireland:
Many of the people with surname Gott had moved to Ireland during the 17th century.
United States of America:
Individuals with the surname Gott settled in the United States in three different centuries respectively in 17th, 18th, and 19th. Some of the people with the name Gott who settled in the United States in the 17th century included Charles Gott landed in Salem, Massachusetts in 1628. Henry Gott and Robert Gott arrived in Maryland respectively in the years 1651 and 1669.
Some of the people with the surname Gott who settled in the United States in the 18th century included Samuel Gott would eventually settle in New England in 1721 and George Gott arrived in Pennsylvania in the year 1754.
The following century saw much more Gott surnames arrive. Some of the people with the surname Gott who settled in the United States in the 19th century included Joh Fr Gott at the age of 45 in America in the year 1837. A Henry Gott arrived in Cincinnati, OH in1869-1870 and Henry A. Gott who arrived in Ohio in 1869.
New-Zealand:
Some of the people with the surname Gott who settled in New Zealand in the 19th century included William Gott who at the age of 24, was a farm laborer that arrived in Wellington, New Zealand aboard the ship "Dallam Tower" in the year 1875.
Here is the population distribution of the last name Gott: United States 5,969; England 1,592; Australia 312; Canada 282; Austria 105; Russia 108; Israel 130; Mexico 314; Germany 975; Brazil 350.
Notable People:
Benjamin Gott (1762–1840), was a British textile industrial worker.
J. Richard Gott (born 1947), is an American astronomer.
Jim Gott (born 1959), is an American baseball player.
Karel Gott (born 1939), is a Czech musician.
Larry Gott (born 1957), is a British singer.
Richard Gott (born 1938), is a British author and history writer.
Trevor Gott is an American baseball player.
Blazons & Genealogy Notes
Notes: (Battel, co. Sussex, and London). Blazon: Per saltire argent and sable a bordure counterchanged. Crest—A griffin's head ermines between two wings expanded ermine.