Greer Family Crest, Coat of Arms and Name History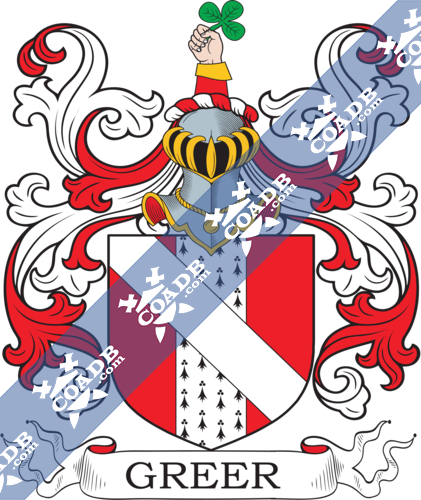 Greer Coat of Arms Gallery
Don't know which Coat of Arms is yours?
We can do a genealogical research. Find out the exact history of your family!
Learn More
Greer Origin:
Scotland, England
Origins of Name:
The surname of Greer was found throughout the countries of Scotland and England. It is said to have descended from the Clan MacGregor who were banished in 1603, thus forcing clan members to take new surnames, or could possibly be a locational surname for the village of "Graye" in Calvados. A locational surname means that it was often taken by the Lord or owner of the land from which the name derives. Others who may have taken a locational surname are people who have migrated out of the area to seek out work. The easiest way to identify someone who was a stranger at that time was by the name of their birthplace. Another possible derivation is from the Griersons of Lag, Dumfriesshire, who claimed Highland descent from Gilbert, second son of Malcolm who is believed to have created the Clan of Gregor in the year of 1350.
Variations:
More common variations are: Grier, Grear, Gregory, Greig, Gregorson, Gregson, Grix, Griggs, Grigson, Groucock, Grewer, Greear, Greere, Greery, Greyer, Gareer, Grieer, Greera, Greuer, Greeer
History:
Scotland:
The first recorded spelling of the surname of Greer was in the country of Scotland in the year of 1542. One person, by the name of Gilbert Grier was mentioned as a witness at Dumfries Court, Scotland. This witness was under the reign of one Queen Mary, who was known as and commonly referred to throughout history as the "Queen of Scots" or "Mary, Queen of Scots." Queen Mary ruled from the year 1543 to the year 1587. Other mentions of the surname of Greer include George Grier, who was a minister of the Kirk in Aberdeen in the year 1598, while one William Grier was recorded as the heir to the lands worth forty shillings in Dalgoner in the year 1677. Those who carry the surname of Greer in Scotland live in Dumfriesshires and Lanarkshire counties.
England:
Mentions of the surname of Greer in England include one John Grauer, who was the son of Peter Grauer, and was christened at St. Ann's Church in Blackfriars, London in 1619, while Gilbery Griersonne was cited in 1677. Anne Grayer wed James Dowglas at St. Dunstans in the East, Stepney, in the year 1695. Those who bear the surname of Greer in England live around the city of London, and north in the county of Lancashire.
United States of America:
During the Great Migration, it was common for settlers to leave their home country in search of a better life, with religious freedom, better working conditions, and better living conditions. This time was called the Great Migration, or the European Migration. This happened during the 1600's, and many of these settlers chose the United States of America, which at that time was referred to as the New World, or the Colonies. The first recorded person in the United States with the surname of Greer was one Jane Greer, who came to Pennsylvania in the year 1682. Those who bear this name of Greer live in the southern states of Texas, Georgia, Mississippi, Missouri, Illinois, Kentucky and the state of Tennessee.
Here is the population distribution of the last name Greer:
United States 66,058, Canada 4,242, England 3,678, Australia 2,273, Northern Ireland 1,812, New Zealand 1,103, South Africa 968, Scotland 925, Germany 504, Mexico 314
Notable People:
Judy Greer (born in 1975) who was born with the name Judith Laura Evans, and was an American Annie Award nominated actress, who was best known for playing Kitty Sanchez on the Fox/Netflix series Arrested Development
Frank Greer (1878-1943) who was an Olympic gold medalist from America, who placed in rowing at the 1904 Summer Olympic Games
Jane Greer (1924-2001) who was a film and television actress from America, who was most notably remembered for her role as Kathie Moffat in the 1947 film Out of the Past
James Greer, who was a novelist, screenwriter, musician, and critic from America, who was best known for his work on The Spy Next Door (2010) Max Keeble's Big Move (2001) and Just My Luck (2006)
Jabari Amin Greer (born in 1982) who is an NFL football cornerback from America, who plays for the New Orleans Saints
Robert William "Dabbs" Greer (1917-2007) who was an actor from America, who appeared in over 300 titles, and was best known for his role as Reverend Robert Alden in NBC's Little House on the Prairie and his role in The Green Mile (1999)
Charlie Greer (1923-1996) who was a radio personality from America in Akron, Ohio
Blazons & Genealogy Notes
1) Gu. a pale erm. charged with a bend ar. Crest—A hand vested gu. cuffed or, holding a trefoil vert.
2) (The Grange, MacGregor, and Tullylagan, co. Tyrone, and Sea Park, co. Antrim; confirmed to the Irish family of Greer, claiming descent from the clan MacGregor, in Scotland). Motto—Memor esto. Az. a lion ramp. or, armed and langued gu. betw. three antique crowns of the second, on a canton ar. an oak tree eradicated, surmounted by a sword in bend sinister, ensigned on the point with a royal crown all ppr. Crest—An eagle displ. ppr. charged on the breast with a quadrangular lock ar.