Hambey Family Crest, Coat of Arms and Name History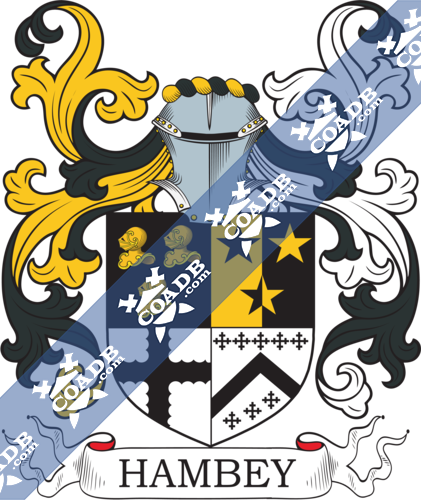 Hambey Coat of Arms Gallery
Don't know which Coat of Arms is yours?
We can do a genealogical research. Find out the exact history of your family!
Learn More
Origins of Hambey:
The ancestor of the Hambey was a person who resided among the old Anglo-Saxon culture.  The name acquires from when they resided in Chiddingley, Sussex, where they took their name from Hamley Bridge.  Undoubtedly the original bearer of the name resided next to the bridge, and it is possible that the support and upkeep of the bridge were his responsibility.  Before English spelling regulated a few hundred years ago, spelling variations of names were a common occurrence.  Components of Latin, French and other languages became organised into English through the Middle Ages, and name spellings changed even among the educated.  The variations of the surname Hambey include Hambley, Hambly, Hamley, Hamby and much more.
Variations:
More common variations are: Hamby, Hambe, Hamm-Bey, Hiamabey, Humbey, Hamabe, Hambeh, Haimbe, Hamaby, Hambye.
England:
The surname Hambey first appeared in Hertfordshire where they held a family seat from very ancient times.  Some say well before the Norman Invasion and the arrival of Duke William at Hastings in 1066 A.D.
New-Zealand:
Some of the individuals with the surname Hambey who landed in New-Zealand in the 19th century included Eliza Hambey arrived in Auckland, New Zealand aboard the ship "City of Auckland" in the year 1870.
Blazons & Genealogy Notes
(1575). Quarterly, 1st, sa. three esquires' helmets or; 2nd, per pale or and sa. three mullets counterchanged; 3rd, ar. a cross engr. sa.; 4th. ar. a chev. betw. eight crosses crosslet sa. five in chief and three in base.