Hamlin Family Crest, Coat of Arms and Name History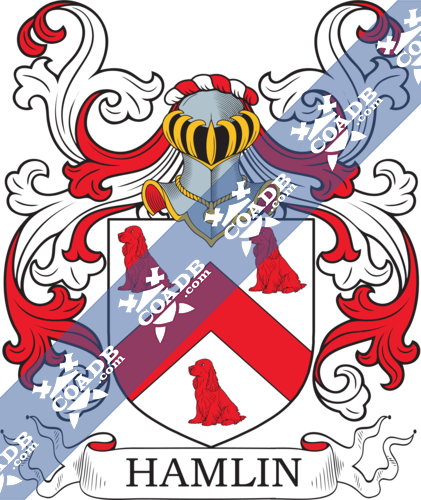 Hamlin Coat of Arms Gallery
Don't know which Coat of Arms is yours?
We can do a genealogical research. Find out the exact history of your family!
Learn More
HAMLIN
Hamlin, is an old name thought to have originated in Germany and France. Originally the name evolved from the Hebrew name of Ham, the son of Noah from the Torah and Biblical tales of the world encompassing flood. It became Hamon. It is one of the few personal names which changed from a first name to a surname. In popular myth, Hamon was thought to have a meant 'sun burnt' or 'dark,' however scholarly translators believe this was a mistake and the surname of Hamlin, means 'home.' Ham is listed as the father to western Asia, and Africa according to the bible. It is also a name which garnered popularity with early crusaders returning from the holy land.
Surnames in Britain prior to the Norman conquest were largely unheard of. In the small settlements and villages which existed during earlier times, residents found little need for surnames as everyone in these communities knew each other and a given name would usually suffice. However, with the passage of time, population growth and expansions of communities as villages gave way to towns and cities, it became necessary to add a qualifier to a people's names to distinguish them, one from another. Therefore one person may have been identified by their given name plus their occupation while another may have been identified by their given name and one of their parent's names. The introduction of surnames by the Norman aristocracy after the invasion seemed to be the next logical step in this evolution. There was a boundless supply from which surnames could be formed, in addition to the use of patriarchal/matriarchal names or reference to the individuals occupation, there were things such as defining physical traits, a familiar geographical location or a topographical landmark found near the individuals home or birthplace, the name of the village in which the person lived, and so much more. Soon, surnames would come not just to represent an individual but whole families.
There often exists variations in spelling of many surnames, as with many given names which date back to the early centuries. The variation in spelling of both given and surnames during this time period can be attributed to a lack of continuity regarding guidelines for spelling which was compounded by the diversity of languages in use in European countries at this time. The variations in the spelling of the surname Hamlin include but not limited to Hamlen, Hamon, Hamlin and Hamblin, with many more variations existing still.
The first recorded instance of the surname being used, as a surname in England, was 1219 in the Devonshire tax census rolls of 1219. The next appearance of Hamlin, is in Germany in the Lower-Saxony village of Hamlin, where they commemorate the story of the "Pied Piper of Hamlin." Local records show the story had some grain of truth, and was placed into the stained glass windows of the local church in 1300. The church did suffer a fire in the 17th century, but there is ample documentation recording their existence.
The Hamlyn surname is originally from Widecombe and Buckfastleigh, Richard Hamlyn received or purchased two manors at those two locations. The Hamlyn family during the medieval period were land owning farmers and, who were also soldiers, often referred to as English Yeomanry.
In 1395-97 Thomas Hamlyn took service with Sir Stephen Scrope as an archer, serving in Ireland for two years. The next entry is of Richard Hamlyn serving as a Man-at-Arms, in 1443, during the War of the Roses. His captain was Thomas Cusak, who was serving under the Duke of Somerset, John Beaufort. ( A man-at-arms during the War of the Roses period would have the same equipment as a knight. Only well to do landed gentry could afford to become a man-at-arms.)
The first recorded Hamlin to arrive in America landed in Barnstable, Massachusetts in 1639, his name was Jame Hamlin, from Devonshire. The second recorded Hamlin to arrive in New England is Giles Hamlin who is recorded as living in Hartford Connecticut in 1650. Boston Massachusetts also records a number of Hamlin surname bearers arriving in the 1650's and the 1660's. Which makes the Hamlin surname one of the earliest names to arrive on the North American shores.
Blazons & Genealogy Notes
1) Gu. a lion ramp. erm. crowned with an antique crown or. Crest—Seven arrows, points upward ppr.
2) (Hamlinstown; Reg. Ulster's Office). Ar. a chev. betw. three spaniels sejant gu.
3) (co. Leicester). Gu. a lion ramp. erm. ducally crowned or.
4) Ar. two bars indented gu.