Hammerer Family Crest, Coat of Arms and Name History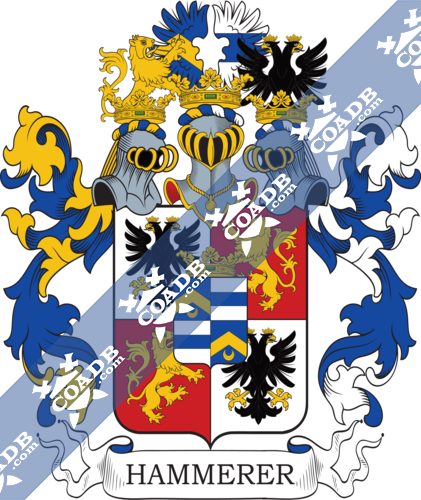 Hammerer Coat of Arms Gallery
Don't know which Coat of Arms is yours?
We can do a genealogical research. Find out the exact history of your family!
Learn More
This section has not yet been completed. If you are interested in having your genealogy done, we offer an affordable research servicethat traces your lineage so you can learn more about your ancestors, where they came from, and who you are.
Blazons & Genealogy Notes
Source for 1-3: Rietstap's Armorial General
1) Tyrol – (Chevaliers, 16 juillet 1851. M. ét. le 21 août 1861) – D'azur à la bande d'argent ch d'un marteau de sable au manche de bois posé en bande ladite bande acc en chef de trois étoiles d'or rangées en bande et en pointe d'un mont escarpé de sinople Cimiers 1° un vol à l'antique l'aile de devant d'azur celle de derrière d'argent l'aile d'azur ch d'une barre pareille à la bande de l'écu Lambrequin d'argent et d'azur 2° trois plumes d'autruche une d'or entre deux d'azur Lambrequin d'or et d'azur.
2) Strasbourg – D'azur au chevron ployé d'or acc en pointe d'une croisette pattée du même Cimier un demi-vol aux armes de l'écu.
3) Hammerer de Hammerstein – Bade – (Barons du St.-Empire, 15 avril 1792. M. ét.) – Écartelé aux 1 et 4 d'argent à l'aigle éployée de sable becquée et membrée d'or chaque tête diadémée du même aux 2 et 3 de gueules au lion d'or celui du 3 contourné Sur le tout un écusson écartelé couronné d'or a et d d'azur au chevron d'or acc en pointe d'une croisette du même b et c d'argent à la fasce d'azur Trois casques couronnés Cimiers 1° le lion du 3 issant 2° un vol l'aile dextre d'azur au chevron d'or l'aile senestre d'argent à la fasce d'azur 3° l'aigle du 1 issante Lambrequin à dextre d'or et d'azur à senestre d'argent et d'azur.