Harwell Family Crest, Coat of Arms and Name History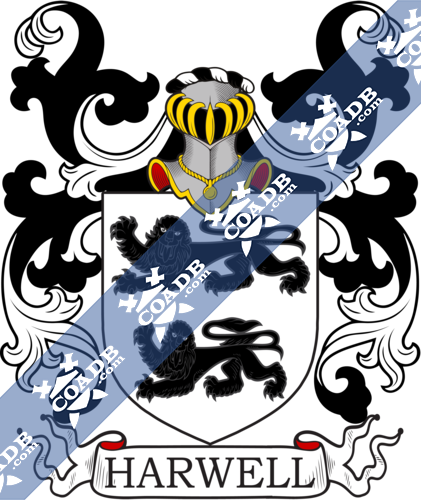 Harwell Coat of Arms Gallery
Don't know which Coat of Arms is yours?
We can do a genealogical research. Find out the exact history of your family!
Learn More
Listed as Hardwell, the more popular Harwell and Horwell, and this is an English locational surname.  It starts from either the hamlet of Hardwell in the division of Royal Berkshire or the better-known town of Harwell, in the same division.  The first village has the meaning of the treasure spring and relates to a pagan place of worship where people came to throw coins in for good luck.  Presumably, it was somebody else good luck to fish them out again! The derivation is from the Olde English pre 7th-century 'horde waella,' with waella meaning a spring, and only later in old times, a well in the conventional sense.  Harwell has a rather different interpretation being the spring on the grey hill, from the early recording in 936 a.d of 'Haranwhylle'.  'Grey' is probably not the real translation, and it may be that the reference is to the grey/white chalk hills in the vicinity. More common variations are: Harewell, Haerwell, Harrwell, Harowell, Harwelle, Hearwell, Harell, Harwel, Harrowell, Harrewell.
The surname Harwell first appeared in Worcestershire where they held a family seat as Lords of the Manor.  The Saxon force of English history declined after the Battle of Hastings in 1066.  The language of the courts was French for the next three centuries, and the Norman ambience predominated.
Some of the people with the name Harwell who arrived in the United States in the 17th century included John Harwell, who arrived in Virginia in 1635.  John Harwell, who landed in Virginia in 1635.  Robert Harwell, who landed in Virginia in 1658.  Samuel Harwell, who settled in Barbados in 1679.
Blazons & Genealogy Notes
Argent two lions passant guardant sable.