Heath Family Crest, Coat of Arms and Name History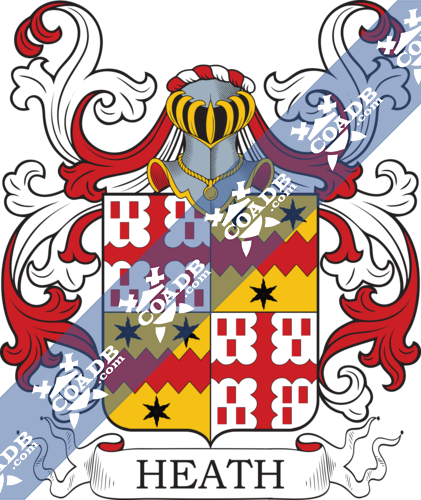 Heath Coat of Arms Gallery
Don't know which Coat of Arms is yours?
We can do a genealogical research. Find out the exact history of your family!
Learn More
Heath Surname Name Meaning, Origin, History, & Etymology
This primarily English last name is an Anglo-Saxon topographic/geographic one denoting someone who lived near or was from a moor or heath, a shrub land habitat found mainly on acidic/infertile soul that is open and has low growing woody vegetation. Another author describes Heath as a "wasteland with low shrubs". The name derives from the Middle English word hethe. It can also be a locational or habitational last name denoting someone who came from a town, district, or parish called Heath, as there are numerous places in England so named (ex. places in Bedfordshire, Derbyshire, Shropshire, West Yorkshire, and Herefordshire). The same word also denotes heather, a plant that is characteristic of heathland areas. In addition to being present in England, the name has been established in the city of Dublin, Ireland, since the 1500s AD. In England, the name was first found in county Durham.
Spelling Variations
Some spelling variants or names with similar etymologies include Heth, Hethe, Heathe, Heathy, Heeth, Heeath, Hewart, Heathfield, Heathfeild, and several others. In the Hundred Rolls the name is spelled Atte-Hethe, Apud Hethe, and de la Hethe and was sometimes modified to Heather.
Popularity & Geographic Distribution
The last name Heath ranks 614th in popularity in the United Status as of the 2000 Census. The name ranks particularly high in the following five states: Vermont, New Hampshire, North Carolina, Maine, and Idaho. The surname Heath frequency/commonness ranks as follows in the British Isles: England (287th), Scotland (815th), Wales (323rd), Ireland (3,199th) and Northern Ireland (952nd). In England, it ranks highest in county Staffordshire and Berkshire. In Scotland, the surname ranks highest in counties Argyll and West Lothian. In Wales, it ranks highest in Merionethshire and Montgomeryshire. In Ireland, it ranks highest in county Clare. In Northern Ireland, it ranks highest in county Antrim. The name is also present throughout the remainder English speaking world:  Canada (1,494th), New Zealand (512th), Australia (410th), and South Africa (1,030th).
Early Bearers of the Surname
One of the earliest recorded persons to bear this surname was John de la Heth who was documented in The Court Records of Essex, England in 1248 AD. The Hundred Rolls of 1273 AD, a census of Wales and England, known in Latin as Rotuli Hundredorum lists two bearers of this surname: John de la Hethe (county Wiltshire) and William ate Hethe (county Oxfordshire). Kirby's Quest lists Adam ate Hethe and John ate Hethe in county Somerset in 1328 AD. The Close Rolls list one Adam del Heyth in 1342 AD. The History of Norfolk lists three bearers of this name: Ralph ate Heythe, the rector of Rockland Tofts, in 1398, Waryn Atte Heyth in 1398, and Thomas Atte-Hethe, rector of Ringstead Parva, 1376. The Poll Tax of Yorkshire in 1379 AD lists one Robert del Heth. Other early bearers included Laurence ate Hethe in Sussex in 1296 AD, Peter del Heth of Yorkshire in 1296 AD, and Alan Othehethe of Staffordshire in 1332 AD. An early marriage involving this surname was Helen Heathe to Robert Chambers at St. Mary Aldermary in 1577. An early baptism involving this surname was Fraunces, daughter of John Heath, at St. James Clerkenwell, London, England in 1585.
Heath Family Tree & Heath Genealogy
Robert Heath was a colliery and ironworks owner who was from Biddulph Grange, Staffordshire, England (modern day United Kingdom, previously known as Great Britain). He died in 1893. His son, Sir James Heath, 1st Baronet, was born in 1852. He was a businessman and politician in the Conservative Party who was educated at Clifton College. He was an ironmaster and colliery proprietor who took over his father's business and ended up traveling the world. He served as a Member of Parliament for North West Staffordshire from 1892 to 1906 and was also a Justice of the Peace for Staffordshire. He married four times and had numerous two issue: Percy Voltelin Heath (died in World War I in France) and a daughter. He was made a baronet, of Ashorne Hill, county Warwickshire, in 1904 and the title became extinct when he died in 1942, as his son had passed away in the Great War.
Baldwin Heath was born in Fordhall, Wootton Wawen, Warwickshire, England around 1400. He married Agnes Grove and had the following issue with her: Elizabeth, Joan, Philippa (Sheldon), and another daughter whose name is not known.
Here is another pedigree of this family:
Henry Heath (born around 1370 AD, married Agnes Mackey)
Henry Heath (born in Ware, Hertfordshire around 1414 AD, married Amer Haire)
John Heath (born in Surrey, England around 1434, married a woman named Margret)
Sir John Heath Jr. (Lingfield, Surrey, England in 1454 AD)
Robert John Heath (Lingfield, Surrey, England around 1480 AD, married Matilda Helen Unk, had issue named Robert, Agnes, Emma, and Elizabeth)
Robert Heath (Linfield around 1503 AD, married three times, had issue Edward B., John, and Robert)
Robert Heath (Eatonbridge, Kent around 1538, married Anne Poser/Posyer)
Sir Robert Heath (Edenbridge, Kent in 1575, married Margaret Miller, had Edward, George, Mary, Thomas, and William)
William Heath (born in Virginia in colonial America in 1611, had issue named Isabel, Elizabrth, Abraham, and Adam)
Adam Heath (born in Virginia in 1645, married Sarah Killets, had children named Adam, Elizabeth, Sarah, and William)
William Heath (born in Surry, Virginia in 1680, married Elizabeth Gee, had issue named William, James, John, Thomas, Elizabeth, Sarah, Abraham, William, and Rebecca)
Thomas Heath (born in Surry, Virginia in 1717, married Sarah Elizabeth Fenley, had issue named Adam, James Sr., Sarah, Thomas, Abraham, William, John, Anna, and Nancy).
James Heath Sr. (born in Prince William, Virginia around 1729, married Frances Mary Berry)
James Heath Jr. (born in Duplin, North Carolina in 1755, married Sarah Brasheers, had sons named Levi and Richard Sr.)
Richard Heath Sr. (born in Craven County, North Carolina around 1784, married Rebecca and had issue named James S., Henry, Richard Jr., Rebecca, and Temperance Winsett)
James S. Heath (born in North Carolina in 1804, married Delaney Pate, had children named Harriet Dowell, Mary Ann Bowers, Eveline G.A. Crawford, William Henry, Henry Thomas, Richard F., T. Catherine, Willis James, and Joseph)
William Henry (born in Gibson, Tennessee in 1832, married Susan Adline Campbell Ward)
John William or Wesley Heath (born in Gibson, Tennessee in 1854, married Frances Louisa Day, had issue named William Arthur, Riley Elmer, George Verney, Elley May, Walter Damon, Bessie Dacus, and Hettie Mabel Pennington)
Riley Elmer Heath (born in Yell County, Arkansas who married Vesta Jane Welch, father of Hayes Curtis, Era Mae Stephens, Anna Dale Biggs, Modean Bamburg, Orajean Harder, Glynn, and Christine Winona Nader)
Glynn B. Heath was born in the 1928. He was a United States Marine who served in the Korean War. He had issue including Leslie (Carpio). He died in the 1980s.
Richard Heath, son of Thomas, was born in Salisbury, St. Martins, Wiltshire, England (modern day United Kingdom, once called Great Britain). He married Alice Cheney and had a son with her named John. John was born in the same town in 1574. He married Alis Bartholomew and fathered four children: Isaac, John, Wilburn, and Bartholomew. His son Bartholomew Heath was born in Nazing, Essex, England in 1611. He married Hannah Moyce. He went to colonial America. He had the following children: John Sr., Joshua, Hannah, Josiah, Joseph, Elizabeth, Benjamin, and Elizabeth (Foster). His son Josiah was born in Haverhill, Massachusetts in 1651. He had the following issue: Mary (Copp), Jane, Sarah (Simons), Hannah (Colby), Judith (Keyser), Deliverance (Wathen), Josiah, John Harold, Jonathan, and James Bartholomew. Three of his sons had issue:
1) His son John Harold Heath was born in Haverhill, Massachusetts in 1684. He married Mary Bradley and had a son with her named Nathaniel.
2) His son Josiah Heath was born in Haverhill, MA in 1674. He married Hannah Sterling and had issue with her named Sterling, Josiah, Hannah, Jemima, and Hepzibah (Sargent).
3) His son John Harold was born in Haverhill, MA in 1676. He married Hannah Haines and had the following children with her: Catherine Cantrell, Mehetable, David, John, Odadiah, John, Johnathan, Bartholomew, Thomas Jr., Josiah, Hannah (Colby), Joseph, and Abigail.
John's son Bartholomew was born in Haverhill, MA in 1710. He married Mehitable Crippen and fathered the following children with her: Eleanor (Wood), Mehitable (Calkins), Hannah (Calkins), Joseph, John, Sarah (Heath), Anna (Knickerbocker), Thomas, Hezekiah, Obadiah, and David. His son David Heath was born in Connecticut in  1766. He married Eunice Marchant and had issue with her as follows: James, Milo, Hemam, Chauncey G., Hiram H., Luther, Sallie Ann, and Julia Sherwood. His son Luther was born in Kortright, Delaware County, New York in 1803. He married Ruth Hollister and had the following issue: James Henry, Justus H., Mandana, and Edgar. His son Justus H. Heath was born in Caroline, New York in 1831. He married Frances Smith Fralick and had two issue with her: William Martin and Ada Bell. His son William Martin was born in Brookton, Tompkins, New York in 1860. He married Maud Jansen and had three children with her: Earl, Pearl Margaret (Heath), and Ethel. He passed away in 1928. His son Earl Heath was born in New York in 1887.
Early American and New World Settlers
The book Genealogical Guide to the Early Settlers, mentions eight bearers of this last name:
1) Bartholomew Heath of Newbury, who had a son named John in 1643, then moving to Havervill and having two more sons named Joseph and Josiah.
2) Charles Heath, of Boston, Massachusetts, with his wife Mary, had a son named Robert who was born in 1683.
3) Elias Heath of Boston, Massachusetts, who in 1699, married Elizabeth Eldridge. He had a sister named Ann Turner who lived in Buckland, county Surrey. He died in 1706 at the age of 55.
4) Isaac Heath of Roxbury, MA, who came aboard the Hopewell in 1635 at the age of 50, along with his wife Elizabeth, daughter Elizabeth, and sister Martha. He was a freeman the following year and was a representative the year after that. He was a ruling elder. He died in 1661.
5) John Heath, the brother of Bartholomew, who died in 1675
6) Joseph Heath, the brother of Charles or Elias, or both, and had issue named Ebenezer, Elizabeth, Esther, and Mary. He then moved to Charlestown and had three more children there: Joseph, Abigail, and Lydia. He died in 1714 at the age of 46.
7) Thomas Heath of Boston, MA, likely the brother of Charles, with his wife Mary, had a son named James in 1676 and Charles in 1780. He perhaps passed away in 1695.
8) William Heath of Roxbury, brother of Elder Isaac, who came from London, England aboard the Lion in 1632, with his wife Mary and five children. His children were Mary Spear, Isaac, Peleg, Hannah, and Mary, all likely from his first wife who was probably named Martha. He was a freeman in 1633 and a representative at the first assembly. He died in 1652, referred to as "an able, goodly and faithful br.".
Thomas Heath, age 23, came to Virginia aboard the Safety in August 1635. Robert Heath, age 30, came to St. Christopher's aboard the Amitie in October 1635. Other settlers in colonial America bearing this surname include: Issabell Heath (Virginia 1634), Robert Heath (Philadelphia 1700), John Heath (1764), and Benjamin (American 1799).
In Canada, one of the first settlers bearing this last name was Ebenezer Heath, who came in 1828. In Australia, one of the first bearers of this surname was Richard Heath, a convict from Warwick, England who came in 1832 aboard the Andromeda to New South Wales (then a penal colony). In 1836, George and Ann Heath came to Holdfast Bay aboard the Cygnet. In New Zealand, Patrick Heath came to the city of Auckland in 1840.
Early Americans Bearing the Heath Family Crest
Charles Bolton's American Armory (1927), Matthew's American Armoury and Bluebook (1907), and Crozier's General Armory (1904) do not contain any entries for this surname.
Mottoes
I have identified two Heath family mottoes:
1) Espere mieux (Hope for better)
2) Industriae praemium (The reward of industry)
Grantees
We have 17 coats of arms for the Heath surname depicted here. These 17 blazons are from Bernard Burke's book The General Armory of England, Ireland, and Scotland, which was published in 1848. The bottom of this page contains the blazons, and in many instances contains some historical, geographical, and genealogical about where coat of arms was found and who bore it. People with this last name that bore an Heath Coat of Arms (or mistakenly called the Heath Family Crest)
1) Francis Heath of London Stone, 7 May 1662, by Sir E. Bysshe
2) John Hethe of London, confirmed in 1558, Harvey's Grants
3) John Hethe of London, Warden of the Fleet, crest 4 August 1588 by Cooke
4) Robert Heath of Brasted, Kent, , Recorder of the City of London, son of Robert of Eatonbridge, son of Robert of Linfield, Surrey, Esquire, exemplified, ratified, and confirmed by Camden
5) William Hethe of Alverchurche, county Worcestershire, gift 1560, Harvey's Grants
Notables
There are hundreds of notable people with the Heath surname. This page will mention a handful. Famous people with this last name include: 1) Charles Theodosius Heath (1785-1848) who was a prominent English engraver, illustrator, publisher, and currency/stamp printer, 2) David William Heath (1969) who is a former American professional wrestler born in Fort Lauderdale, Florida who wrestled in various circuits including WCW, ECW, and WWF, sometimes under the ring name Gangrel, 3) Christopher Heath (1802-1876) who was an English minister of the Catholic Apostolic Church who was born in London, England, 4) Don Heath (1944) who was an English football (soccer) player born in Stockton-on-Tees who played for six different teams (ex. Norwich City) from 1964-1977, 5) Sir Edward Richard George Heath (1916-2005) who was the Prime Minister of the United Kingdom from 1970-1974 and Leader of the Conservative Party from 1965-1975 born in Broadstairs, Kent, England, the son of William George Heath, 6) Edward Heath (1819-1892) who was the Mayor of New Orleans, Louisiana from 1867-1868, 7) Edward Bayard Heath (1888-1931) who was an American Aircraft engineer who was born in  Brooklyn, New York, 8) Sir Lewis Macclesfield Heath (1885-1954) who was an officer in the British Indian Army serving as a Lieutenant General, fighting in World War I, the Third Anglo-Afghan War, the North-West Frontier, and the Second World War, having been educated at the Royal Military Academy Sandhurst and Wellington College, 9) Lilian Heath (1865-1962) who was a female doctor born in Burnett Junction, Wisconsin, who was one of the first women to practice medicine east of the Mississippi River, 10) John Geoffrey "Jeff Heath" (1915-1975) who was a baseball player in the MLB, born in Fort William, Ontario, Canada, who played four different teams (ex. Cleveland Indians) from 1936 to 1949, and 11) Sir Robert Heath (1575-1649) who was an English judge and politician who served in the House of Commons from 1621 to 1625 and as the Attorney General of King Charles I, having been born in Edenbridge, Kent, who is notionally credited with having founded both North Carolina and South Carolina in colonial America in the early seventeenth century.
Blazons & Genealogy Notes
1) (Little Eden, co. Durham, Twickenham, co. Middlesex, and Lynn, co. Norfolk. Visit. Lond. 1568). Per chev. or and sa. in chief two mullets of the second, in base a heathcock of the first, combed and wattled gu. Crest—A cock's head erased or, combed and wattled gu.
2) (Mile End, co. Middlesex; granted 21 June, 1707). Per chev. embattled sa. and ar. in chief two mullets of six points or, pierced gu. and in base a heathcock of the first, combed and wattled ppr.
3) Per chev. crenellee sa. and ar. in chief two estoiles of the last, in base a heathcock sa. combed and wattled gu. Crest—A cock's head sa. crested and jelloped gu. betw. two branches vert.
4) (Shelwell, co. Oxford: Thomas Heath, Esq., of that place, son of Robert Heath, of the same, and grandson of Richard Heath, of the city of Oxford, by Dorothy, his wife, dau. and co-heir of Sir John Cornwall, Knt., of Shelwell. Visit. Oxon, 1574). Erm. a chev. sa. betw. three moorcocks gu., quartering Cornwall, viz., erm. a lion ramp, gu. a border engr. sa. bezantee. Crest—A tower ar. flammant ppr.
5) (Tidderington, co. Chester; confirmed by Carney, Ulster, 1695, to Samuel Heath, Esq., son of William Heath, Esq., of Land, co. Stafford, descended from Bradstad, co. Kent, by Anne Worth, his wife, dau. of Peter Worth, Esq., of Tidderington, whose male issue having failed on the death of his grandson, John Worth, in 1695, the estates devolved on the above Samuel Heath). Quarterly, 1st and 4th, gu. a cross engr. ar. betw. twelve billets or, for Heath; 2nd and 3rd, ar. a cross ragulee couped sa., for Worth. Crest—A heathcock holding in the beak a branch of heath all ppr.
6) (Kepyer, co. Durham: granted 4 Aug. 1558; the Heaths, of Kepyer, derived from John Heath, of London, Warden of the Fleet, d. 1591, son of John Heath, of Twickenham, and grandson of John Heath, of Heath, co. Middlesex; the eventual heiress of the family, Elizabeth, only dau. and heir of John Heath, Esq., of Old Durham, m. John Tempest, Esq.). Same Arms. Crest—A heathcock's head erased sa. wattled gu. Motto—Espere mieux.
7) (co. Hertford). Az. a bend per pale gu. and or, a bordure counterchanged.
8) (Eatonbridge, co. Kent). Ar. a saltire engr. betw. twelve billets gu.
9) (Brasted, co. Kent, Lyndsfeild and Tanridge, co. Surrey; from the Surrey family derived Sir Robert Heath, Lord Chief Justice of the Common Pleas). Ar. a cross engr. betw. twelve billets gu. Crest—A wolf's head erased per pale sa. and or, ducally gorged ar. holding in the mouth a broken spear of the second, headed of the third.
10) (Pedingham, co. Sussex). Same Arms, quartering Comber. (I think Comber is (Sussex). Or, a fesse dancettee gu. betw. three estoiles sa. Crest—A lynx's head or, pelletee.)
11) (Nicholas Heath, Bishop of Rochester, 1540-44; Bishop of Worcester, 1544-55; Archbishop of York, 1555-60; Lord President of the Marches of Wales, 1553-56. Har. MSS. 12,443). There are four coats ascribed to this prelate, viz., 1st, vert a chev. engr. ar. betw. three plates, each charged with a Cornish chough with a bird's claw in the beak sa., for Clive; 2nd, per chev. sa. and ar. in chief two mullets and in base a heathcock counterchanged, for Bedford; 3rd, ar. three pellets, two and one, the first charged with a cross of the field, for Cole; 4th, az. a chev. engr. or, betw. three plates, each charged with a martlet sa.
12) (Ford Hall, co. Warwick). Vert on a chief ar. three cinquefoils az.
13) (co. Stafford). Ar. a chev. engr. sa. betw. three moorcocks of the last.
14) (co. Suffolk). Ar. three pellets, on each a cross crosslet of the first.
15) (Fordall, co. Warwick). Vert on a chief or, three mullets sa.
16) Vert on a chief ar. three cinquefoils az.
17) (Fun. Ent. of Heath, Searchcr of the Customs for the Port of Dublin, d. 1 Dec. 1619). Gu. on a bend or, cotised ar. three moorcocks ppr. an annulet for diff.