Hemmingway Family Crest, Coat of Arms and Name History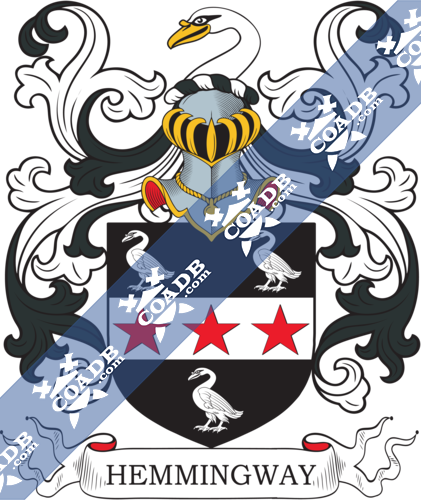 Hemmingway Coat of Arms Gallery
Don't know which Coat of Arms is yours?
We can do a genealogical research. Find out the exact history of your family!
Learn More
Hemmingway Origin:
England
Origins of Hemmingway:
This unusual name is of early English origin and is a geographical surname acquiring from a now "lost" place in West Yorkshire, considered to have been located in the church of Halifax, judging by the appearance of early examples of the surname. An expected seven to ten thousand hamlets and settlements are known to have been disappeared in Britain since the 12th Century, due to natural conditions, such as the Black Death (plague) of 1348, in which an eighth of the population died, and to the widespread use of forced "clearing" of rural areas to create sheep meadows during the 14th and 15th Centuries. The placename Hemingway means "Hemming's path." It acquired from the Old Norse particular name "Hem(m)ingr", originally a nickname from a short form of any of several compound particular names with the first component "heim", which means home, with the Middle English word "wey", which means way, path, an improvement of the Olde English pre 7th Century "weg". The new surname can appear as Hemingway or Hemmingway. One of the most notable ancestors of the name was the novelist Ernest Hemingway (1899 – 1961), who wrote the novels "A Farewell To Arms," "For Whom The Bell Tolls," and "The Old Man And The Sea."
Variations:
More common variations are: Hemingway, Hemmingay, Hemmingwy, Hammingway, Hyewingway. Heminghway, Heminigway, Hemminga, Hemingay.
England:
The surname Hemmingway first appeared in Yorkshire, where they held a family seat from old times. Some say well before the Norman Invasion and the arrival of Duke William at Hastings in 1066 AD.
The very first recording spelling of the family was shown to be that of John de Hemyngway, dated about 1379, in the "Yorkshire Poll Tax Returns." It was during the time of King Richard II who was known to be the "Richard of Bordeaux," dated 1377 – 1399. The origin of surnames during this period became a necessity with the introduction of personal taxation. It came to be known as Poll Tax in England.
Ireland:
Many of the people with surname Hemmingway had moved to Ireland during the 17th century.
United States of America:
Some of the people with the name Hemmingway who arrived in the United States in the 18th century included Mary and John Hemmingway settled in Maryland in 1774
Australia:
Some of the individuals with the surname Hemmingway who landed in Australia in the 19th century included Richard Hemmingway arrived in Adelaide, Australia aboard the ship "Andromache" in 1850.
New-Zealand:
Some of the population with the surname Hemmingway who arrived in New Zealand in the 19th century included Jane Hernrningway at the age of 18, arrived in Auckland, New Zealand aboard the ship "Rangitikei" in 1884.
Here is the population distribution of the last name Hemmingway: United States 635; England 290; Canada 80; Australia 54; Ireland 22; New Zealand 7; Netherlands 2; South Africa 1; Brazil 1; Wales 1.
Notable People:
Anthony Hemingway is an American film and television director.
Dave Hemingway (born 1960), is a British singer.
Dree Hemingway (born 1987), is an American model and heroine.
Ernest Hemingway (1899–1961), was an American author.
George Hemingway (1872–1907), was an English cricket player.
George Hemingway (born 1947), was the chairperson of Budapest Honvéd FC.
Gerry Hemingway (born 1955), is an American jazz author and percussionist.
Gregory Hemingway (1931–2001), was an American doctor and the third son of Ernest Hemingway.
Hilary Hemingway was an American writer and niece of Ernest Hemingway
John Hemingway (born 1960), is an American writer and grandson of Ernest Hemingway.
Jack Hemingway (1923–2000), was the first son of Ernest Hemingway.
Leicester Hemingway (1915–1982), was an American author and brother of Ernest Hemingway.
Lorian Hemingway (born 1951), is an American author.
Maggie Hemingway (1946–1993), was a British novel writer.
Margaux Hemingway (1955–1996), was an American actress and granddaughter of Ernest Hemingway.
Mariel Hemingway (born 1961), is an American actress and granddaughter of Ernest Hemingway.
Mary Welsh Hemingway (1908–1986), was an American journalist and fourth wife of Ernest Hemingway.
Blazons & Genealogy Notes
Sa. on a fesse wavy betw. three swans close ar. as many mullets gu. Crest—A swan's head and neck couped ppr.