Hickman Family Crest, Coat of Arms and Name History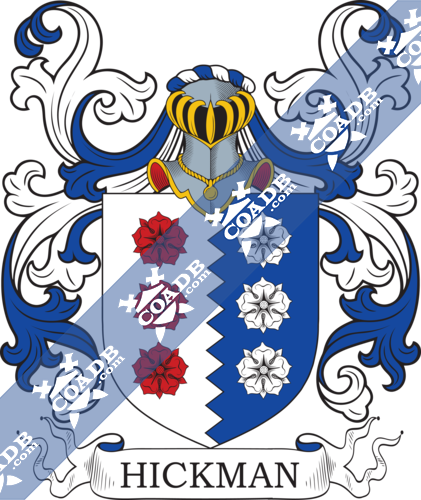 Hickman Coat of Arms Gallery
Don't know which Coat of Arms is yours?
We can do a genealogical research. Find out the exact history of your family!
Learn More
Hickman Surname Name Meaning, Origin, History, & Etymology
This chiefly English last name of Anglo-Saxon origin is an occupational one denoting a servant (from the Middle English man) of a man called Hick, and was also used as a personal (first) name during medieval times. Along these lines, it is stated the name is a pet form of the masculine given name Richard (meaning rule or hard). It is said to be present in the counties of England that once had Scandinavian roots from Viking Invasion during the early Middle Ages. Another author states this is a baptismal/patronymic surname meaning "the son of Hickman". Lower states "The pedigree of the extinct baronet family Hickman, of Gainsborough, is traced to Robert Fitz-Hickman, lord of the manors of Bloxham and Wickham, Oxfordshire, 56 Henry III. Hence the name must have been originally a baptismal appellation". The name is also present in significant numbers in Ireland, having long been established in County Clare. In some instances in the US, the name is an altered spelling of the German surname Hickmann. Another theory, stated by Henry Barber in his 1903 book "British Family Names: Their Origins and Meaning" derives from the Dutch personal name or masculine given name Heckman or Hehman.
Spelling Variations
Some spelling variants or names with similar etymologies include Higman, Heickman, Hickiman, Hickmann, and others.
Popularity & Geographic Distribution
The last name Hickman ranks 783th in popularity in the United Status as of the 2000 Census. The name ranks particularly high in the following four states: Delaware, Tennessee, Arkansas, and West Virginia. The surname Hickman frequency/commonness ranks as follows in the British Isles: England (855th), Scotland (1,922nd), Wales (850th), Ireland (7,570th) and Northern Ireland (2,801st). In England, it ranks highest in county Staffordshire. In Scotland, the surname ranks highest in East Lothian. In Wales, it ranks highest in Merionethshire. In Ireland, it ranks highest in county Clare. The name is also present throughout the remainder English speaking world:  Canada (3,117th), New Zealand (1,443rd), Australia (1,819th), and South Africa (2,674th).
Early Bearers of the Surname
Hukeman de Moricebi was recorded in the Pipe Rolls in 1196 AD, as well as in the Sheriff's Annual Account of the counties of Cumberland, Westmoreland, and Durham. The Hundred Rolls of 1273 AD, a census of Wales and England, known in Latin as Rotuli Hundredorum lists one bearer of this surname: Walter Hikeman (in Oxfordshire). Both Juliana Hykemones and Richard Hykemon were documented in the Subsidy Rolls of Worcestershire in 1275 AD. An early marriage involving this surname was Daniell Hickman to Ann Pope at St. Michael, Cornhill in 1697. An early baptism involving this surname was Elizabeth, daughter of Edward Hickman, at St. James, Clerkenwell in 1691.
Hickman Family Tree & Hickman Genealogy
The following is a discussion of two different noble, royal, landed, or aristocratic families bearing this last name.
Hickman of Fenloe
The lineage or ancestry of this branch of the Hickman family tree was vested in the Earldom of Plymouth. Walter Hickman was of Key, Surrey. He had a son named Gregory who was a merchant of Hamburgh, who married Rhoda, daughter of Mr. Felton, and later Jane, daughter of Nicholas Hubbert of Dromore, Ireland. With his first wife, he had a son named Thomas Hickman of Barntie who married the daughter of John Colpoys of Ballycar, with whom he had issue, including a son and heir named Thomas. The son Thomas married Gertrude Gore, and later Elizabeth Stratford of Baltingglass, and had many issue with them. With his second wife, Gregory Hickman had two daughter (Jane who married Colonel Villiers Harington of Bagworth and Mary who married Captain Bernard of county Cork) and three sons as follows: 1) Walter (of Kilmore, married Elizabeth Hart, had son named Henry Hickman of Kilmore), 2) Hugh, and 3) Henry. The third son, Henry Hickman of Ballyket, married Honora, daughter and heir of Morrough M'Mahon, with whom he had several children: Luke, George, Hugh , Jane (married George Colypoys), Katherine (married Edward Van Hogart and later Captain Randall Jones), and Anne (married Mr. Gifford). Several generations later came Hugh Palliser Hickman was an Esquire of county Clare, Ireland, Justice of the Peace, Deputy Lieutenant, and High Sheriff who was born in 1805. In 1843, he married Sophia Angel St. John, daughter of Edward Stopford, the Bishop of Meath, and had the following issue with her: Thomas Edward (Captain of the 14th Hussars), Stopford Cosby (Lieutenant of the R.A.), Hugh Palliser (Lieutenant of R.A.), Catherine Frances, Jane Alicia (married Richard Laurence Whitty in 1875, had son named Hugh Fitz-Walter), Caroline Amelia, and Sophia Angel St. John. The Hickman family crest has the following heraldic blazon: Per pale indented argent and azure, quartering Azure, an eagle displayed argent and gules, on a chief of the second, three fusils of the first. Crest: A Talbot dog sejant argent collared and chained gules. Motto: Per tot discriminia rerum. This branch of the Hickman family tree was seated at Fenloe, Newmarket-on-Fergus, Ireland.
Baronet Hickman
The genealogy or lineage of this branch of the Hickman family traces back to George Rushbury Hickman of Tipton, county Stafford, England, the son of Joseph Hickman of Bilston, who was born in 1795. In 1822, he married Mary, daughter of Benjamin Haden of Old Hall, and had three issue with her as follows: George Haden, Alfred, and Sarah Haden (married Reverend E.H.L Noot). The youngest son, Sir Alfred Hickman, 1st Baronet, of Wightwick, Wolverhampton, county Stafford, who was a Justice of the Peace, and Member of Parliament who was born in 1830. He was Knighted in 1891 and created a baronet in 1903. In 1850, he married Lucy Owen, daughter of William Smith of Portsea, and had four children with her: Alfred William of Goldthorn Hill (married Mary Whitby Hickin and had issue named Sir Alfred, William Christie, Captain Arthur), 2) Thomas Edgecumbe (Colonel, General, and Deputy Lieutenant who fought in many battles, had issue named Thomas Alfred Kenneth, Michael, and others), 3) Edward (of Danes Court, Justice of the Peace, married Cecilia Thompson, had issue named Major Charles Edward and others), 4) Victor Emmanuel (Justice of the Peace, married Ethel Margaret Fitton, had issue including Geoffrey Victor), and 4) John Owen (of Micklefield Green, married Nancy Barlow, had issue named John, Louisa, Lucy, Mary Violette, Margaret Sarah, Katharine Josephine, Mary, and Lillian). He died in 1910 and was succeeded by his grandson, Sir Alfred. Sir Alfred Edward Hickman, 2nd Baronet, was born in 1885. He was a Major in the Shropshire Yeomanry and Captain of the 4th/7th Dragoon Guards and served in World War I. In 1919, he married Lilian Brenda, daughter of Howard Mander of Tryshull Manor, and had issue with her as follows: 1) Alfred Howard Whitby (3rd Baronet) and 2) Patrick Nelson (served in World War II, born 1921, married Mary Lena, daughter of Captain J.A. Dyson Perrins of Waresley House, had issue named Patrick Rupert and Rozanna Mariette). He died in 1947 and was succeeded by his son Alfred. Sir Alfred Howard Whitby Hickman, the 3rd Baronet, was born in 1920 and educated at Eton. In 1949, he married Margaret D. Thatcher, only daughter of Leonard Kempson of Potters Bar, Middlesex. The Hickman coat of arms is blazoned in the medieval European art of heraldry as follows: Per saltire sable and or, two leopard's faces jessant-de-lys in pale as many fleurs-de-lys in fesse, all counterchanged. Crest: A phoenix issuing out of flames, transfixed through the mouth by a tilting spear erect proper, each wing charged with two annulets interlaced paleways or. The Hickman family motto of this branch is igne et ferro. They resided at The Old Barn, Denham, and Bucks.
Other Hickman Pedigree & Family Trees
Anthony Hickman was born around 1500. He married Rose Locke and had a son with her named Henrye. Henrye Hickman was born in England around 1550. He had a daughter named Elizabeth who was born in Gainsborough, Lincolnshire in 1603, who married Henry Clinton and had sons with hum named Henry and William.
Dixie Hickman, the son of Walter Hickman and Elizabeth Staines, was born in London, England in 1590. He married Elizabeth Windsor and had a son with her named Thomas. This Thomas Hickman Windsor was the 1st Earl of Plymouth and was born in Richmond, Surrey in around 1627. He married Anne Savile and later Ursula Widdrington and had the following issue: Elizabeth (Dashwood), Mary (Cookes), and Thomas.
Nathaniel Hickman was born in Lincolnshire, England in 1600. He went to colonial America. He had a son named Thomas. Thomas was born in Virginia around 1622. He married Mary Pascal and had a son with her also named Thomas. This son Thomas Hickman was born in Middlesex, Virginia around 1660. He married Martha Thacker and had a son with her named Edwin. Edwin was born in Virginia around 1690. He married Elender Webber and had the following issue with her: James Lewis, Edwin, Thomas, Lettice (Isbell), and Edwin Jr. His son Edwin Hickman Jr. was born in Spotsylvania, Virginia around 1744. He had a son named William. This William Zobell Hickman was born in Culpeper, Virginia around 1770. He had a son named Edwin. This Edwin Temple Hickman was born in Danbury, North Carolina in 1792. He married Elizabeth Adams and had two children with her: William Adams and George Washington. His son William Adams "Wild Bill" Hickman was born in Warren Knox, Kentucky in 1815. He was a one of the most notorious outlaws of the nineteenth century. He married nine times and had issue named William Adams Jr. and Mary Ella (Martineau). His son William Adams Jr. was born in Salt Lake City, Utah in 1850.
Early American and New World Settlers
Henry Hickman came to Virginia in 1635. Sarah Hickman came to Virginia in 1641. Thomas Hickman came to Virginia in 1652. Other settlers in colonial America bearing this surname include Richard Hickman (Virginia 1702), Jonah Hickman (1703), Thomas Hickman (Virginia 1705), Andrews Hickman (Pennsylvania 1705), and Cronomus Hickman (Pennsylvania 1744).
In Canada, two of the earliest bearers were Casper and Catherina Hickman who came to Nova Scotia in 1757.  In Australia, one of the first settlers with this name was Edward Hickman, a convict from Warwick, England, who came aboard the Andromeda in 1826, settling in Van Diemen's Land (modern day Tasmania). In 1840, several members of this family came to Adelaide aboard the William Mitchell, including: William, Sarah, William Henry, and Anne Hickman. In New Zealand, John Hickman, a blacksmith aged 35 years, came to Port Nicholson aboard the Slains Castle in 1841, along with his wife, Elizabeth Hickman, age 27.
Early Americans Bearing the Hickman Family Crest
Charles Bolton's American Armory (1927), Matthew's American Armoury and Bluebook (1907) , Crozier's General Armory (1904) do not contains any entries for this last name.
Mottoes
I have identified four Hickman family mottoes:
1) Toujours fidele (Always faithful)
2) Per tot discrimina rerum (Through various adventures/hazards)
3) Stemmata quid faciunt (What avail pedigrees?)
4) Igne et ferro (Fire and iron)
Grantees
We have 5 coats of arms for the Hickman surname depicted here. These 17 blazons are from Bernard Burke's book The General Armory of England, Ireland, and Scotland, which was published in 1848. The bottom of this page contains the blazons, and in many instances contains some historical, geographical, and genealogical about where coat of arms was found and who bore it. People with this last name that bore an Hickman Coat of Arms (or mistakenly called the Hickman Family Crest)
1) Henry Hickman, D.C.L. and Chancellor of the Ld. Bp. of Peterborough, son of Anthony, of London, son of Walter of Woodford Hall. Arms granted on 1 December 1590 to William, Henry, Walter, Anthony, Eleazar, and Matthew.
Notables
There are hundreds of notable people with the Hickman surname. This page will mention a handful. Famous people with this last name include: 1)  Albert Edgar Hickman (1875-1943) who was the 7th Prime Minister of Newfoundland, Canada in 1924, 2) Arthur George Hickman (1886-1930) who was a pianist and drummer who became of America's first big band leaders and is considered a pioneer in the jazz music world, born in Oakland, California, 3) Charles Taylor Hickman (1876-1934) who was a professional baseball player in the MLB who was born in Pennsylvania and played for eight different teams from 1897 to 1899, 4) John Hickman who was the US ambassador to Chile between 1982-1987, 5) John Hickman who was a Confederate General during the American Civil War, 6) Richard Hickman (1757-1832) who was the 5th Lieutenant Governor of Kentucky in 1812 to 1816, having been born in Virginia, 7) Thomas Hickman Williams (1801-1851) who was a United States Senator from Mississippi between 1838 to 1839, 8) William Adams "Wild Bill" Hickman (1815-1883) was an American frontiersman who representative to the Utah Territorial Legislature and a member of the Church of Jesus Christ of Latter Day Saints, and 9) Walter Braddock Hickman (1911-1970) was the President of the Federal Reserve Bank of Cleveland from 1963 to 1970, and 10) Orville Hickman Browning who was an attorney from Illinois who served as the state's Senator from 1861-1863 and was also the 9th United State Secretary of the Interior during the Johnson Administration.
Blazons & Genealogy Notes
1) (Gainsborough, co. Lincoln, bart., extinct 1781; descended from Robert Fitz-Hickman, lord of the manors of Bloxham and Wickham, co. Oxford, 56 Henry III., 1272; Willoughby Hickman, Esq., of Gainsborough, his descendant, was created a bart. in 1643). Per pale indented ar. and az. Crest—A talbot couchant ar. collared and lined az. at the end of the line a knot. Motto—Toujours fidele.
2) (Oaken,co. Stafford; granted to Nathan Hickman, of Oaken, and the descendants of Richard Hickman, his grandfather, by St. George, Garter, and Le Neve, Norroy, 1708). Per pale indented or and az. two fleurs-de-lis in fesse counterchanged. Crest—A talbot couchant ar. spotted sa. collared gu.
3) (co. Clare; impalement Fun. Ent. 1683, Hugh Perceval, Esq., of Gortvadroma, same co., whose wife was Rhoda Hickman). Per pale indented ar. and az. on the dexter side three roses in pale gu. and on the sinister as many in pale of the first.
4) (Fenloe, co. Clare). Per pale indented ar. and az. Crest—A talbot sejant ar. collared and chained gu. Motto—Per tot discrimina rerum.
5) (exemplified to Francis William Gore, Esq., of Kilmore House, Clare, eldest son and heir of Francis Gore, Esq., of Tyredagh, J.P., deceased, and grandson of Francis Gore, Esq., also of Tyredagh, by Mary, his wife, dau. of Edmund Browne, Esq., of Newgrove, co. Clare, and niece of Poole Hickman, Esq., of Kilmore, on his assuming by royal licence, 19 Nov., 1878, the surname and Arms of Hickman, in lieu of those of Gore, pursuant to the will ot the said Poole Hickman). Per pale indented ar. and az. in the dexter chief a trefoil slipped vert. Crest—A talbot sejant ar. collared and chained gu. charged on the shoulder with a trefoil slipped vert. Motto—Per tot discrimina rerum.