Hilton Family Crest, Coat of Arms and Name History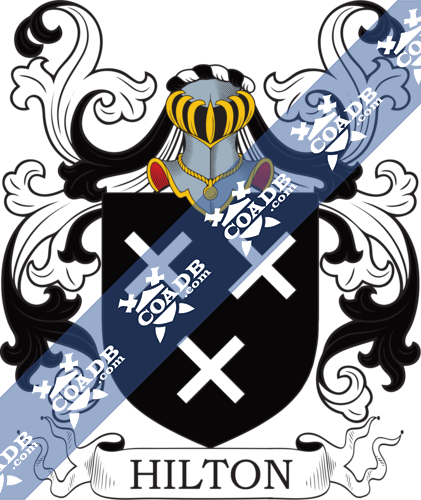 Hilton Coat of Arms Gallery
Don't know which Coat of Arms is yours?
We can do a genealogical research. Find out the exact history of your family!
Learn More
This section has not yet been completed. If you are interested in having your genealogy done, we offer an affordable research servicethat traces your lineage so you can learn more about your ancestors, where they came from, and who you are.
Blazons & Genealogy Notes
1) (Hilton, co. Durham; one of the great baronial families of the Palatinate Barons of the Bishopric. Of this ancient house were Robert de Hilton, of Hilton, and Alexander de Hilton, of Hilton, who both had summons to Parliament, the former in 1295, the latter in 1332. The last male heir of the Palatine Barons of Hilton was John Hilton, Esq., M.P. for Carlisle in 1727, d. unm. 1746, leaving his three sisters his co­heirs, namely, Anne, m. Sir Richard Musgrave, fourth bart., of Hayton Castle; Elizabeth, m. Thomas Younghusband, Esq., of Budle; and Catherine, m. to John Briscoe, D.D., of Crofton, co. Cumberland: Eleanor, only dau. and heiress of Sir Richard Musgrave Hylton, fifth bart., and grand-daughter and heir of Anne, Lady Musgrave, m. William Jolliffe. Esq., M.P. for Petersfield, whose grandson, Sir William George Jolliffe, Bart., of Merstham, was created Lord Hylton, 1866). (Baron Hilton; summoned to Parliament 1332; passed to the Widdringtonb, Lords Widdrington, attainted 1716). (South Shields, co. Durham, co. Sussex, London, co. Leicester, and the Island of Jamaica; descended from Henry Hilton, younger son of Sir William Hilton, of Hilton, by Anne, his wife, dau. of Sir John Yorke). (Rea Hall, co. Stafford, claiming descent from Hilton, of Hilton Castle, co. Durham)Ar. two bars az. Crest—On a close helmet, Moses's head in profile, glorified, adorned with a rich diapered mantle all ppr. Another Crest or Cognizance—A stag couchant ducally gorged and chained or. Supporters— Two lions az.; anciently two conies and two stags were used as supporters.
2) (William Hilton, Baron of the Exchequer in Ireland; Fun. Ent. of his dau. Margaret, wife of Capt. Andrew Wilson, brother of Sir John Wilson, Knt., of Wilson's Fort, co. Donegal, d. 15 Nov. 1639). Same Arms, a crescent for diff.
3) (Dyons, co. Durham). Gu. on a bend ar. cotised or, three martlets sa.
4) (cos. Lancaster and York). Ar. a lion ramp. gu. crowned or.
5) (Millwood, co. Lancaster; descended from Hilton, of Hilton, co. Westmoreland, 1664). Sa. three annulets ar. in chief two saltires couped of the second.
6) (Swyne, co. Durham; a branch of Hilton, of Hilton, which adopted the arms of the family of Lascelles, whence they maternally descended; the daus. and co-heirs of Sir Robert Hilton, Lord of Swyne, d. 1431, were Isabel, wife of Robert Hildyard, Esq., and Elizabeth, wife of John Melton, Esq.). Ar. three chaplets gu.
7) (co. Westmoreland). Sa. three mullets in base and two saltires in chief ar.
8) Az. two bars ar. Crest—A hand vested barry ar. and sa. holding a holly branch ppr.
9) Or, a chief counter-componee erm. and az.
10) Sa. three saltires ar.
11) Az. two bars ar. in chief as many mullets or.
12) (arms in Bletchingdon Church, co. Oxford, of Edward Hilton, B.D., d. 14 July, 1530. Visit. Oxon, 1566). Sa. in chief two saltires couped, and in base three annulets ar.
13) (Reg. Ulster's Office). Sa. a lion's head cabossed ar.