Hinshaw Family Crest, Coat of Arms and Name History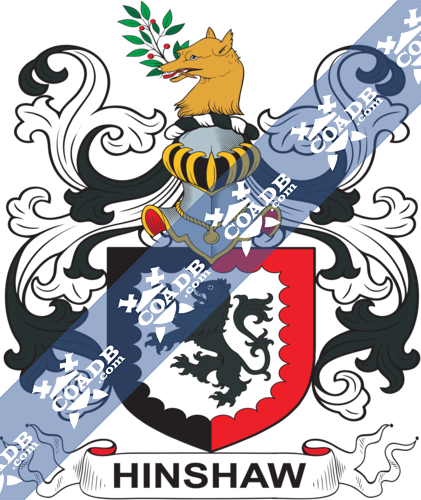 Hinshaw Coat of Arms Gallery
Don't know which Coat of Arms is yours?
We can do a genealogical research. Find out the exact history of your family!
Learn More
The name Hinshaw is part of the old legacy of the Anglo-Saxon clans of Britain.  It is a product of when the family lived in settlement of Henshaw in Northumberland, or in settlement of Henshaw in Prestbury, which is in the county of Cheshire.  The surname Hinshaw belongs to the large category of Anglo-Saxon habitation names, which acquired from pre-existing names for towns, villages, parishes, or farmsteads.  The first dictionaries that appeared in the last few hundred years did much to standardise the English language. Before that time, spelling variations in names were a common occurrence. The language was changing, incorporating pieces of other languages, and the spelling of names changed with it.  Hinshaw has spelt many different ways, including Henshaw, Henshall, Henshawe and others. More common variations are: Heinshaw, Hineshaw, Henshaw, Hanshaw, Hinshow, Hunshaw, Hanishaw, Hen-Shaw, Hanashaw.
The surname Hinshaw first found in Cheshire where they held a family seat from very early times, some say well before the Norman Invasion and the arrival of Duke William at Hastings in 1066 AD.
Some of the people with the surname Hinshaw who arrived in the United States in the 17th century included Ann Hinshaw, who landed in Virginia in the year 1642.  Mary Hinshaw, who arrived in Virginia in the year 1642.  Tho Hinshaw, who landed in Virginia in the year 1646.
Blazons & Genealogy Notes
(Scotland, 1871). Motto— Vigilantia. Ar. a lion ramp. sa. within a bordure engr. per pale of the second and gu. Crest—A fox's head holding in the mouth an olive branch ppr.