Hitchins Family Crest, Coat of Arms and Name History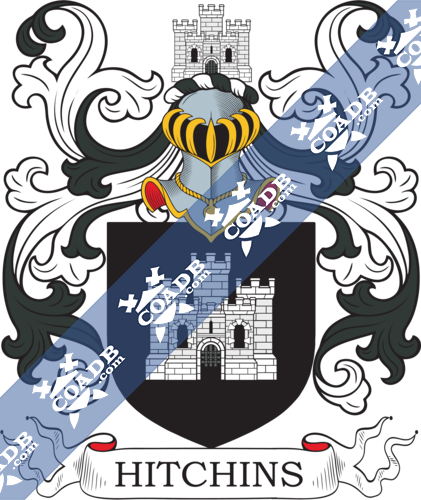 Hitchins Coat of Arms Gallery
Don't know which Coat of Arms is yours?
We can do a genealogical research. Find out the exact history of your family!
Learn More
The Hitchins name is an important part of the history of the ancient Anglo-Saxon tribes of Britain.  Hitchins acquired from the baptismal name Richard.  As the naming tradition grew in Europe baptismal names began to be introduced in many countries. More common variations are: Hitchines, Hutchins, Hitchens, Hatchins, Hotchins, Hetchins, Hytchins, Hitchons, Hitchans, Hitchnas.
The surname Hitchins first found in Hertfordshire at Hitchin, a market town and church, and the head of a union, in the hundred of Hitchin and Pirton.  The place name pre-dates the Norman Invasion as the first record the place appeared c. 945 as Hiccam.  By the time of the Domesday Book, the town was known as Hiz, and meant "place in the territory of the tribe called Hicce. "  The river Hiz is nearby and no doubt the river's name was derived from the same.
Some of the people with the name Hitchins who arrived in the United States in the 17th century included Margaret and Thomas Hitchins, who settled in Virginia in 1663.  Ann Hitchins, who landed in Maryland in 1666. Some of the people with the surname Hitchins who arrived in the United States in the 19th century included Francis Hitchins, who landed in New York in 1835.  David Hitchins, who arrived in Allegany (Allegheny) County. Pennsylvania in 1869.
Blazons & Genealogy Notes
1) (co. Oxford). Sa. a castle ar. Crest—A castle ar. Another Crest—Out of a mural coronet a garb, on the top a bird perched ppr.
2) Ar. a cross flory, quarterly gu. and az. betw. four lions' heads erased sa. Crest—On an heraldic rose placed horizontally gu. barbed vert, a lion's head erased or.