Hobbs Family Crest, Coat of Arms and Name History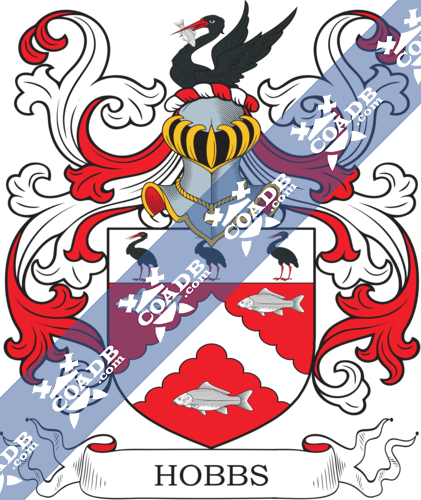 Hobbs Coat of Arms Gallery
Don't know which Coat of Arms is yours?
We can do a genealogical research. Find out the exact history of your family!
Learn More
Surname Name Meaning, Origin, and Etymology
This is a baptismal surname meaning "the son of Robert", deriving from the nickname (for Robert) Hob, with Hobbs and Hobson being the patronymic form.  One author states "its popularity became the everyday term for a country clown". There are many others surnames derived from nicknames: Watson from Wat or Wlater, Simpson from Sim, and Dobson or Dobbs from Dob or Robert. There is a local in Norfolk, England called Hobbies. In the United States Census of 2000, the surname Hobbs was ranked 659th in terms of popularity. One source claims the family was first established in Somerset, England.
Another source mentions other interesting origins theories: 1) the ancient Saxon term for Celtic high priests, also called wizards and witches, that administered religious ceremonies was Hobs, a term for the nature spirit, 2) there was a Viking name Hrodbeartson, also meaning son of Robert, and 3) Hobbys was an old French term for a person who hunted with a falcon instead of a hawk
Spelling Variations
Common spelling variants include Hobbes, Hobson, Hobs, Hopps, Hoppe, and Hobbis.
Early Bearers of the Surname
The Hundred Rolls of 1273 AD, a census of Wales and England, known in Latin as Rotuli Hundredorum, documents two people bearing this surname: Agnes Hobbis in county Huntingdonshire and John Hobbe in county Oxfordshire. A John Hobbes was documented in Kirby's Quest during the reign of King Edward III of England as living in county Somerset.  The same source also records one William Hobbeson. The Poll Tax of Yorkshire from 1379 AD lists several bearers of this last name: Willelmus Hobbus, Petrus Hobbeson, and Robertus Hobson. The Rotuli Litterarm Clausrarum in Turri Londinensi lists one person named Obbe Dudeman. The Documents Illustrative of English History lists one Hob filius Ralph. A man named Hobbe the Werewede is documented in the Calendarium Rotulorum Patentium in Turri Londinensi. Early marriages involving this surname include John Hobs to Avis Gore in 1569 at St. Mary Aldermary in London.
History, Genealogy, and Ancestry
A one Isaac Hobbs for born in 1743 in Topsfield, MA and later married Susannah Smith. He had two issue with her: Sarah (Stowe) and Elijah. His son Elijah was born in 1768 in the same town. He married Polly treat in 1789 and they had a son named Elijah. This Elijah was born in 1800 in Addison, Vermont. He married Alpha foster and had a son named George Washington Hobbs. George was born in 1824 in Pennsylvania. Alexander Hobbs was born in 1831 in Wexford, Ireland. He married Dorthea Whelan and they had numerous children: Alexander, James, Mary, Patrick, Sarah, James, and Maurice.
Early American and New World Settlers
The book "Genealogical Guide to the Early Settlers of America" discusses seven bearers of this last name: 1) Christopher Hobbs who lived in Saco in 1652 and was a freeman the next year.  He died in 1673 and his will names children Christopher, Robert, Jane, and John, the later who remained in Europe, 2) Henry Hobbs of Dover in 1657 who married a daughter of Thomas Cannes, 3) John Hobbs, who was a solider in Lothrop's flower of the Essex and was killed by Native Americans at Bloody Brook in 1675, 4) Josiah Hobbs, who came to Boston, MA in the Arabella in 1671. He lived at Woburn with his wife Mary and had issue with her: Josiah (1685), Mary (1687), and Susanna (1688). He later moved to Lexington (then called Cambridge Farms) and had a wife name Tabitha with whom he had Josiah, Tabitha, Mary, Matthew, Susanna, Ebenezer, and Tabitha. He died in 1741 at the age of 92 years, 5) Maurice Hobbs of Newbury who moved to Hampton in 1640. He married Sarah, daughter of Benjamin Swett, as second wife, the first being Sarah, daughter of William Eastow. He had over ten children, including Bethia, and perhaps Mary, 6) Thomas Hobbs of Topsfield, freeman 1671, may be same who died at Boston in 1690.
Thomas Hobbs came aboard the Expectacon in 1635. Another Thomas Hobbs came aboard the Assurance in July of 1635. Robert Hobbs came aboard the Expedition in the same year. Oliver Hobbs (or Hobes) was recorded as a prisoner sent to the Barbados in 1685.Roger Hobbs (or Hobes) was also a prisoner sent to the Barbados.
Other early settlers include Richard Hobbs (Virginia 1701), Sarah Hobbs (New England 1746), and Benjamin Hobbs (1764). One of the earliest bearers of this surname to arrive in Canada was Ann Hobbs in Nova Scotia in 1750.
Mottoes
There is no documented motto for the last name Hobbs.
Grantees
Later people bearing this surname that bore the arms: 1) Thomas Hobbs, or Gray's Inn, 12 November 1603, by Camden and 2) Thomas Hobbs of St. Clement Danes, Middlesex, Chringeon to the King, crest 9 June 1687, by Sir T. St. George and H.  St. George Clare.
Notables
Famous people with this last name include: 1) Thomas Hobbes (1588-1679) who was a English philoshiphers considered one of the best of all time and is known for his book Leviathah, which established social contract theory, 2) Alfred Charles Hobbs (1812-1891) who was an American locksmith from Boston, 3) Bruce Robertson Hobbs (1920-2005) who was an racehorse trainer and jockey in England, and 4) Sir Joseph John Talbot Hobbs (1864-1938) who was an Australian architect and general in World War I.
Blazons & Genealogy Notes
1) (co. Middlesex). Gu. a chev. engr. betw. three fishes naiant ar. on a chief of the second as many herons sa. membered and beaked of the first. Crest—A demi heron volant sa. beaked gu. holding in the beak a fish ar.
2) (Stoke-Gursy, co. Somerset). Sa. three escutcheons or, each charged with an eagle displ. of the field. Crest—A demi tiger az. armed, maned, and tufted ar. pierced through the body with a broken spear or, headed of the second, vulned on the shoulder gu. the spear entering the breast and coming out at the shoulder.
3) (Tooting, co. Surrey). (Quedgely, co. Gloucester). Ar. a bend wavy az. betw. two falcons close ppr. beaked, legged, and belled or. Crest—On a dexter glove lying fesseways ar. a falcon, as in the arms.
4) (Weybridge, co. Surrey, 1634). Sa. on a chev. or, betw. three swans ppr. as many lions' heads erased of the field.