Holloway Family Crest, Coat of Arms and Name History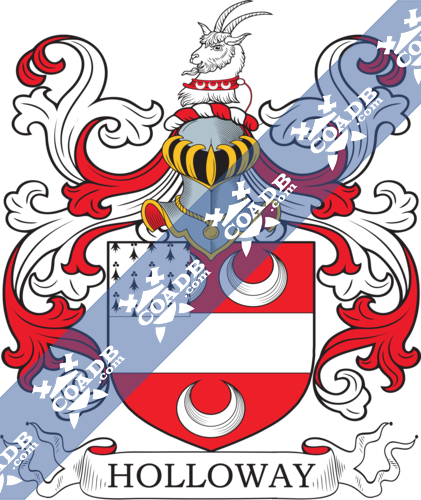 Holloway Coat of Arms Gallery
Don't know which Coat of Arms is yours?
We can do a genealogical research. Find out the exact history of your family!
Learn More
Holloway Origin:
England
Origins of Name:
The surname of Holloway is of an Anglo-Saxon origin, and is considered to be a topographical and locational surname. As a locational surname this means that it was often taken by the Lord or owner of the land from which the name derives. Others who may have take a locational surname are people who have migrated out of the area to seek out work. The easiest way to identify someone who was a stranger at that time was by the name of their birthplace. Topographical surnames are used to describe a man-made or natural element found in the lands. In this case, the surname of Holloway comes from places with the name of Hallow, Hollow, Holloway and so on throughout England, as well as topographically, for people who lived near a hollow, at a Holloway, or in the holy way. This also derives from the Old English "hol" and "weg" which can be translated to mean "a sunken path."
Variations:
More common variations are: Hollowway, Holloawway, Holloaway, Hollooway, Hollowawy, Hollowaye, Holloweay, Hollway, Hollyoway, Holoway, Hollway, Halloway
History:
England:
Those who live in England and bear the surname of Holloway can be found in the central region of the country, as well as the city of London.
Scotland:
Those who bear the surname of Holloway can be found throughout the country of Scotland. The areas of this country that have a higher concentration of those who carry this surname of Holloway are the counties of Lanarkshire and Midlothian.
United States
During the European Migration, settlers across Europe decided to leave their homes, and sought after a better life. This new life was largely available in the United States of America, which at that time was referred to as The New World, or The Colonies, and promised freedom from religious persecution, new fulfilling and largely available work, and land. However, during the long voyages that it took to make it to the United States, the vessels of travel were cramped, allowing for the spread of disease among much of the traveling population. This not only left some travelers deceased en route to their new life, it also caused many of the emigrating passengers to set foot in the New World afflicted with disease. Because of this spread of disease, or lack of recording, there are only a few members of the Holloway family who made it to the United States of America. The first people to bear the surname of Holloway in the United States of America were the Holloway family. Consisting of Eadie Holloway, Elizabeth Holloway, and Joe Holloway, they all settled in the state of Virginia in the year 1635. It took more than 120 years for the next Holloway to arrive in the United States of America. In the year 1765, Briggs Holloway settled in the city of Boston, Massachusetts, while in 1775, William Holloway arrived in the state of Maryland. Those who bear the surname of Holloway in the United States of America can be found in high concentrations in the states of California, Texas, New York, Ohio, Georgia, Illinois, Arkansas, Tennessee, Virginia, Missouri and in Indiana.
Here is the population distribution of the last name Holloway:
United States 63,281, England 14,057, South Africa 4,876, Australia 4,239, Canada 3,359, Wales 880, New Zealand 791, Scotland 683, Malaysia 379, Mexico 314
Notable People:
William Judson Holloway Jr. (1923-2014) who was a Chief Judge of the United States Court of Appeals for the Tenth Circuit from the year 1948 to the year 1991, and who was a jurist from America
James W. "Red" Holloway (born in 1927) who was a jazz tenor saxophonist from America
Ralph Holloway (born in 1935) who was a physical anthropologist from America
Josh Holloway (born in 1969) who was a TV actor and film actor from America
Brenda Holloway (born in 1946) who was a singer and songwriter from America
Admiral James Lemuel Holloway Jr . (1898-1984) who was the Superintendent of the United States Naval Academy from the year 1947 to the year 1950, and who was the Chief of Naval Personnel from the year 1953 to the year 1957, and was the Commander in Chief of all United States Naval Forces in the eastern Atlantic and Mediterranean from the year 1957 to the year 1959
Mr. Sidney Holloway (died in 1912) who was aged twenty years when he served as an English Clothes Presser from Southampton, Hampshire, who worked on the RMS Titanic and died in the sinking, and was recovered by one CS Mackay-Bennett
Blazons & Genealogy Notes
1) (Charles Holloway, of the Inner Temple, London, Barrister-at-law, and John Holloway, of Oxford, sons of John Holloway, of Oxford, gent. Visit. Oxon, 1634). Gu. a fess betw. three crescents ar. a canton erm. Crest—A goat's head erased and horned ar. collared and lined gu. on the collar three crescents of the first.
2) (Maydenhatch, co. Berks). Gu a fesse ar. cotised or, betw. three crescents of the second.
3) (London). Gu. a fesse erm. betw. three crescents ar. Crest—A demi lion ramp. guard. purp.
4) (Fellow of New College, Oxford, d. 1632). Gu. a fesse betw. three crescents ar. a canton erm. Crest—A goat's head ar. gorged with a collar gu. charged with three crescents of the first, lined of the second.
5) Gu. a fesse betw. three crescents ar. Crest—Out of a mural coronet ar. a lion's head or, charged with a torteau.
6) Same Arms, the fesse cotised.
7) (Kensington, co. Middlesex). Motto—A Deo lux nostra. Paly of six az. and or, a fesse gu. betw. three crescents ar. a canton erm. Crest—Out of a crescent or, an antelope's head gu. attired, collared, and chained gold.
8) Sa. three goats pass. ar. attired, or. Crest—A goat's head erased ar. attired or, a rose in its mouth slipped and leaved ppr.
9) (Watton in Stoke Gabriel, co. Devon. Visit. 1620. The co-heirs m. Blackmore and Windsor). Sa. two swords in saltire, hilts and pommels in chief all ar. the dexter surmounted by the sinister.
10) Gu. a fesse betw. three crescents ar. Crest—Out of a ducal coronet or, a greyhound's head sa.