Holman Family Crest, Coat of Arms and Name History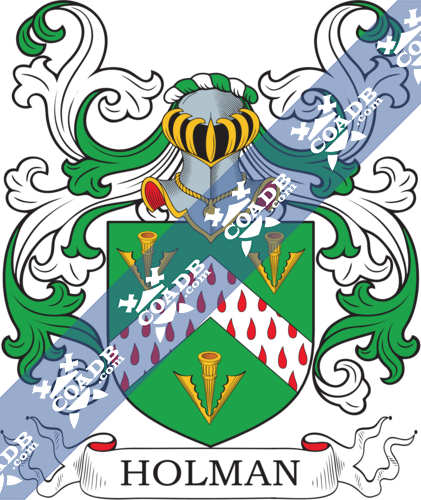 Holman Coat of Arms Gallery
Don't know which Coat of Arms is yours?
We can do a genealogical research. Find out the exact history of your family!
Learn More
Surname Name Meaning, Origin, and Etymology
This is an English last name meaning with four origins theories or meanings. First, it may be a topographic surname referring to a person who dwelled near a hollow or hole, deriving from the Old English word holh, meaning hollow or hole. Second, it may be a topographic name given to a person who lived by a holly tree or on an island, deriving from the Middle English word holm, meaning holly-bushes or island. Third, it may be a name referring to a holy man (likely a priest or friar), deriving from the Old English words hol or hool, meaning holy. Fourth, as asserted by William Arthur, in his book An Etymological Dictionary of Family and Christian Names, it is a corruption of the German surname Allemand, meaning a mixture of all men, from the words Alle-mann. The former theory is also mentioned in the book English Surnames by Mark Antony Lower, who states it may mean a "wholeman", a man of extreme valour and manliness, a man through and through, from the German Alman. It is important to recall that in medieval England, the whole was spelled without the letter h. Another source claims the name also has Dutch origins.
Spelling Variations
Common spelling variants or names with similar etymologies include Hollman, Holeman, Hollymann, Holleyman, Holeyman, Holliman, Holyman, and Holloman.
Popularity & Geographic Distribution
The last name ranks Castle ranks 1,016th in popularity in terms in the United Status as of the 2000 Census, and. The name ranks particularly high in the following five states:  Missouri, Oklahoma, Montana, Washington, and Utah. The name is more common in England where it ranks 1,250th. It ranks highest in the four following counties: Devon, Sussex, Cornwall, and Norfolk. The name is common throughout the English speaking world:  Scotland (2,015th), Wales (1,854th), Ireland (3,961st), Canada (2,340th), New Zealand (2,424th), Australia (1,393rd), and South Africa (4,165th).
Early Bearers of the Surname
The first known bearer of this last name was Holman (or Holeman) who was recorded in the Subsidy Rolls of Essex in 1327 AD. The Hundred Rolls of 1273 AD, a census of Wales and England, known in Latin as Rotuli Hundredorum, documents three people bearing this surname: Walter Halloman in county Lincolnshire, William Holyman in county Lincoln, and John Holman in county Kent. The Poll Tax of Yorkshire in 1379 AD lists two bearers of this last name: Johannes Halman (a flessher), Adam Holman (a marchaunt), and Thomas Halman. Robert Halyman in county Yorkshire in the Surtees Society of Publications. The Calendar of Proceeding in Chancery lists Digorie Holman and Richard Hollyman during the reign of Queen Elizabeth of England (1558-1603). The Register of the University of Oxford of 1582 lists one Lionel Holyman of Magdalen Hall in London. A one Robert Halyman of New Castle was a yeoman in 1531 AD and was associated with St. Catherine's chapel. An early marriage involving this surname was Mary Holliman to Anthony Allin at St. Michael Cornhill in 1628 AD.
History, Genealogy, and Ancestry
Robert Holman (also spelled Holeman) was born in 1510 in Leeds, England. He married a woman named Edith and had a son with her named Henry. Henry was born in Swyre, Dorset in 1522 and he married Joan Joliffe. They had five children together: Alice, Morgan, Anne, William Sr., and Mary. His son Morgan Holeman (or Holman) was born in 1563 and married Alice Odberre in 1596. They had several issue: Joan, Robert, John, Morgan, Ann, and Thomas. His son Colonel John Holman was born in 1602 in the same town and he married a woman named Anne Bishop. They had the following children together: John, Mary, Thomas, Abigail, Anna, Samuel, and Patience. His son Thomas was born in 1641 in Dorchester, Massachusetts and he married Abigail Rigby. They had several children together: Abigail, Hannah, Patience, Sarah, Thomas, Mary, Mary, John, Ann, Samuel, and Ebenezer. His son Thomas was born in 1675 in Shehandoah, Virginia. He married Nancy Moreland and had four sons with her: Thomas, Jacob, William, and Daniel. His son Daniel Holman was born in 1700 in Maryland. He married Rachel Johnson in 1719 and later Elizabeth Cartley in 1737. He had numerous issue: Jacob, Thomas, Jacob, William, Thomas, Isaac H., Edward, James, Richard, Henry, Rachel, and Rebecca (Cathey). His son Thomas was born in Holeman, Fairfax, VA in 1716. He married Susannah Tugman and later Mary Ann Thompson. He had many children: Dave, Jame, Rachel (Johnson), Joseph, Rebecca, Absolom, Daniel, Isaac, Grace, Rachel, Joseph, Rebecca, Susannah, James, Elizabeth, Reuben, Jacob, Margaret, and Rachel Ann. His son Daniel Holman was born in 1750 in North Carolina and he married Nancy Annie Saunders. They had the following children together: Mary, Hard, Isaac, James Wilson, Sarrah, Sally, Olly Olivia, John, John Hughes, and James. His son Hardy Holman was born in 1774. Hardy had two issue: James Wilson and Willis Hopwood. His son Willis was born in 1814 and married Rebecca Ann Rutledge and had a son named Willis Franklin Holman. Willis F. was born in 1856 in Tennessee. He had a daughter named Betty, born in 1877, who married Samuel Woods.
Early American and New World Settlers
The book Genealogical Guide to the Early Settlers, mentions four people bearing this surname: 1) Edward and Gabriel Holman (or Homan) recorded in Marblehead, Massachusetts in 1674, 2) John Holman of Dorchester who came to American in 1634 or 1632 and served in an artillery camp in 1638. He married Ann and had children Margaret (or Mary), John (1638), and likely Ann (who may have married Henry Butler). He married a second time to a wife whose name is not known and had children with her: Thomas (1641), Abigail (1642), Samuel and Patience (1648). He had a large estate and died in 1652, 3) Solomon Holman in 1694 who married a woman named Mary and had issue with her: Mary (1695), Soloman (1697), Edward (1700), and Elizabeth (1701), 4) William Holman of Cambridge who came aboard the Dense in 1734 at the age of 40 with his wife Winifred and children Hannah, Jeremy, Mary, Sarah, and Abraham. He also had children named Seeth and Elizabeth born in America. He was from Northampton, England and was proprietor of a lot that became a Botanic Garden. He died in 1653. His wife was accused of witchcraft, but she was permitted to die as a Christian in 1671. Other settlers in colonial American bearing the last name Holman include Soloman (New England 1703), Michael (Pennsylvania 1794), and Joseph George (1812). The name was also present in the Caribbean. Jane, wife of Robert Holman, was recorded in the burial records of St. Michael's parish in Barbados in 1678. A one James, son of John Holman was recorded in the burial records of St. George's parish in Barbados in 1678. Thomas Holeman was a master of a convicted rebel in the Barbados.
Grantees
We have 7 coats of arms for the Rodgers surname depicted here. These 38 blazons are from Bernard Burke's book The General Armory of England, Ireland, and Scotland, which was published in 1848. The bottom of this page contains the blazons, and in many instances contains some historical, geographical, and genealogical about where coat of arms was found and who bore it. People with this last name that had armorial bearings: 1) George Holman of London, Esq. 1606 by Camden and 2) George Hollman of Devonshire, a councillor of Lincoln's Inn, July 1607 by Camden.
Notables
Famous people with this last name include: 1) Bill Holman (1903-1987) who was an American cartoonist from Indiana who was known for the comic Smokey Stover, 2) James Holman (1786-1857) who was a British author, social observer, and adventurer known as the "Blind Traveller", 3) Rufus Cecil Holman (1877-1959) who was an American businessman who was a United States Senator from Oregon from 1939-1945, and 4) William Arthur Holman (1871-1934) who was the 19th Premier of New South Wales in Australia.
Blazons & Genealogy Notes
1) (co. Devon; granted June, 1608). Vert a chev. ar. guttee de sang betw. three pheons or.
2) (London). Vert a chev. or, betw. three pheons ar. Crest—On a chapeau gu. turned up erm. an ostrich's head ar.
3) (Banbury, co. Oxford). Same Arms. Crest—A bow and arrow, the bow erect, bent and strung, the arrow fesseways on the bow all or.
4) Same Arms. Crest—On a chapeau az. turned up erm. an ostrich's head couped at the neck ar.
5) (Godeston, co. Surrey). Vert a chev. betw. three pheons or. Crest—A bow and arrow drawn, the arrow fesseways betw. two wings all or.
6) Vert on a chev. or, betw. three pheons ar. a fleur-de-lis gu.
7) Vert a chev. betw. three roses ar.