Hooker Family Crest, Coat of Arms and Name History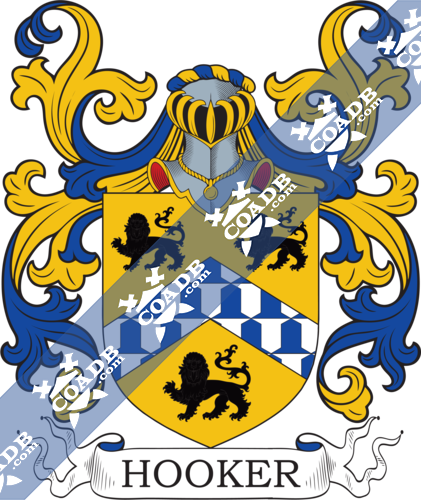 Hooker Coat of Arms Gallery
Don't know which Coat of Arms is yours?
We can do a genealogical research. Find out the exact history of your family!
Learn More
Surname Name Meaning, Origin, and Etymology
There are two theories on the origin of this surname. The first is that it is an occupational surname meaning "the hooker", who was a person who made hooks (used in farming). The second is that it is a local surname meaning "of the hooker", referring to a person who lived by a hook or curve in the land. In his book, A Dictionary of English and Welsh Surnames, Charles Wareing Bardsley suggests the former is the true origin, but admits there is a lack of documentation to definitively prove this. It derives from the Old English word hoc, meaning hook. The Teutonic word hoc, hoh, or hoch means a hill or elevated place. One source claims the family was first found in Norfolk, England. In the United States Census of 2000, the last name Hooker ranked 2,017th.
Regarding this surname, H.B. Guppy writes the following in his book Homes of Family Names: "John Hooker of Little Peckham, who was sheriff of Kent in 1712, belonged to the Hookers of Tunbridge,
who came originally from Hants. In 1595 Hooker, the ecclesiastical writer, held the living of Kingston".
Spelling Variations
Common spelling variants include Hoke (a personal name in Saxon times), Hooke, and Hook.
Early Bearers of the Surname
The first documented person to bear a similar last name was Sir Richard Hook, who was from York, England, who lived during the reign of King Edward I (1273-1307 AD). He bore the following coat of arms: Azure, a fesse between three gold fleur-de-lis (likely to symbol his victory over France). A one Halwun Hoce was recorded in the register of Old English Bynames in the eleventh century AD. Geoffrey de la Hoke was recorded in the county of Devonshire in 1242. A one Gervase ad Hokys was recorded in Bedfordshire in 1244 AD. The Hundred Rolls of 1273 AD, a census of Wales and England, known in Latin as Rotuli Hundredorum, documents two people bearing this surname: Hugh Hoker of county Norfolk and Robert le Hoker of county Kent. In the Writs of Parliament, a one William le Hoker is recorded in 1315 AD. The Memorials of London list one John Hoker.
History, Genealogy, and Ancestry
Geraph ap Voell was born in 1400 AD in Pembroke. He had a son named Jago Voell who was born in 1422 in Hants, England. He married a woman named Alice and left a son named John prior to his death in 1500. His son John married Alice Druitt and they had a son named Robert Vowell Hooker. Robert was born in 1466 in Exeter in Devon and was a Member of Parliament. He married Agnes Dobell and also Margery Bolter. They had two children together: John Hooker and John Vowell Hooker. John Vowell Hooker was born in 1525 and had four wives (at different times): Rachel Grindall, Rachel Alice (Stanyerne), and Annastasia Bridgeman. He had five children: Frances, Frances, Alice, Zacharies, and Mary (Greene). His son Reverend Zacharias Hooker was born in 1555. He married Grace Battishill and had a son named Balesmus Hooker. Balsemus had a son named Samuel who was born in 1653 in St. Ewe. Samuel had a son named Joseph born in 1688. Joseph married Mary Hocken and had a son named Samuel with her. Samuel was born in 1724 and he married Agnes James in 1749. They had two children together: Joseph and Nathaniel.
A one Henry Hooker was born in 1679 and he married Elizabeth Hilliard and they had a son named Henry. Henry was born in 1709 in Boston, Massachusetts. He married Mary Elizabeth (Parker) and they had two children prior to his 1776 death: Simeon and Samuel.  His son Simeon was born in 1739 in Sturbridge, MA. He married Lydia Anne Comstock and had two children with her: Mary (Josselyn) and Hulda (Beach). He died in Westford, Vermont.
Early American and New World Settlers
The book "Genealogical Guide to the Early Settlers of America" discusses two bearers of this last name: 1) Nicholas Hooker, in Charlestown in 1678 who had a wife named Mary and 2) Thomas Hooker, in Cambridge, who was born at Markfield near Leicester in about 1586 who had five children: Mary, Joanna, John, Samuel, and Sarah. Thomas Hooker is considered to be one of the founders of Connecticut. A one Thomas Hooker was recorded as living in James Cittye in Virginia in 1623. John, son of John Hooker, was baptized in 1679 in the parish of St. James, Barbados. A Ralph Hooker, likely John's brother, was also baptized there in the same year. Other early settlers were Thomas Hooker (Boston 1633), Peter Hooker (Virginia 1636), Geoge Wilhelm Hooker (Pennsylvania 1753), Thomas Hooker (Maryland 1774), and Henry Hooker (New York 1785). James and Rosa hooker settled in Adelaide, Australia in 1838 when they came aboard a ship named Royal Admiral.
Mottoes
The Hooker family motto is "Be mindful".
Notables
Famous people with this last name include: 1) Charles E. Hooker (1825-1914) who was a U.S. Representative from Mississippi, 2) Henry Clay Hooker (1828-1907) who was an esteemed rancher in the Old American West in what later became Arizona, 3) John Lee Hooker (1912-2001) who was an American blues singer and guitarist, and 4) Richard Hooker (1554-1600) who was an English priest and influential theologian.
Blazons & Genealogy Notes
(Exeter, co. Devon). Argent a fesse vair between two lions passant, guardant, sable. Crest—A hind pass, or, in the mouth a branch, leaved vert, flowered argent.